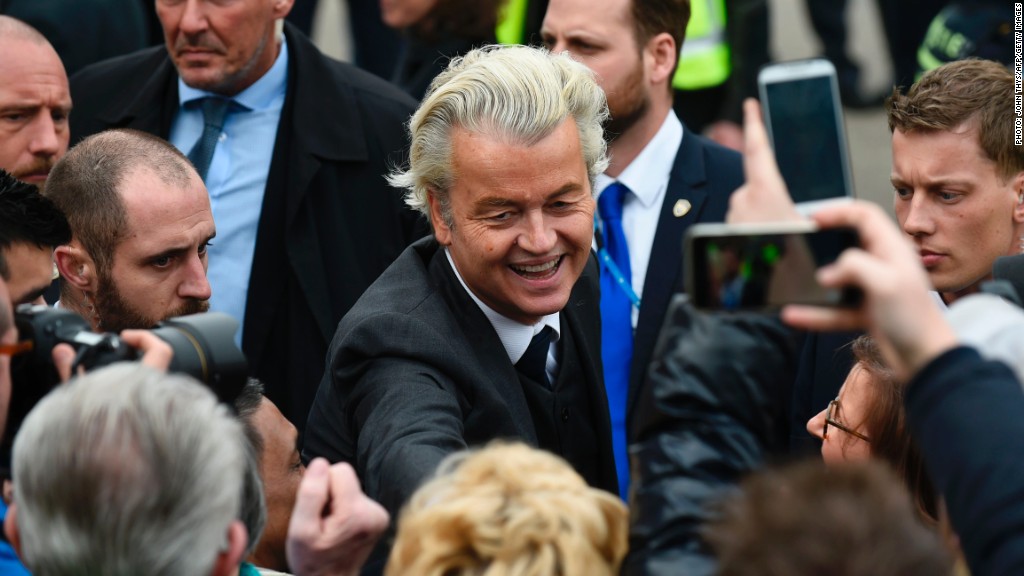 First Brexit, then Trump. Will the next populist surge be in the Netherlands?
Dutch voters will go to the polls Wednesday after a campaign dominated by debates over immigration and the country's relationship with the European Union.
Investors have remained calm throughout the contentious campaign, largely because the party of far-right candidate Geert Wilders has little chance of gaining a majority in parliament. And mainstream parties say they will refuse to join a coalition government led by the populist.
The campaign, however, has raised a key question: Why are Dutch voters so angry?
Prime Minister Mark Rutte, who is running for reelection, has put the country's strong economy at the center of his campaign. Growth in the country was 2.1% in 2016, according to preliminary data from Eurostat.
That's a quicker pace than the EU average and higher than the 1.6% expansion recorded by the United States.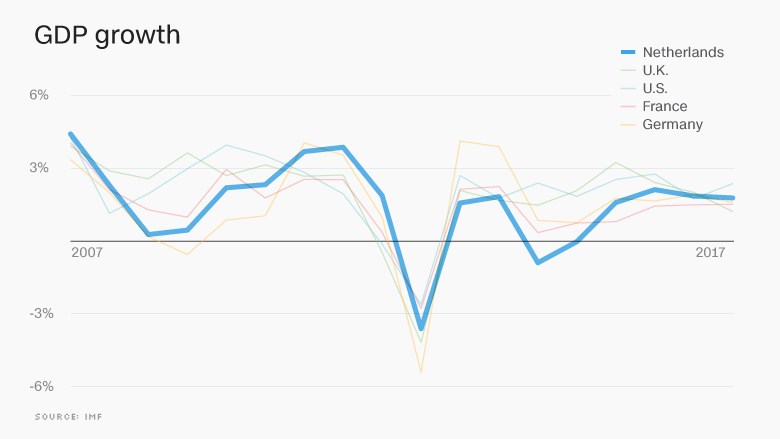 "[The Netherlands has] benefited from demand from emerging markets, and, just like Germany, the weaker euro has helped their exports," said economist Vicky Pryce. "The eurozone is working for them."
Rutte has led the country since 2010. His party pushed through tough economic reforms -- including spending cuts -- following a recession in 2011 and 2012.
The reforms paid off and the country has grown for the past 11 quarters.
But the austerity program has hit the poor hardest, and left many feeling insecure about the future.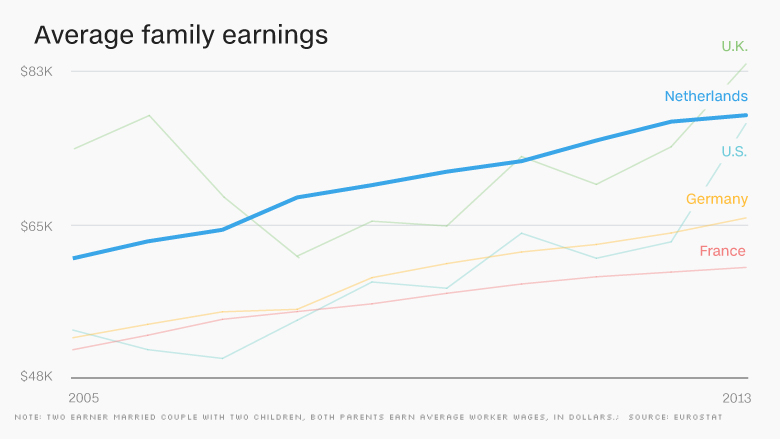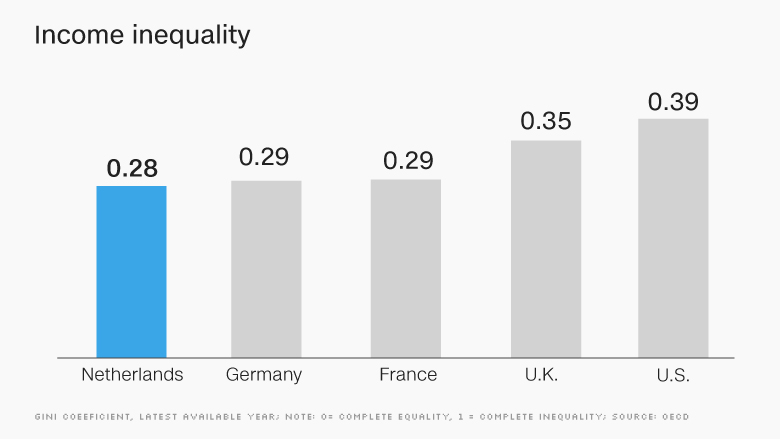 Stephen Brown of Capital Economics said that the uneven benefits of globalization have helped fuel populist anger. The unemployment rate remains above its 2012 level, and savers are being punished by record low interest rates.
Brown said that consumer confidence is high among wealthy people, but much weaker among those with low earnings. The same division was on display ahead of Brexit and the U.S. presidential election.
"In all three countries this was against the backdrop of strong economic growth," he said.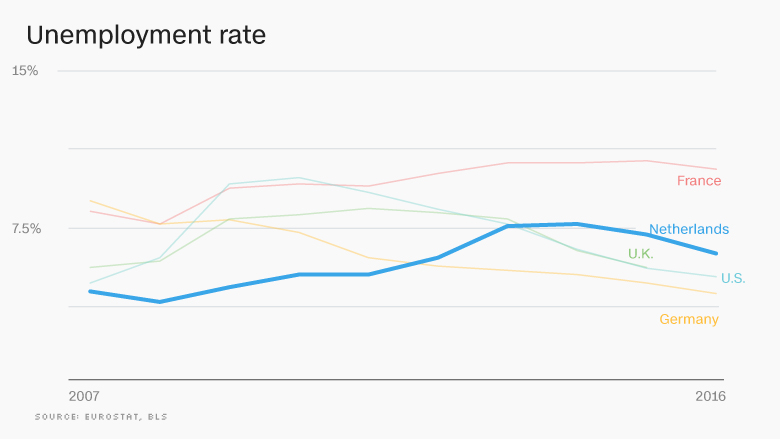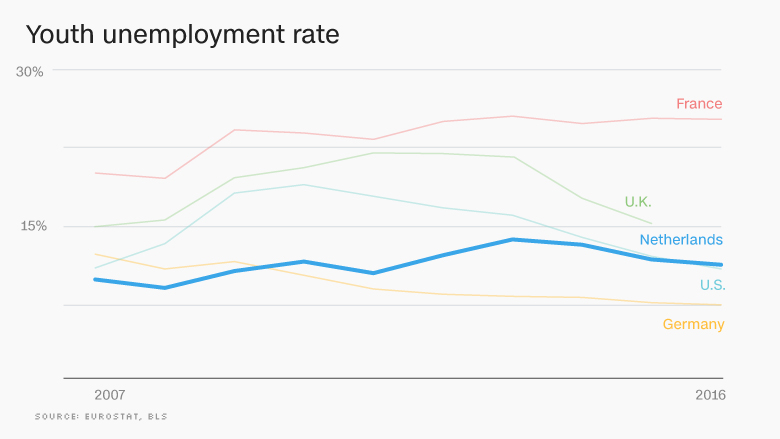 Related: Europe is falling apart. Saving it won't be easy
Wilders has built support by contrasting austerity for Dutch citizens with financial help the government provided to refugees.
He also capitalized on economic problems that have fueled populist movements elsewhere -- including high unemployment in the country's industrial heartland.
"The general themes that have been put forward for Brexit and Trump also apply to the Netherlands," said Brown.
The last thing Europe needs: another Greek crisis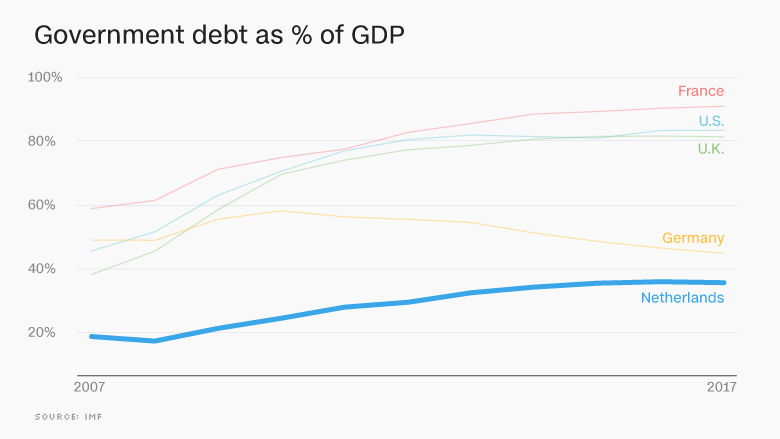 Wilders has promised a referendum on Dutch membership in the EU if he were to become prime minister.
Investors don't appear to be worried. The difference in yields on French and Dutch government bonds has widened in recent months, suggesting that traders see France -- which is also facing a key election -- as a substantially riskier bet.
But if current polling trends hold, the election could see more euroskeptics elected to the Dutch parliament. That could spell trouble for the EU, with possible implications for future negotiations over Greek debt, among other issues.