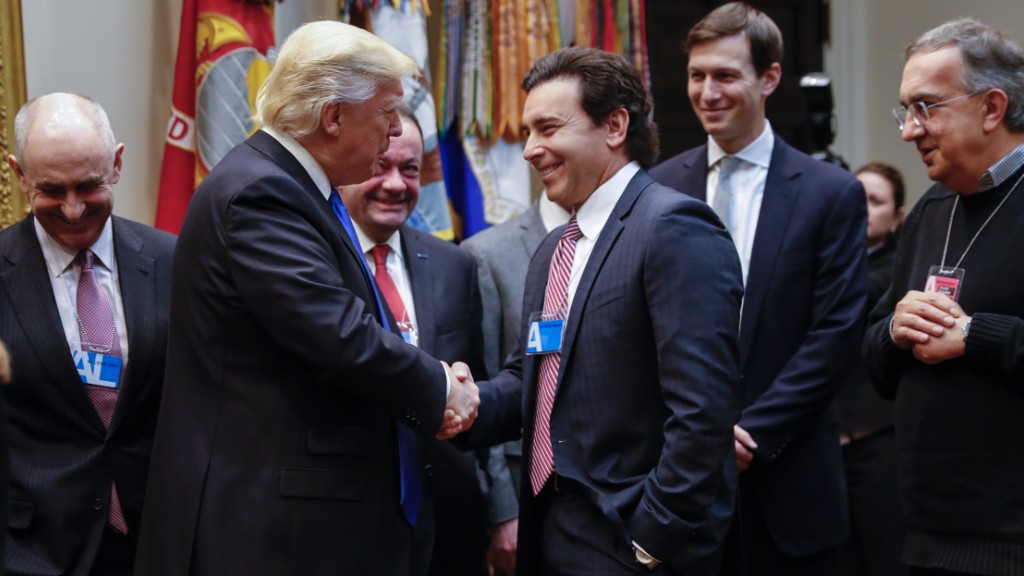 An ethics watchdog group says a White House official appears to have attended meetings with corporate executives earlier this year while he personally held stock in the companies.
The group, Citizens for Responsibility and Ethics in Washington, filed a complaint with the White House on Tuesday.
CREW says Christopher Liddell, President Trump's director of strategic initiatives and a former top executive for General Motors, Microsoft, International Paper and William Morris Endeavor, may have broken a conflict-of-interest law.
In the early weeks of the administration, Liddell attended meetings with Trump and executives from more than a dozen companies, the complaint says.
Related: Detroit at the White House: Trump meets with Big Three auto CEOs
At that time, Liddell appears to have held millions of dollars' worth of stock in many of those same companies, including GM, International Paper, Tesla Motors, Lockheed Martin, JPMorgan Chase, Pepsi and Walmart, the complaint says.
CREW says it based its conclusion on what are known as certificates of divestiture, indicating that Liddell owned stock in hundreds of companies, including those whose executives were in the White House meetings.
Those certificates would have allowed him to sell stock holdings identified as ethically problematic without having to pay steep capital gains taxes. Liddell would get the benefit so long as he reinvested his money in an investment allowed by the government, like a highly diversified mutual fund.
The certificates were not issued until Feb. 9, six days after the last of the meetings. That "strongly indicates Mr. Liddell still held stock in the companies at that point and had not divested his financial interests in these assets prior to his participation in the meetings," CREW says.
The ethics office did not immediately respond to a request from CNNMoney for the documents.
A White House spokesperson said Liddell "has been working with the Office of the White House Counsel to ensure he is fully compliant with his legal and ethical obligations in connection with his holdings and his duties in the White House."
The spokesperson did not address whether Liddell owned those specific stocks at the time he sat in the meetings, as the CREW complaint alleges.
Federal code prohibits federal employees from participating personally in a particular matter in which, to their knowledge, they have a "financial interest."
CREW wants the White House to confirm whether Liddell held stock in the companies, whether he sold the stocks or got a waiver before the meetings, and whether the Justice Department should investigate.
CREW notes that it's not publicly known what was discussed at the meetings. But Trump has publicly indicated that he discussed policy matters and other regulations.
"Will be meeting at 9:00 with top automobile executives concerning jobs in America," he tweeted about the Jan. 24 meeting with General Motors, Ford and Fiat Chrysler. "I want new plants to be built here for cars sold here!"