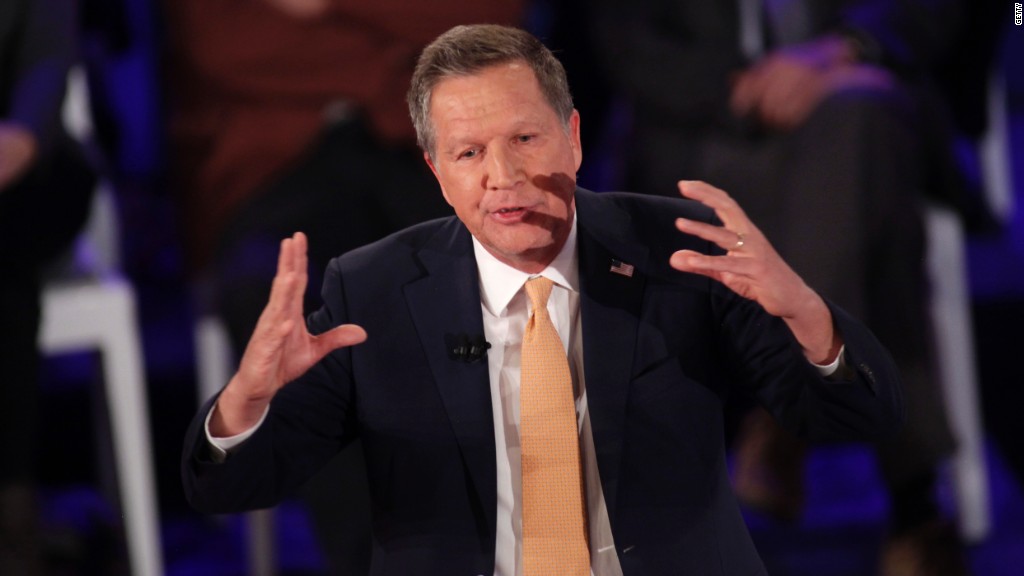 That didn't take long.
The Trump administration said Tuesday that it is open to letting states impose work requirements, premiums and co-pays on some low-income adults receiving Medicaid.
The move came shortly after Seema Verma was confirmed as head of the Centers for Medicare & Medicaid Services. Verma had previously worked with states -- including Indiana when Vice President Mike Pence was governor -- to petition the federal government to include such measures.
Granting such waiver requests from the states would be a major departure from how the Obama administration oversaw Medicaid. It rejected attempts by states to add work requirements and only sparingly approved having recipients pay for care. Left-leaning critics say such measures can be barriers for low-income people to enroll and get much-needed health care.
Related: CBO report: 24 million fewer insured by 2026 under GOP health care bill
The shift also shows how the administration intends to do what it can to dismantle Obamacare, which expanded Medicaid to low-income adults in some 31 states, including 16 run by Republican governors. Under Obamacare, adults with incomes up to $16,400 a year are able to enroll in the program.
The GOP health care bill to repeal and replace Obamacare would curtail federal support of Medicaid and give states more flexibility to change the program on their own. It is currently moving through the House.
However, the bill's Medicaid provisions have triggered infighting among Republican lawmakers, with many from expansion states opposed to deep cuts in the program. The Congressional Budget Office projects that 14 million fewer people would be insured under Medicaid by 2026 if the bill became law. (The total number of uninsured would rise by 24 million.)
Related: Governors divided over Medicaid's future, but don't want anyone to lose coverage
In a letter to governors, Verma and Health Secretary Tom Price said that expanding Medicaid was a "clear departure from the core, historic mission of the program" and gave states an incentive to "deprioritize the most vulnerable populations."
"We are going to work with both expansion and non-expansion states on a solution that best uses taxpayer dollars to serve the truly vulnerable," they said.
"Price is a big believer in giving states more flexibility," said Joe Antos with the right-leaning American Enterprise Institute. "There's been too much top-down nitpicking over the years. This will give states more flexibility and relieve some of the back and forth that came with CMS which can take its time to make decisions."
In keeping with Republican views, Verma and Price are looking to more closely align Medicaid with the private insurance market to better prepare working-age, non-disabled recipients to transition off government assistance.
Among the reforms they suggested are imposing premiums or other cost-sharing requirements. States would also be allowed to enforce these premiums so that those who don't pay could lose their coverage.
Also, states could require co-payments for emergency room visits to encourage recipients to go to doctors or other providers for non-emergency care. And they could mandate that enrollees contribute to accounts similar to Health Savings Accounts, a central feature in Indiana's Medicaid expansion program that Verma designed.
Related: Montana may be a model for the Medicaid work requirement
One of the most controversial measures would be adding a work requirement, with the goal of helping them rise out of poverty, Price and Verma said.
"The best way to improve the long-term health of low-income Americans is to empower them with skills and employment," they said.
But at least one critic says that typically doesn't end up being the result.
"From welfare reform we have plenty of good evidence that work requirements don't often lead to long-term employment," said Judy Solomon with the Center on Budget and Policy Priorities. Solomon has been critical of these Medicaid experiments in the past, notably in Indiana where Verma was a consultant.
"These experiments are expensive to enact, you need a lot of tracking and there are larger issues," Solomon said. People often have other barriers that keep them from working, such as affording transportation and child care.
Paul Howard with the right-leaning Manhattan Institute, who likes these experiments, said he hopes states will be allowed to shift some of this spending on health to tools that would lower barriers to transportation or provide Medicaid recipients with job training. "I think we will see more of an open door to innovation and other program ideas that could be good," Howard said.