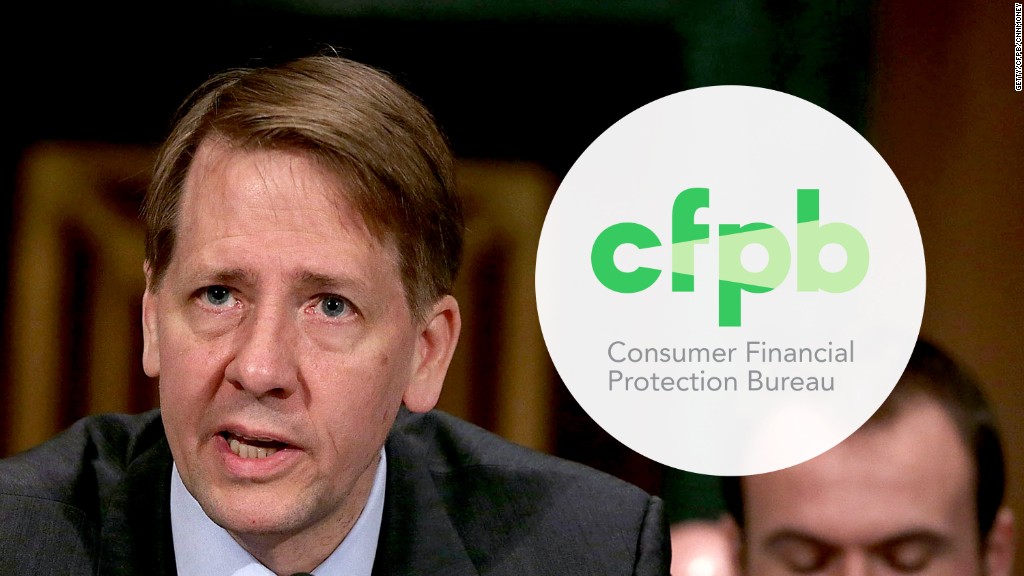 The Trump administration argued in a legal brief Friday that the president has the power to fire the head of the Consumer Financial Protection Bureau, siding with a financial firm that is fighting a $109 million fine in court.
The case at issue is being closely watched by Wall Street and consumer advocates because it challenges the constitutionality of the CFPB. Legal experts say it is unusual for the Department of Justice to lodge such opposition to a federal agency.
"It is virtually unheard of," said Patricia McCoy, a professor at Boston College Law School who oversaw CFPB mortgage policy in 2011.
The fate of the watchdog agency is in jeopardy as President Trump and Republicans set out to dismantle Obama-era financial regulations.
Established in 2011 as part of the Dodd-Frank Act, the CFPB has taken on shady payday lenders, the nation's largest student loan company, and big banks like Wells Fargo.
Critics claim the agency creates too many rules and ends up hurting Americans who need credit.
It's not the agency itself that the Justice Department says is unconstitutional, but rather the way it is structured. It is headed by a single director, Richard Cordray, who cannot be fired by the president without cause.
Related: Senators say Icahn is already using Trump role for 'personal gain'
The DOJ argues that under the Constitution and Supreme Court precedent, the president "must have the authority to remove executive branch agency heads at will," according to the brief.
The only exception, it states, is when a federal agency is headed by a commission.
"There is a greater risk that an 'independent' agency headed by a single person will engage in extreme departures from the President's executive policy," the brief reads.
Obama angered Republicans by installing Cordray while the Senate was in recess in 2012. He was confirmed for a full five-year term in 2013.
In October, a federal appeals court panel ruled that the president should, in fact, have the power to fire the head of the CFPB. Since then, the court granted the agency's petition for a rehearing. The case was brought by PHH Corp., which the agency had penalized for referring customers to mortgage insurance companies in exchange for kickbacks.
-- Matt Egan contributed reporting for this story.