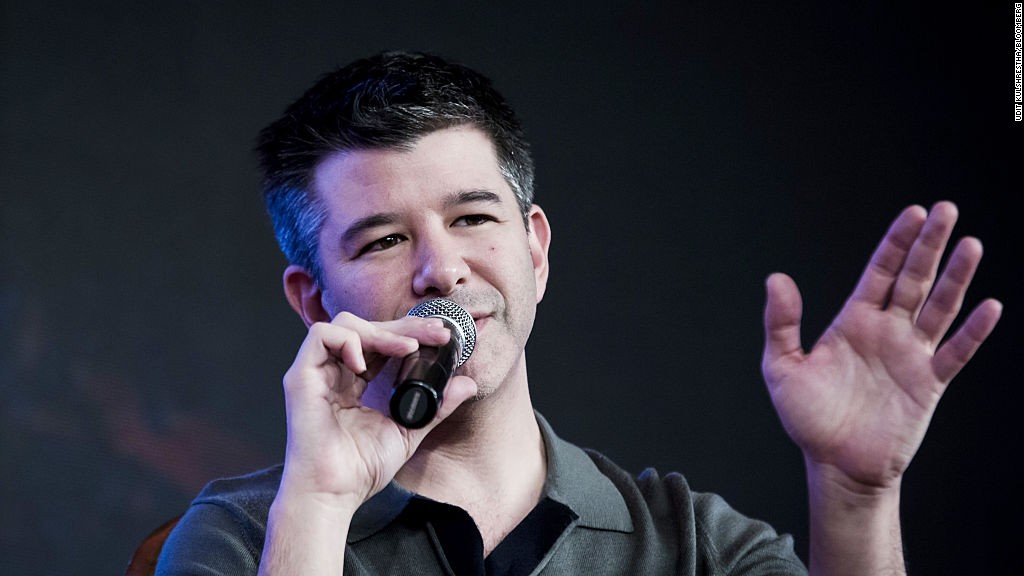 Uber president Jeff Jones is quitting after six months on the job because of concerns over the firm's management culture.
"The beliefs and approach to leadership that have guided my career are inconsistent with what I saw and experienced at Uber," Jones said in a statement.
Jones was second in command to CEO Travis Kalanick, running Uber's ride-hailing operations, marketing and customer support. A former Target executive, he was named president at the end of August.
His departure was first reported by Recode.
"We want to thank Jeff for his six months at the company and wish him all the best," Uber said in a statement.
The startup started looking for a chief operating officer this month to work as the new No. 2 to Kalanick, who admitted he needed help leading the company after a series of crises.
Related: Uber searching for a COO after crises
He's the latest in a series of high-profile exits from Uber. The head of the company's maps business is also set to leave this month.
Brian McClendon said in a statement that he was leaving the company to go into politics in his home state of Kansas, according to media reports. The maps executive said he was departing amicably and would stay on as an adviser.
Uber responded to CNN's request for comment by sending a copy of McClendon's statement.
The company, valued at $68 billion, has had a rocky few months.
In January, critics of the company began a #DeleteUber campaign after Uber turned off surge pricing at New York City airports.
At the time, taxi drivers were protesting President Trump's travel ban by calling for a stop to pickups at JFK, where two Iraqis were being detained. Uber's decision effectively lowered the cost of a ride on its service.
Related: Uber pushes back on Trump's order after #DeleteUber starts trending
And in February, the company was hit with sexual harassment claims from a former engineer. In a lengthy blog post, the woman accused the company of systemic sexism that included being propositioned for sex.
March also saw more controversy for the company. The New York Times reported that Uber had developed a tool that it used to deliberately deceive authorities in cities that had either banned the app or were trying to restrict its use.
In a letter to employees Sunday, Kalanick said that Jones made the decision after the company said it would hire a chief operating officer. Kalanick is looking for a new second in command that could help him steer the company's trajectory.
"Jeff came to the tough decision that he doesn't see his future at Uber," Kalanick wrote.
Related: Uber CEO Travis Kalanick: I need to 'grow up'
Uber has already lost several big executives in recent weeks.
Uber's head of growth and product, Ed Baker, resigned from the company earlier this month.
And Amit Singhal, its head of engineering, resigned in late February after Recode reported that he had left a previous job at Google because of sexual harassment claims.
-- Jethro Mullen and Rob McLean contributed to this report.