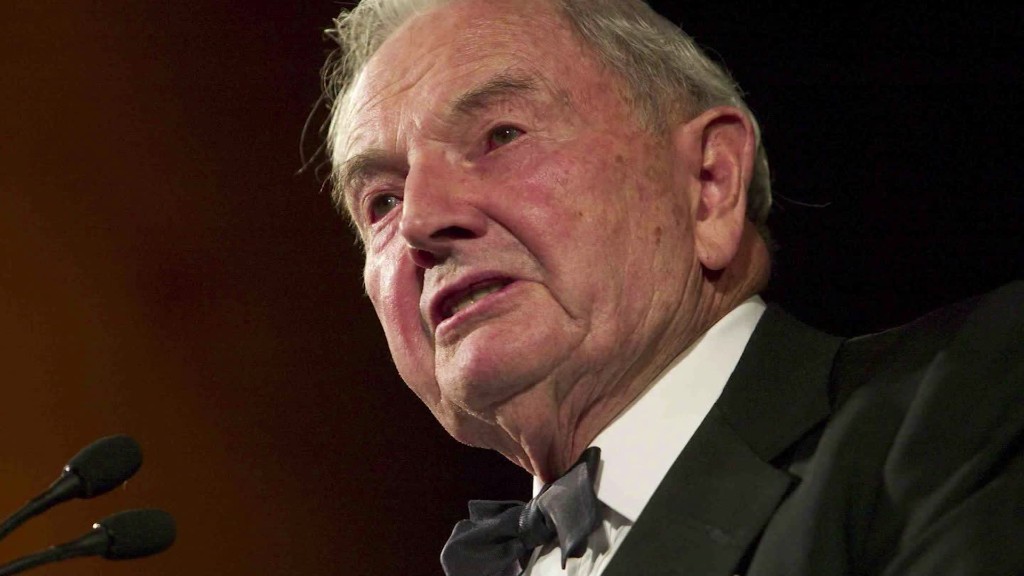 David Rockefeller, the famed banker and philanthropist, died Monday at age 101, according to a spokesperson for the Rockefeller Brothers Fund.
Rockefeller served as chairman and CEO of Chase Manhattan Bank, which after a series of mergers is now JPMorgan Chase (JPM). But he was also born into great wealth as a grandson of John D. Rockefeller, who was the founder of the Standard Oil empire and America's first billionaire.
According to Forbes, David Rockefeller was worth $3.3 billion at the time of his death, making him the world's oldest billionaire.
He died in his sleep Monday morning of congestive heart failure at his home in Westchester County, New York, according to family spokesman Fraser P. Seitel.
"Barbara and I were deeply saddened to hear that our wonderful friend, David Rockefeller, has passed from this good earth," former President George H. W. Bush said in a statement. "So many knew him as one of the most generous philanthropists — and brightest Points of Light — whose caring and commitment to the widest range of worthy causes touched and lifted innumerable lives."
Related: Dumping fossil fuels was great move for Rockefeller Brothers fund
Rockefeller retired in 1980 as CEO and chairman Chase Manhattan after nearly nearly 35 years at the bank. But he was also well known for his charitable work.
He donated almost $2 billion to a wide range of institutions, including The Rockefeller University, Harvard University, the Museum of Modern Art, the Rockefeller Brothers Fund and the Council on Foreign Relations. He also founded the Trilateral Commission, an organization designed to promote cooperation among the nations of North America, Western Europe and Japan.
To mark his 100th birthday in 2015, Rockefeller donated more than 1,022 acres of land in Seal Harbor, Maine to the Mount Desert Island Land and Garden Preserve.
Related: Forbes list of billionaires
He was the last surviving grandchild of John D. Rockefeller, who started the oil empire that today includes both Exxon Mobil (XOM) and Chevron (CVX).
Many members of his family were drawn more to politics than to business. His brother Nelson served as governor of New York and U.S. vice president while another brother, Winthrop, served as governor of Arkansas. He also had a nephew, Jay Rockefeller, who served as U.S. senator from West Virginia.
David Rockefeller started out in government as well, serving as secretary to former NYC mayor Fiorello LaGuardia before joining the army during World War II.