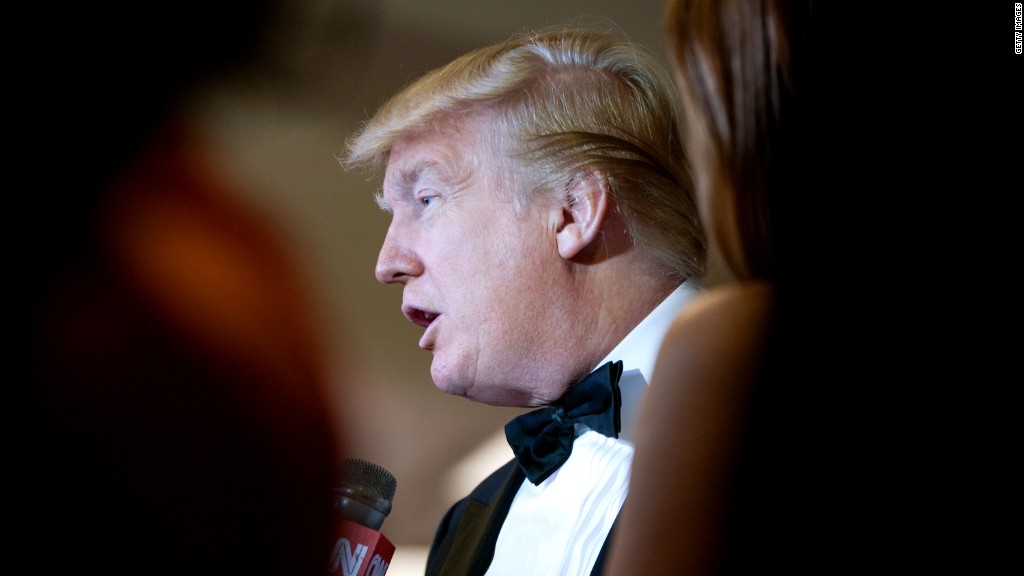 A government watchdog says it is holding off on investigating how her agency is handling the lease for President Trump's luxury Washington hotel.
Carol Ochoa, the inspector general for the General Services Administration, says she'll wait until the agency determines whether Trump's company violated its lease for the Trump International Hotel, according to a letter from Ochoa to lawmakers obtained by CNNMoney.
At issue is whether Trump's inauguration triggered a violation of the lease, which was entered into before his election and bars government officials from being a party.
Related: House Democrats demand info on Trump hotel
Democrats on Capitol Hill have been arguing that the lease presents a financial conflict for Trump. Democratic lawmakers on the House Transportation Committee asked Ochoa earlier this month to look into how GSA is handling the matter.
The hotel is housed in a renovated historic post office that Trump leases from the government. Because Trump oversees the GSA as president, he is effectively both landlord and tenant.
The lawmakers turned to Ochoa after trying unsuccessfully for months to force the GSA to release information about the Trump Hotel lease, including the building's monthly financial reports and any messages sent between the GSA, the Trump Organization and Trump's presidential transition team.
Ochoa's office is the agency's oversight division, and is charged with finding and stopping fraud, waste or mismanagement.
"The General Services Administration has responded, consistent with the law, to congressional requests for documents and information," the agency said in a statement. "To that end GSA has fully responded and complied with all official congressional committee inquiries. Materials provided in those responses are available in our public reading room in redacted form.
Alan Garten, general counsel for the Trump Organization, declined to comment Monday.
Related: How Trump could violate his own hotel lease
A GSA official wrote to the transportation committee in February that it was still reviewing the Trump Hotel lease.
Once the agency has "a full and complete understanding" of the matter, the official wrote, "GSA will determine whether the tenant remains in compliance with the contract."
President Trump, meanwhile, said before taking office that he would not sell off any of his business interests, including the hotel. Federal conflict of interest rules that prevent many executive branch members from holding problematic assets don't apply to the president or vice president.