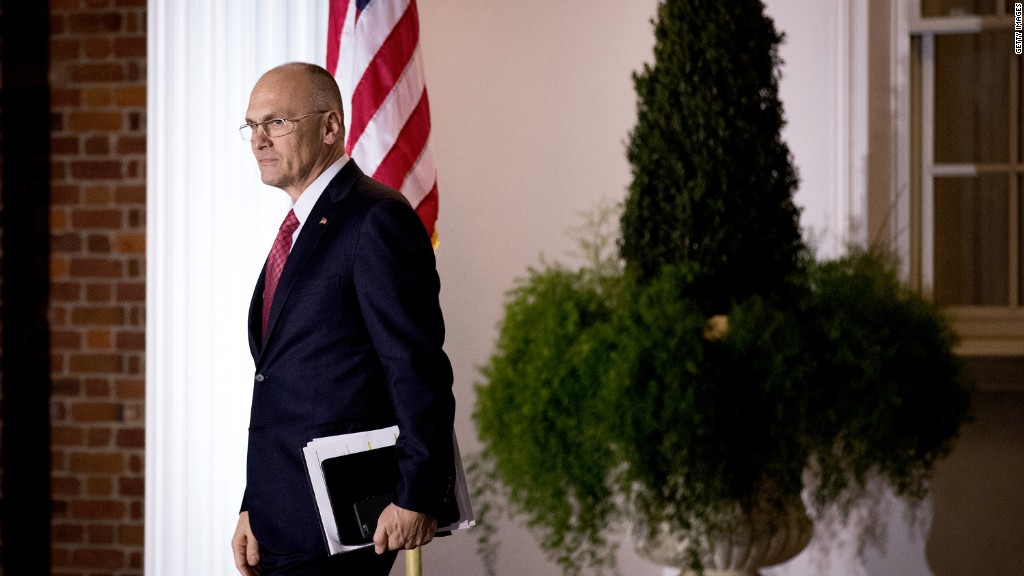 President Trump's first pick to lead the Labor Department was forced to bail last month. Now he's lost his old job, too.
CKE Restaurants, which owns the Hardee's and Carl's Jr. fast food chains, announced Tuesday that KFC executive Jason Marker will replace Andrew Puzder as chief executive in April.
Puzder withdrew his nomination for labor secretary in February after losing Republican support. His path to confirmation was complicated by allegations of domestic abuse leveled by his ex-wife in the 1980s and later withdrawn, as well as his employment of an undocumented housekeeper.
"I expressed my desire to have CKE plan for succession approximately a year ago, and I could not be more pleased to have Jason Marker selected to be the company's next leader," Puzder said in a statement released by the company.
After Puzder withdrew from consideration for the Cabinet post, his spokesman told CNNMoney that he would return as CEO after taking a "short break to re-charge with his family." The spokesman made no mention of an impending departure.
Related: 8 reasons Andrew Puzder's nomination flamed out
Puzder has served as CEO of CKE Restaurants since 2000.
While he's credited with turning around the Hardee's brand, it hasn't always been smooth. In 2004, CKE agreed to pay $9 million to settle three class-action lawsuits involving overtime pay.
The company also fielded complaints about sexist commercials. He sought to market the brand to "young, hungry guys" by running ads of bikini-clad models suggestively eating hamburgers.
"I don't think there's anything wrong with a beautiful woman in a bikini, eating a burger and washing a Bentley or a pickup truck or being in a hot tub," Puzder told CNNMoney in 2015. "I think there's probably nothing more American."
Related: Trump's Labor secretary pick uses bikinis to sell burgers
It's not clear whether Puzder will get a golden parachute. CKE declined to comment on financial arrangements related to his departure.
Puzder's spokesman did not immediately respond to a request for comment.
Trump's new pick for Labor secretary, Alexander Acosta, goes before a Senate committee on Wednesday.