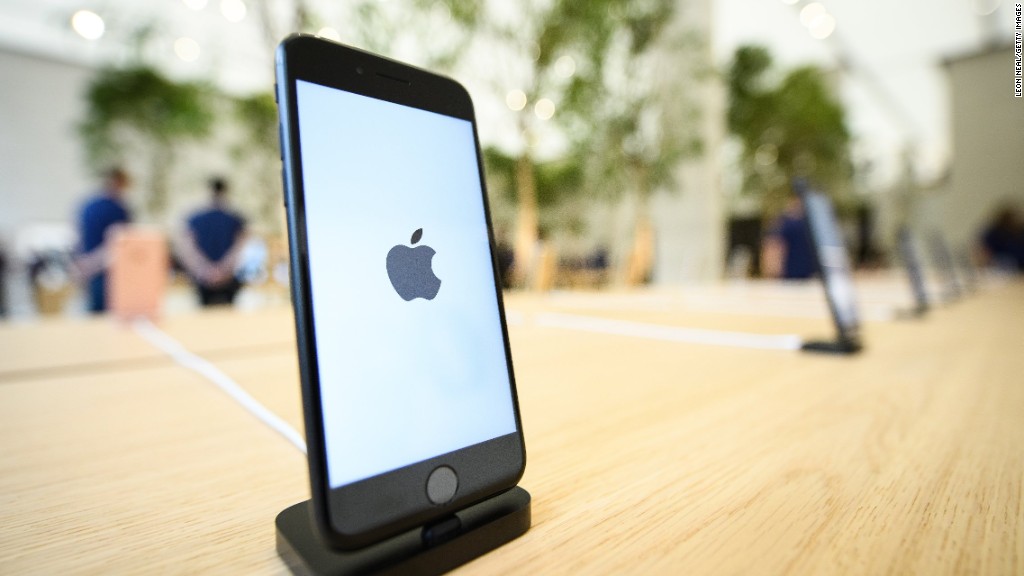 Apple's newest foray into social media isn't its own network -- it's an app that creates slickly designed videos.
Clips, Apple's (AAPL) new standalone app announced Tuesday, creates videos to share to networks like Facebook (FB) and Instagram. The app, which will be available for free in the App Store in April, lets users create what Apple calls "immersive" video.
Clips users can string together video clips, photos and music -- and add a bit of flash with features like filters, emoji, speech bubbles, animated titles and narration. The square-shaped Clips videos can be shared directly to social networks like Instagram, Facebook, Snapchat and Twitter, or saved to a user's phone. (While Apple isn't always known for playing nicely with other tech companies' systems, the Cupertino company hasn't had much success with its own social network experiments like Ping and Apple Music Connect.)
The app reveal was part of a slew of announcements on Tuesday, in which Apple also unveiled a special red version of the iPhone 7 and 7 Plus, as well as a new lower-priced iPad.
Related: Samsung's new AI assistant will take on Siri and Alexa
I tested Clips during a brief demo in New York this week and found the app is a lot like Snapchat's (SNAP) Stories feature -- but with Apple's polish.
What really sets Clips apart is a feature Apple calls Live Titles: While creating video, a user can record narration by speaking into the phone. The app automatically generates captions as the user speaks, and the titles will appear timed to the speech. The feature is clearly designed for social newsfeeds like Twitter (TWTR) and Facebook that default to playing videos with the sound turned off.
Clips didn't perfectly dictate every word I spoke -- that said, I'm not always the slowest speaker -- but I was able to edit the text to correct mistakes. The subtitles, which come in a few different pre-set styles, seemed like they'd feel right at home on an Instagram feed.
Clips also recognizes faces in the videos (via Apple's "Faces" feature in the Photos app) or names in the narration (by looking through a user's contact list), and suggests sending the video to those friends.
Related: Apple is now one of Warren Buffett's top stocks
Another feature I enjoyed: Clips includes special tracks created by Apple that are algorithmically timed to start and finish in sync with the video. It's a nice touch, especially when compared with music simply fading out mid-song. Clips users can also add their own music by harnessing tracks purchased on iTunes or stored on the device.
But Apple Music subscribers are out of luck, unfortunately, as the streaming service's deep catalog isn't compatible with Clips. And while the Clips app will work on both iPhones and iPads, video projects will not sync between two devices.