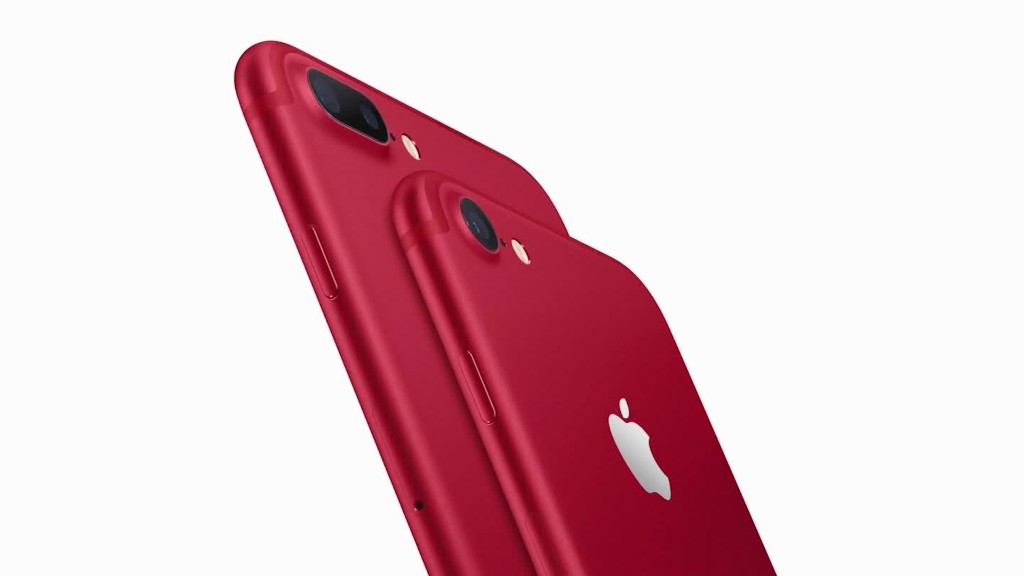 A surprise new iPhone is here -- and it's red.
Apple (AAPL) unveiled Tuesday a special red version of the iPhone 7 and 7 Plus, to commemorate the 10-year partnership between the tech giant and Red, an organization that helps fights AIDS. The special edition iPhones, which feature a red aluminum body, will come in 128GB and 256GB models starting at $749.
The red phones will be available in stores and online starting Friday for a "limited" time, though Apple declined to provide specific details about the timeframe.
Apple also would not share how much money will be donated to Red through the sales of these special iPhones. Overall, Apple said, it has contributed more than $130 million as part of its partnership with Red, making the company the world's largest corporate donor to the Global Fund to fight AIDS.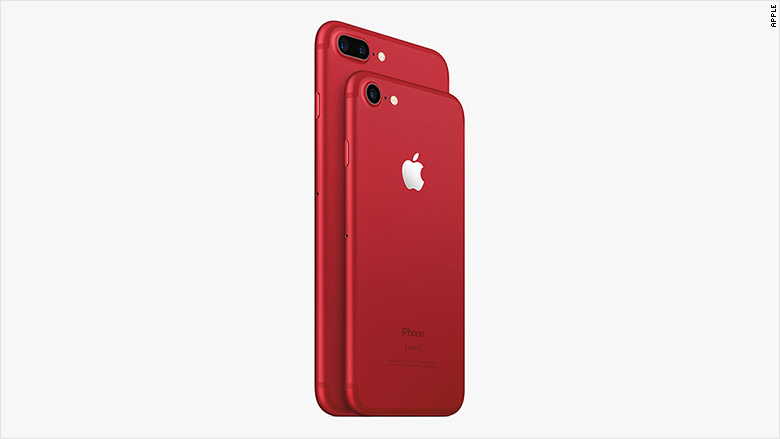 The red iPhones were part of a batch of Apple announcements on Tuesday. The company unveiled a new 9.7-inch iPad with a "brighter" Retina display, which will start at $329 for a 32GB model -- the company's lowest price for a new iPad to date. Apple also announced Clips, a new standalone app that lets users create videos designed to share on social networks like Facebook (FB) and Instagram.
Related: Apple's new Clips app creates social media-friendly videos
Apple sold 78.3 million iPhones in its most recent quarter, which was a record high. The company attributed the increase to strong demand for the iPhone 7 Plus. Still, in fiscal 2016 Apple's annual sales declined for the first time since 2001 -- in large part because iPhone sales dropped in three straight quarters. IPhone sales make up the majority of Apple's business, and some analysts are concerned the global smartphone market is saturated.
Related: Apple worth $750 billion. Next stop? $1 trillion
But Apple stock is at an all-time high and has surged almost 25% so far this year. Analysts are bullish about the next version of the iPhone, possibly called the iPhone 8, expected to be released this year.