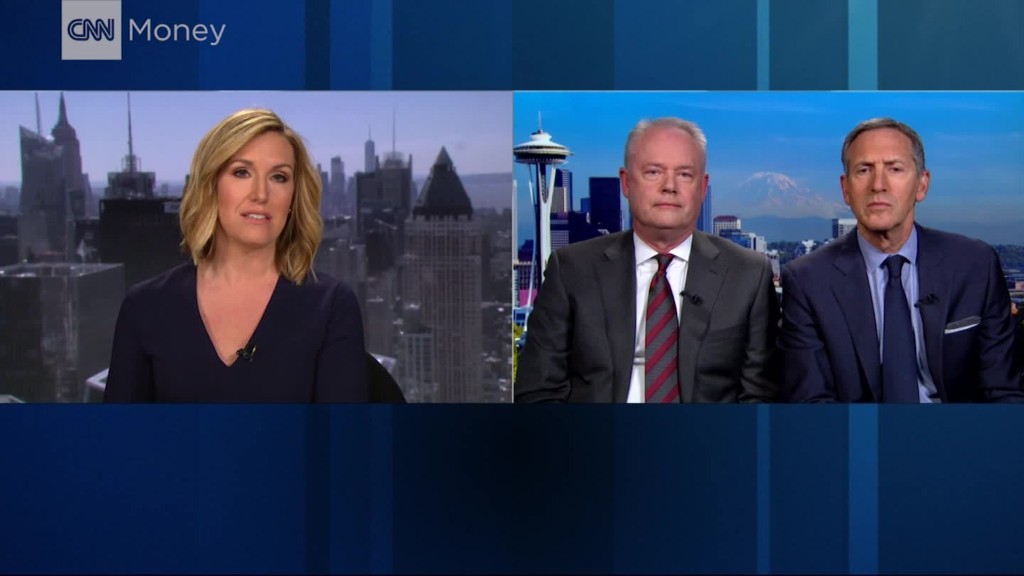 Black, or with milk? Sugar, or no sweetener? People love their morning coffee, and they are very specific about it. And it appears that more java addicts are starting to buy it at Dunkin' Donuts instead of Starbucks lately.
Shares of Dunkin' parent company Dunkin' Brands (DNKN) (the company also owns ice cream shop Baskin-Robbins) are up 10% this year and 25% over the past 12 months, largely due to earnings and sales that topped Wall Street's forecasts.
The stock is even trading at an all-time high. Talk about a caffeine jolt.
Starbucks, on the other hand, is flat this year and has lagged the performance of Dunkin' over the past year.
One reason? Starbucks is having some growing pains with its mobile app, which allows customers to place and pay for orders in advance and skip waiting on line at the checkout counter.
Starbucks (SBUX) incoming CEO Kevin Johnson, who will succeed founder Howard Schultz next month, said in the company's earnings call in January that the success of the app has had some unintended consequences.
So many people are ordering in advance that it has created a rush of orders for baristas to handle. So long lines to order have been replaced by long lines to actually get their coffee.
Related: Starbucks to add 240,000 jobs worldwide by 2021
It's happening at peak hours -- and scaring off some customers who are walking in the door without placing their orders in advance.
Johnson said during its annual shareholder meeting Wednesday that Starbucks has taken steps to address the issue.
At its busiest stores, Starbucks has added two employees to deal just with mobile ordering. Johnson said this is helping to ease some of the congestion.
Of course, too many orders is a good problem to have. But Starbucks also has to deal with the fact that Dunkin' Donuts -- as well as other rivals like Peet's, Caribou, Tim Hortons and even McDonald's (MCD) -- are all trying to become the new king of coffee.
What do you think? I have a poll up on Twitter about whether you prefer Starbucks or Dunkin' Donuts. Vote here.
For what it's worth, Dunkin' Donuts has been particularly aggressive in the coffee wars. The company is planning to ditch its Coolatta iced coffee beverage in favor of a fancier one that will be available this summer.
"Frozen Dunkin' Coffee will offer our guests a more authentic, energizing coffee drinking experience compared to the Coffee Coolatta," said Chris Fuqua, senior vice president of marketing for global consumer insights & product innovation for Dunkin' Donuts in a statement.
Dunkin' is also experimenting with a nitrogen-infused cold brew, just like Starbucks. And it has several other new products on the way, including a Coconut Crème Pie flavored iced coffee, a Chocolate Pretzel Donut and Peanut Butter Delight Croissant Donut.
Related: Starbucks unveils whiskey barrel-aged coffee. Yum!
That has Starbucks on the defensive. Schultz said during the shareholder presentation that "the sabers are out" for him and that "we have analysts who believe maybe the bloom is off the rose at Starbucks."
Schultz went on to say that Wall Street does not know what it's talking about and that even though the stock doesn't reflect it, "I'd honesty say and I believe this, that this probably has been one of our best, most strongest, most meaningful years in our history."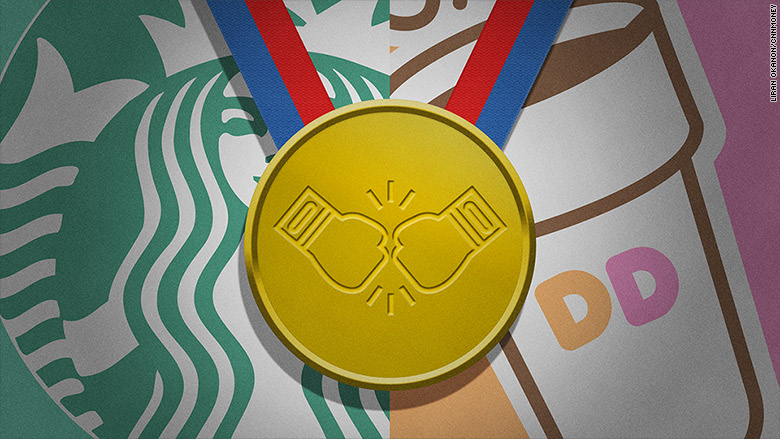 One thing that Schultz is taking pride in is the fact that it is standing up to Trump's proposed ban on immigrants from several Muslim nations. In response to that, Starbucks announced plans in late January to hire up to 10,000 refugees.
But does Starbucks risk losing customers by mixing politics and Pumpkin Spice Lattes? There have been calls by some Trump supporters to boycott Starbucks.
And during the shareholder presentation, Justin Danhof from the National Center for Public Policy Research pointedly asked Schultz "how much will Starbucks investors have to spend" so that Starbucks can vet refugees it wants to hire and also wanted to know "why were you willing to have Starbucks reputation take a beating by attacking President Trump's executive order?"
Related: Starbucks still has a problem with long lines
Schultz responded by saying that there were no additional costs to screen employees.
He added that the decision to hire refugees was not about politics and refuted the notion that any protests by Trump fans are having a financial impact.
"There is zero, absolutely no evidence whatsoever, that there's any dilution in the integrity of the Starbucks' brand reputation or our core business as a result of being compassionate," he said.
Schultz also said in an interview with CNN's Poppy Harlow before the shareholder meeting that even though he supported Hillary Clinton, he backs Trump's plan to lower taxes and add jobs. And he's not worried about a backlash from Trump voters.
"I think that Starbucks has demonstrated over 40 plus years our unique ability to navigate successfully through lots of cyclical changes in the economy and political administrations," he said. "I'm very confident that we will be able to do that."
Related: Does anybody eat cereal for breakfast anymore?
Still, Dunkin' appears to be going out of its way to avoid polarizing political debates -- and that might be helping it.
Scott Hudler, Dunkin's chief digital officer, said at the company's media day Tuesday that "America runs on Dunkin', not Republicans run on Dunkin', Democrats run on Dunkin', It's America runs on Dunkin."
"When we think about elitism starting to fade away, this is our sweet spot," Hudler added. Those quotes were originally reported by Business Insider. A Dunkin' spokesperson confirmed that they were said to all attendees at the media presentation.
And based on how the two stocks have been doing lately, it certainly does seem that Dunkin' is in a sweeter spot than Starbucks. Wall Street, for now at least, runs on Dunkin'.