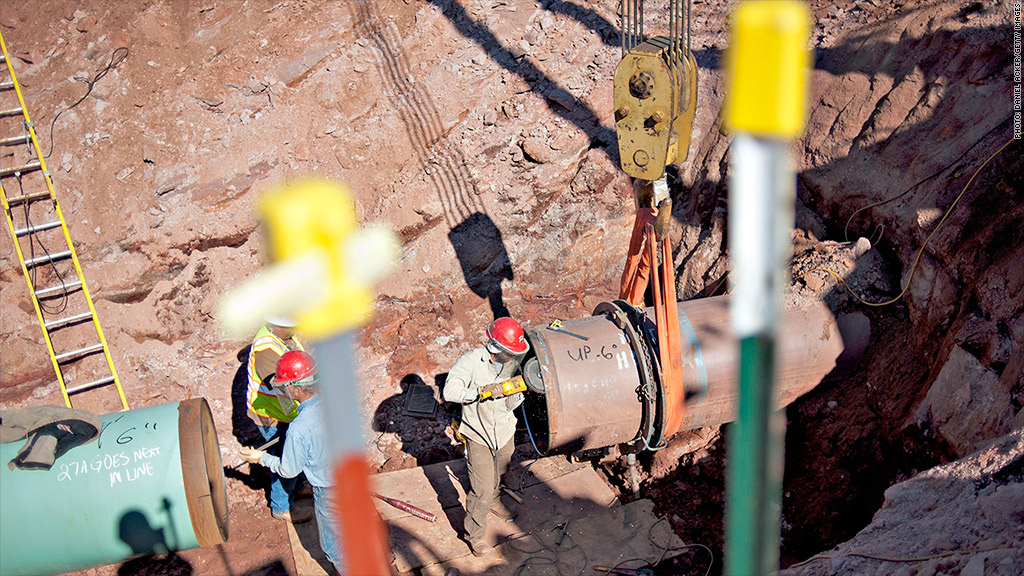 President Trump hailed the State Department's approval of the controversial Keystone XL pipeline as a big win for American workers.
"It's a great day for American jobs," Trump said from the Oval Office on Friday after the State Department issued a permit allowing the pipeline proposed by TransCanada to go forward.
"Today, we take one more step towards putting the jobs, wages and economic security of American citizens first," the president said.
TransCanada (TRP) CEO Russell Girling, standing next to Trump, said Keystone XL will "create thousands of jobs."
The construction of the pipeline would indeed create thousands of jobs. But they will be temporary.
Keystone pipeline would create about 3,900 construction jobs if it was built in one year, according to a State Department report. That number would drop to 1,950 jobs if the Alberta-to-Nebraska pipeline takes two years to build.
The State Department also estimates that about 16,100 additional jobs will be created during the construction via firms awarded contracts for materials and services.
However, once Keystone is completed, only 35 permanent employees would be needed to operate the pipeline along with 15 temporary contractors.
So, the Keystone XL isn't expected to be a boom for the job market by any stretch.
In addition, those temporary and limited permanent jobs could come at a significant environmental cost. The Canadian oil that would flow through the pipeline is considered among the dirtiest types of crude.
A 2015 study funded by the Department of Energy found that the oil sands from Canada emit 18% more greenhouse gases when processed into gasoline than that processed from traditional U.S. crude. And diesel fuel derived from oil sands emits 21% more of these harmful gases.
That's why environmentalists remain fiercely opposed to Keystone.
"The dirty and dangerous Keystone XL pipeline is one of the worst deals imaginable for the American people, so of course Donald Trump supports it," Michael Brune, executive director of the Sierra Club, said in a statement.
Related: Despite promises, Keystone won't have to use American steel
In fact, despite Friday's green light from the State Department environmentalists have thrown more obstacles in front of the pipeline.
Keystone still needs approval from state authorities in Nebraska, where some landowners oppose the project and have sued TransCanada.
Asked by Trump when Keystone will start, TransCanada's Girling said, "We've got some work to do in Nebraska."
Trump responded: "Nebraska? I'll call Nebraska. Nebraska has a great governor."
Still, the White House did acknowledge some environmental concerns. Trump said he believes it's "a lot safer to have pipelines than use other forms of transportation."
Limited pipelines in the Canadian oil sands have forced much of that crude to travel by rail. But safety concerns about carrying crude by train have been on the rise following the deaths of 47 people after a train transporting oil derailed in 2013 near Lac Megantic, Quebec.
Trump did not repeat an earlier promise that the steel to make the Keystone XL pipeline would be American. The White House has already backed away from that pledge, saying the new "buy American" rules for pipelines won't apply to Keystone.
--CNN's Chris Isidore and Rene Marsh contributed to this report.