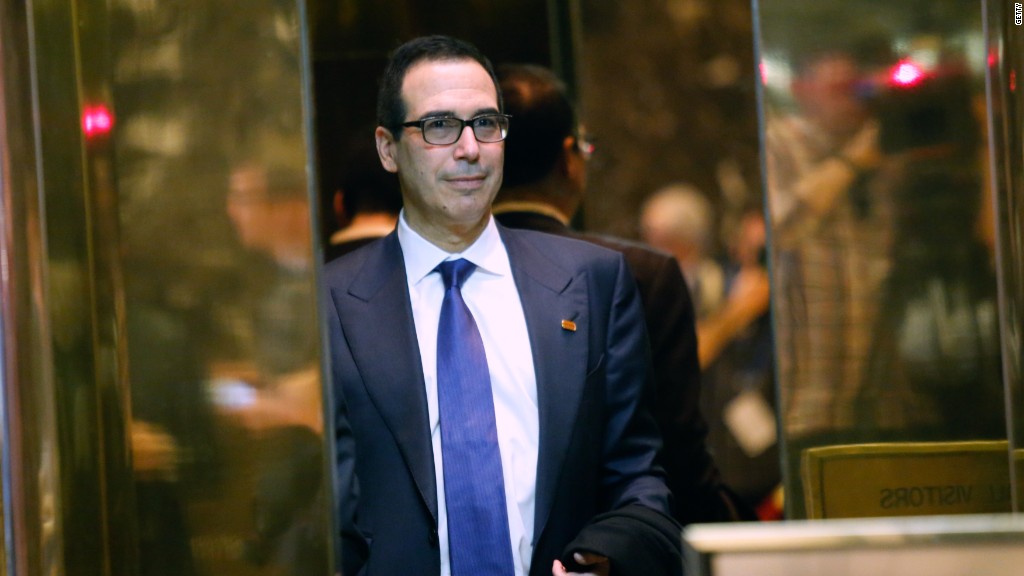 President Trump has perfect genes.
That's according to Treasury Secretary Steven Mnuchin, who sat for a wide-ranging interview with news site Axios on Friday in Washington.
When he wasn't discussing economic growth and tax reform, Mnuchin riffed on the president's "incredible" stamina and his improved White House diet.
Here are the highlights.
Mnuchin on the president's genes and diet
Asked about Trump's White House style, Mnuchin said Trump is constantly on the phone or talking to people.
"This guy's got more stamina than anybody I've ever met," he said.
How is that possible, he was asked, given Trump's predilection for fast food?
"He's got perfect genes," Mnuchin said.
But the president is off the greasy stuff, he said.
"Since he got to the White House, he doesn't eat KFC anymore and McDonald's," Mnuchin said. "There is great food there. Let me tell you."
Related: Mnuchin: Trump's new tax reform plan coming 'very soon'
Mnuchin at the movies
In his former life, the former Goldman Sachs banker financed Hollywood movies like "Suicide Squad" and "Batman v. Superman: Dawn of Justice." But he wasn't cheering for Leonardo DiCaprio in 2013's "The Wolf of Wall Street."
"Complete misrepresentation," he said when asked whether he had seen the film.
Same goes for "The Big Short."
So what's a good film, according to the treasury secretary?
"I am not promoting any product, but you should send all your kids to 'Lego Batman,'" he said. (Mnuchin was one of the movie's executive producers.)
Related: Mnuchin talks tech: 'I don't understand these valuations'
Mnuchin on Snapchat
Mnuchin said he doesn't use the app himself, but his kids are big fans.
"They use it all the time, so that's why, I guess, it's as big as it is," he said.
Snapchat held its IPO to much fanfare earlier this month. It took in $3.4 billion from the public offering and is worth more than Target (TGT) and CBS (CBS).
In general, Mnuchin said he thinks tech stocks may be worth too much.
"I don't understand these valuations," he said when asked for his thoughts on Silicon Valley.