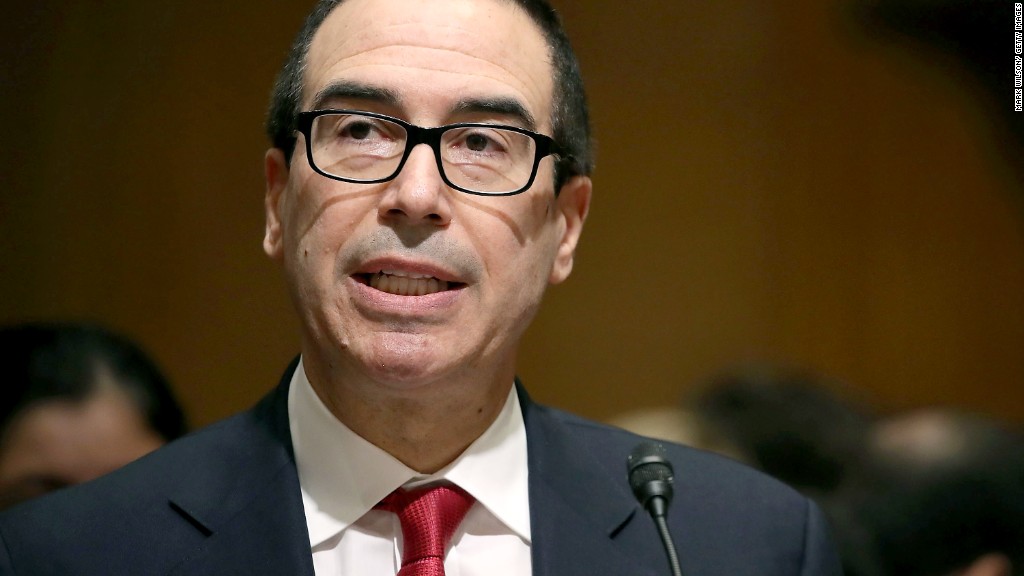 Tech stocks are booming. But Treasury Secretary Steven Mnuchin thinks they might be too expensive.
"I don't understand these valuations," he said Friday in an interview with the news site Axios in Washington.
Apple (AAPL) and Facebook (FB) stock are each up more than 20% this year. Amazon (AMZN) is up 13%, and Netflix (NFLX) more than 15%.
The secretary was asked for his thoughts on Silicon Valley. He wouldn't comment on specific investments, but he did shrug at the concept of Snapchat (SNAP), which went public in a splashy IPO this month and has a higher market value than Target (TGT) and CBS (CBS).
Mnuchin said he doesn't use Snapchat but his kids do.
"They use it all the time, so that's why, I guess, it's as big as it is," he said.
He conceded he could be wrong about tech stocks: The skeptics were mistaken about Intel (INTC) decades ago.
"I think we're in the fifth or sixth inning, not the eighth or ninth inning," he said.
Related: How going public might change Snapchat
Mnuchin's boss, President Trump, has feuded with Silicon Valley, most recently over the president's travel ban. The broader stock market, meanwhile, has been on a tear since the election, setting one record after another.
Mnuchin attributed the run to one factor: "The president."
And if stocks drop?
"It's Congress," he laughed.