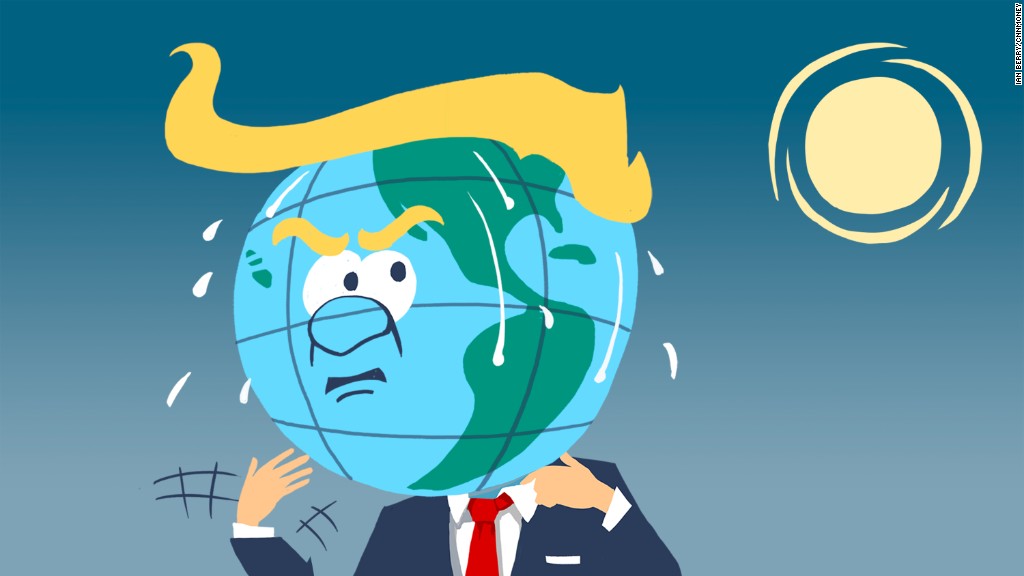 Donald Trump took aim Tuesday at one of President Obama's signature efforts on climate change: rules designed to make power plants cleaner.
Trump signed an executive order to start undoing Obama's Clean Power Plan, which seeks to cut carbon emissions by power utilities, one of the largest sources of greenhouse gases.
The administration says Trump is delivering on a key campaign promise: to restore coal mining jobs by eliminating regulations.
But the reality is that the demand for coal in the United States has been declining for years due to capitalism, not government regulations.
The falling price of natural gas is the primary reason for the plunge in use of coal by utilities. Renewable energy sources, such as wind and solar, are also becoming more competitive.
"There are a lot of market forces already driving the utility industry towards cleaner energy," said Kevin Rennert, visiting fellow with Resources for the Future, a Washington Think Tank concentrating on energy issues. "Getting rid of the [Obama rules] doesn't change that."
Related: Trump promises more coal and steel jobs. China is cutting 500,000
The environmentalists and other experts say scrapping the rules won't mean a jobs boom at coal mines. Especially since overseas markets, such as China, are cutting their consumption of American coal and consumers are using more efficient appliances and light bulbs that limit the pace of increased electrical consumption at home.
"The saddest part of this whole thing is Trump is raising false hopes in coal country for a revival that will never happen," said David Doniger, director of climate and clean air at the Natural Resource Defense Council.
The amount of coal used to produce electricity in the United States has dropped by about 35% since the high point in 2007, according to the Energy Department figures. Most of that decline is attributable to the increased use of natural gas, with renewable energy becoming more of a factor in recent years.
Related: Why Trump can't bring back coal jobs
The rules Trump is aiming at were unveiled by Obama in August 2015. The plan set targets for deep cuts in overall carbon emissions by power utilities between 2005 and 2030. But the rules never went into effect, as the U.S. Supreme Court put them on hold while lower courts heard legal challenges which are ongoing.
Still even without the rules being in effect, 2016 was the first year in which natural gas produced more electricity than did coal, according to Energy Department figures. About 35% of electricity came from burning natural gas, while coal, which used to produce half the nation's electricity, only produced 30% last year. Another 19% came from nuclear power while 15% came from renewable sources.
"The market forces may get us to Clean Power Plan [emission reduction] goals on their own," said Doniger.
Related: Top coal exec to Trump: 'Temper' your coal job promises
The Energy Department estimates that even without Obama's rules, the use of coal by power plants through 2050 will remain essentially flat, even while the need for electricity will increase by 35%. Even the head of the coal industry's trade group isn't disputing that forecast.
"There is going to be continuing competition between coal, natural and renewable for the power generation market," said Betsy Monseu, CEO of the Amercian Coal Council. She said the industry's big concern is that the Obama rules would cause an even sharper drop in demand for coal as states and utilities moved to phase out remaining coal-fired power plants to meet the tougher emissions targets.