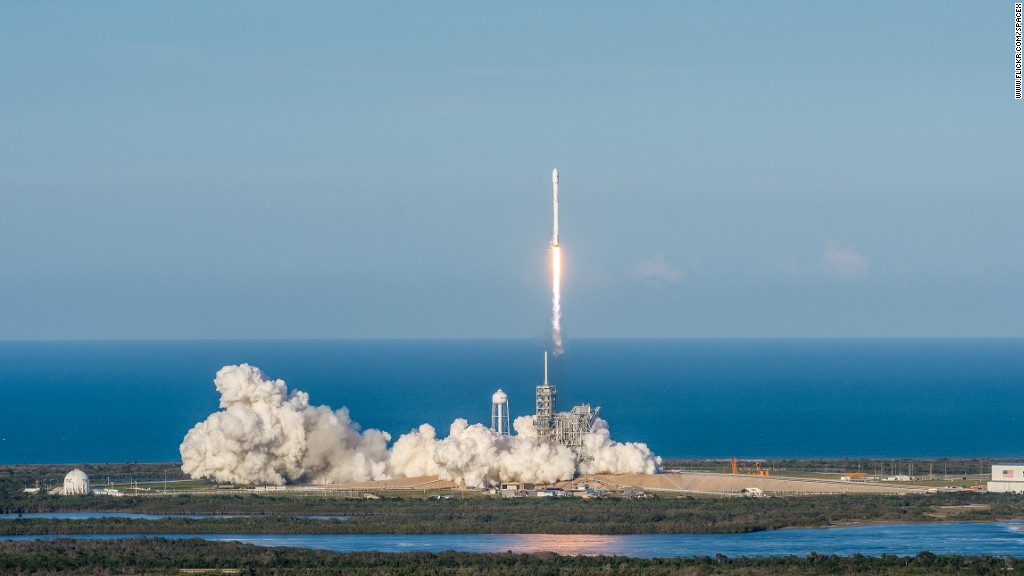 SpaceX just made history by launching the same rocket into orbital space for a second time. And the jaw-dropping news did not stop there.
CEO Elon Musk -- who also heads Tesla (TSLA) -- said in a press briefing after the launch that in addition to safely landing the first stage of the rocket, the company also recovered the $6 million fairing. That's the top portion of the rocket that houses the payload, which, in the case of Thursday's launch, was a communications satellite.
The fairing, Musk said, was outfitted with thrusters and parachutes, which guided it to an ocean landing after it deployed the satellite.
"That was definitely the cherry on the cake," Musk said.
Reusing pieces of spacecraft is the cornerstone of SpaceX's business plan.
Related: SpaceX makes history: It launched a used rocket and then landed it in the ocean
Traditionally, rockets have been used just once, and are left to burn up in the atmosphere after a mission. But SpaceX has been working for years to change that and lower the cost of spaceflight.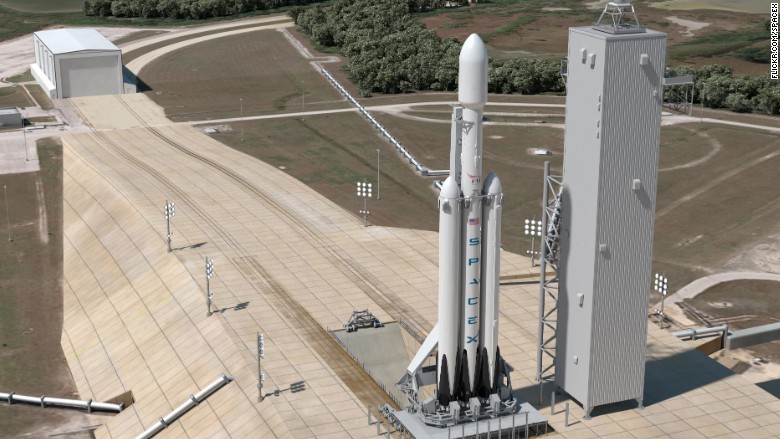 Thursday's launch marked a huge step toward that goal. It proved not only that the first stage of SpaceX's $62 million Falcon 9 rocket can be re-launched to orbit, but that it can be successfully recovered a second time. (SpaceX says the first-stage rocket is by far the most expensive part of the rocket, accounting for about 70% of the overall cost.)
The rocket also made history the two times it landed on a platform -- called a droneship -- about the size of a football field in the middle of the Atlantic Ocean.
Related: SpaceX to fly two space tourists around the moon in 2018
Musk said at a press briefing that the rocket won't travel to space a third time. SpaceX plans to donate it to the Kennedy Space Center in Cape Canaveral, where Thursday's launch occurred.
But SpaceX has successfully recovered seven other first-stage boosters from previous launches, and Musk plans to put them to use. He said SpaceX will conduct as many as six more launches with used rockets in 2017.
SpaceX will also eventually try to launch its recycled rockets more quickly. Musk wrote on Twitter Thursday night that his next goal is to launch and land the same rocket twice within 24 hours.
And reused rockets will be a part of the maiden launch of SpaceX's long-awaited Falcon Heavy, a supersized rocket that's essentially three Falcon 9 rockets strapped together. Musk said Thursday that the two side boosters of the rocket will be refurbished Falcon 9's.
Related: Watch SpaceX's Falcon 9 Rocket make a flawless landing
On Friday, Musk tweeted that the Falcon Heavy launch will occur in "late summer."
And the SpaceX team may also try to recover the upper stage portion of the Falcon Heavy rocket sometime soon.
"Considering trying to bring upper stage back on Falcon Heavy demo flight for full reusability. Odds of success low, but maybe worth a shot," he said via Twitter Friday.
Landing the upper stage rocket is an extremely complicated feat considering the second stage flies much further from Earth.
Musk said Thursday that such a thing is a "Hail Mary" attempt. But, then again, he added, SpaceX's history is filled with moments where "people went from thinking, 'This is impossible,' or 'You just shouldn't do it' -- to 'It worked,'" Musk said.