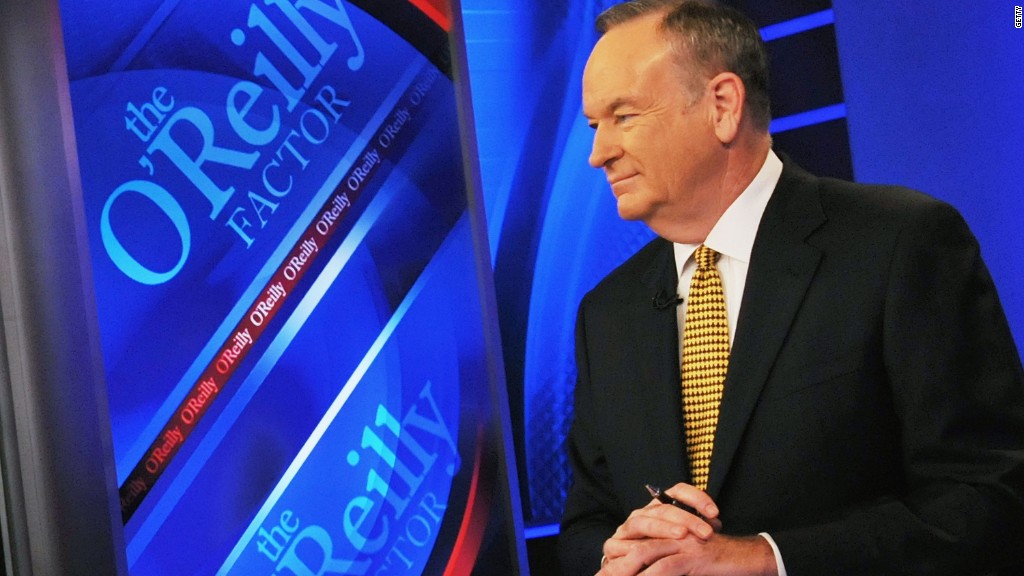 If Bill O'Reilly weren't the biggest star at Fox News, would he still have a job at Fox News?
Many media industry observers, reading about the harassment allegations that have cost O'Reilly and Fox millions of dollars, are saying he would not.
What does that answer say about the Murdoch media empire?
Murdoch and his sons are standing near O'Reilly, although not right next to him, by renewing his contract, but not issuing a full-throated defense.
And Fox's executives are waiting and watching, anticipating that more women will come forward with allegations against O'Reilly.
Other people in and around the cable news channel are also wondering about that -- and asking if any advertisers will avoid "The O'Reilly Factor" as a result of the scandal. A related question: will O'Reilly's viewers care about the controversy?
Murdoch associates winced on Saturday when The New York Times reported that five women received settlement payouts after accusing O'Reilly of harassment or verbal abuse. The Times said its reporting "suggests a pattern:" O'Reilly would wield his influence to "pursue sexual relationships" with women at Fox.
The story stung, but it was not surprising. For one thing, Fox executives and O'Reilly's representatives had known the Times investigation was in the works for months.
Related: 21st Century Fox stands by Bill O'Reilly amid report of five settlements
But they didn't need an investigation to know about O'Reilly's reputation. Inside Fox, there is a recognition that O'Reilly is a cable news legend, a loudmouth beloved by Fox's base -- but that he's also a liability because of his personal behavior.
O'Reilly settled a sexual harassment suit from ex-producer Andrea Mackris in 2004. (That payout accounts for $9 million of the $13 million in settlements The Times described, according to the paper.) And his ugly divorce proceedings, and the fallout from them, were documented by Gawker and its sister sites for years.
The Times (where I worked until 2013) began looking into the settlement payouts late last summer, after founding CEO Roger Ailes resigned amid a sexual harassment scandal.
The forthcoming story was the subject of C-suite office chatter throughout the winter. Murdoch associates wondered how damaging the story could be and discussed ways to blunt the impact.
The story went through an extensive legal review process. On Friday, as the Times was preparing to splash the story across the front page of Sunday's paper, a lawyer for O'Reilly threatened consequences, saying in a statement, "We are now seriously considering legal action to defend Mr. O'Reilly's reputation."
O'Reilly, 21st Century Fox said in a statement, "denies the merits of these claims."
In a statement on his web site, O'Reilly said he struck settlement deals to spare his children from hurtful headlines about lawsuits.
By the time the story came out, the Murdochs had already decided to extend O'Reilly's contract. The Murdoch-owned Wall Street Journal was the first to report the new deal, and a source confirmed it to CNNMoney.
O'Reilly's contract, said to be worth about $18 million a year, was due to expire at the end of 2017; now it is unclear when it expires.
All of the parties involved declined to comment. But the news of the new deal is a contractual show of support from 21st Century Fox.
The support has limits, however. Two executives, speaking on condition of anonymity, suggested Fox is taking a wait-and-see approach to the controversy that's been triggered by the Times investigation.
The case has parallels to professional sports, in which the business interests of teams and leagues sometimes override concerns about players' off-the-field behavior as millions of people look past the unsettling news coverage and tune in for the show.
But other people -- probably a smaller number of them -- are also looking at how the Murdochs are conducting themselves. Rupert Murdoch's sons James and Lachlan have signaled interest in reforming the company.
"Rupert's sons, you know, don't like this one bit, I can tell you. And there are people within the network itself who don't like this one bit," the FT's media correspondent Matthew Garrahan, who recently profiled the Murdochs, said on CNN's "Reliable Sources" Sunday.
Garrahan noted that it's Rupert, not the sons, who has been "running Fox News since Roger Ailes was pushed out. These are his decisions."
A generational divide looms over the current controversy. The elder Murdoch and O'Reilly have been in business together, through Fox News, for two decades.
O'Reilly is the cornerstone of the Fox News house. His show has been number one for over a decade. While Fox maintains a sizable audience all day long, more than one million additional viewers turn to Fox right at 8 p.m. for the "Factor," boosting the channel's prime time performance.
Fox has no obvious successor for O'Reilly's time slot, though several other personalities take turns filling in when he is away.
The title of O'Reilly's next book -- "Old School" -- describes him well. That's part of his appeal to his viewers. But if his fans are inclined to dismiss the Times story as a liberal hit job, the channel's staffers and investors are not.
People close to the Murdochs have said that the family members are "making things right," creating a safer climate for women -- an implicit break from the boorish Ailes era.
21st Century Fox has struck settlement deals with some of the women who said they were victimized by Ailes.
The company's statement over the weekend said "21st Century Fox takes matters of workplace behavior very seriously and said O'Reilly is "fully committed to supporting our efforts to improve the environment for all our employees at Fox News."
Those efforts include sensitivity training, sexual harassment training, and the hiring of new human resources executives at Fox News.
Two sources said reporters at the Times were aware of other allegations against O'Reilly, beyond the ones that were described in the story.
Times reporter Emily Steel said on "Reliable Sources" that "the facts in the story, that we put in the story, are the facts that we thought were ready to go."
One of the accusers named in the Times story, Wendy Walsh, is scheduled to speak at a press conference on Monday.
Walsh's attorney, Lisa Bloom, is calling for an independent investigation into harassment at Fox.