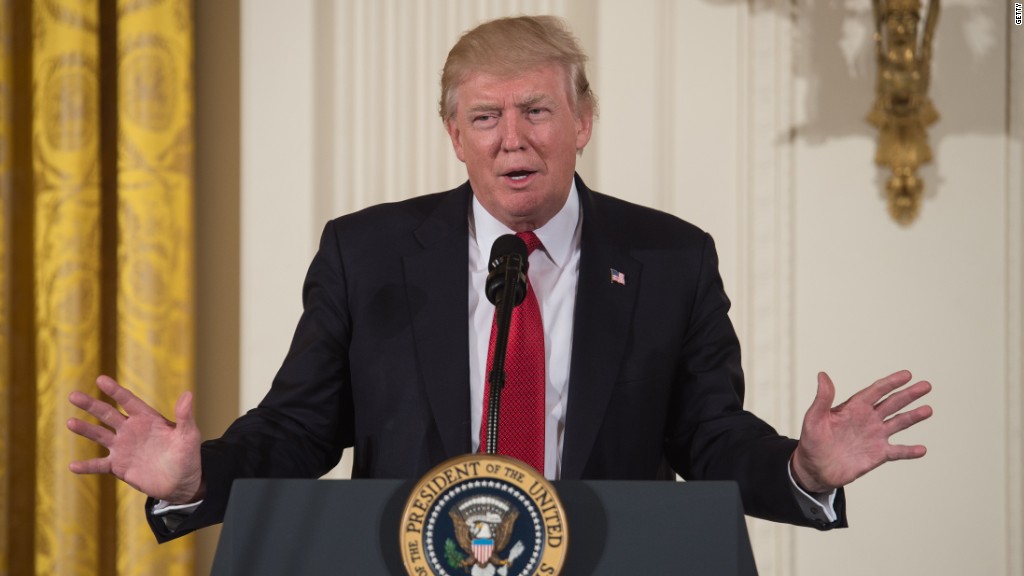 President Trump has a message for bankers: Help is on the way.
Trump promised on Tuesday to "do a very major haircut on Dodd Frank."
He complained that regulators, not CEOs, are the ones "running the banks" these days.
Bank CEOs are "petrified of the regulators. They're petrified. They can't move," Trump said during a town hall with CEOs, including Citigroup (C) boss Michael Corbat.
If there is a regulator that bankers are scared of, it's Daniel Tarullo. And Tarullo is stepping down on Wednesday from his post as the Federal Reserve's regulatory czar. Tarullo is the man behind bank stress tests and other efforts aimed at preventing a repeat of the financial crisis.
Trump has repeatedly taken aim at Dodd-Frank, the post financial crisis reform law. On Tuesday, he called it an example of "horrendous" regulation that his administration is "absolutely destroying."
Trump was light on the details about which specific parts of the law he'd like to get rid of.
The White House has promised that relaxed regulation will create jobs by boosting lending to businesses that need funding.
Trump's comments come at a time when banks are already lending to a ton to businesses. Commercial and industrial loans from commercial banks hit an all-time high of $2.1 trillion in November, according to the Federal Reserve.
Not just that, but the banking industry as a whole generated record profits in 2016 for the third year in the past four, according to the FDIC. Out of 5,913 insured institutions, 59% of them made money in the fourth quarter.
Related: Wall Street's regulatory czar is leaving
Federal Reserve chief Janet Yellen recently said U.S. banks are "quite profitable" and "quite strong" relative to their overseas peers.
"I see well-capitalized banks that are regarded as safe, sound and strong," Yellen said.
Trump said his administration will do things that are "very good for the banking industry." He said this will go "far beyond recommendations" on tweaking Dodd-Frank.
Just two weeks after taking office, Trump signed an executive order instructing the heads of regulatory agencies to report back to him within 120 days with suggestions to change existing financial regulation. Gary Cohn, who left Goldman Sachs (GS) to become Trump's top economic adviser, stood behind Trump as he signed the order.
JPMorgan (JPM) CEO Jamie Dimon echoed Trump's message to top executives on Tuesday in his own letter to shareholders, arguing "poorly conceived and uncoordinated regulations" have wreaked havoc on the U.S. economy.
Related: Yellen debunks Trump's case for killing Dodd-Frank
Dimon refrained from suggesting policy makers should undo the entire reform law, but said now was the time to figure out what changes could be made.
"We're not looking to throw out the entirety of Dodd-Frank or other rules," wrote Dimon. "It is, however, appropriate to open up the rulebook in the light of day and rework the rules and regulations that don't work well or are unnecessary."
Republicans have also pushed Trump to abolish the Consumer Financial Protection Bureau, which was created by Dodd-Frank as a watchdog against financial abuse.
But Treasury Secretary Steven Mnuchin said during his confirmation hearing that the CFPB, the brainchild of Senator Elizabeth Warren, is worth keeping.
Mnuchin also supports the Volcker Rule, but suggested making changes to the controversial Dodd-Frank rule that bars big banks from making risky bets with their own money.
One area of focus is to offer relief for community banks. Even Barney Frank, one of the architects of Dodd-Frank, recently told CNNMoney that community and midsize banks have been unfairly hurt by heavy legal costs.
But Frank warned that dismantling the Wall Street reform law would increase the chances of a new "crash" in the financial system.
--Donna Borak contributed to this report.