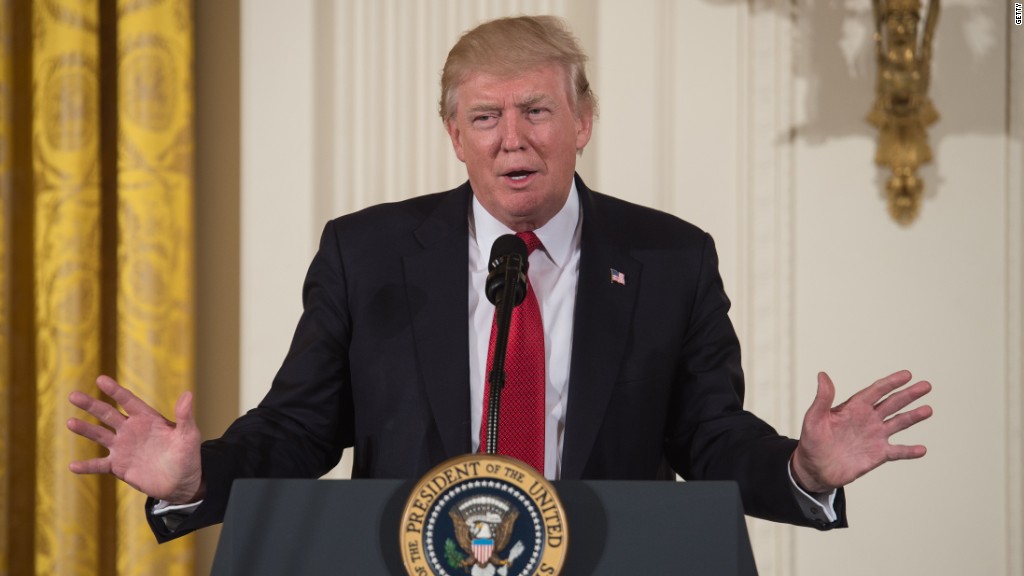 Jamie Dimon admitted he received "a lot of complaints" after agreeing to join President Trump's CEO advisory council.
But the JPMorgan CEO made it sound like a no-brainer, explaining he just wants America to do well.
"When you get on the airplane, you better be rooting for the success of the pilot," Dimon told Yahoo Finance during a town hall event on Tuesday.
"I am a patriot. I will do what I can to help the United States of America; that includes helping whoever is president," he said.
Dimon, a former backer of President Obama and other Democrats, emphasized that his decision to join Trump's Strategic and Policy Forum shouldn't be confused as a wholesale endorsement of Trump.
Asked if he agrees with everything Trump proposes, Dimon said "absolutely not."
"Mr. Trump doesn't even agree with everything he said himself," Dimon joked.
And Dimon himself doesn't seem to agree with Trump's harsh rhetoric on Dodd-Frank, the 2010 Wall Street reform law.
Trump on Tuesday promised to "do a very major haircut on Dodd-Frank" and referred to it as an example of "horrendous" regulation that his administration is "absolutely destroying."
Related: Trump promises to help bankers 'petrified' of regulators
But Dimon's closely-watched annual shareholder letter took a more moderate tone.
Yes, Dimon said that "poorly conceived and uncoordinated regulations" have hurt the U.S. economy.
But the JPMorgan (JPM) chief said "we're not looking to throw out the entirety of Dodd-Frank or other rules."
In the letter released Tuesday, Dimon even argued that thanks to regulation, the odds of another cataclysmic bank collapse like Lehman Brothers have been drastically reduced.
"There's so much more capital in the system that the chance of failure is really small," Dimon said, adding that "we should congratulate the regulators" for stabilizing the system after 2008.
By contrast, Trump seemed to blame the regulators. He said the regulators, not the CEOs, are the ones "running the banks" these days. Bank CEOs are "petrified of the regulators. They're petrified," Trump said.
Dimon is just the latest big CEO to defend his ties to Trump.
Elon Musk took to Twitter in February to explain why he agreed to stay on Trump's advisory panel despite the uproar in Silicon Valley over his immigration policies.
"I believe this is doing good, so will remain on council & keep at it. Doing otherwise would be wrong," Musk tweeted.
On the other hand, Uber CEO Travis Kalanick stepped down from the advisory council, saying he didn't want his position to be "misinterpreted" as an endorsement of Trump's agenda.
Dimon is using his influential role to call out specific problems that Washington needs to fix, including corporate taxes, immigration and education.
The JPMorgan CEO seemed particularly exasperated about crumbling roads, bridges and other forms of infrastructure Trump has pledged to rebuild.
"People may die. It's amazing to me we haven't fixed this problem," Dimon said.
Dimon said he believes Trump is "on the right track" and said he's "very comforted" by the president's team of capable advisers like Secretary of State Rex Tillerson and Defense Secretary James Mattis.
"I'm optimistic because America has this amazingly resilient political system," Dimon said. "It's been through far worse than today."