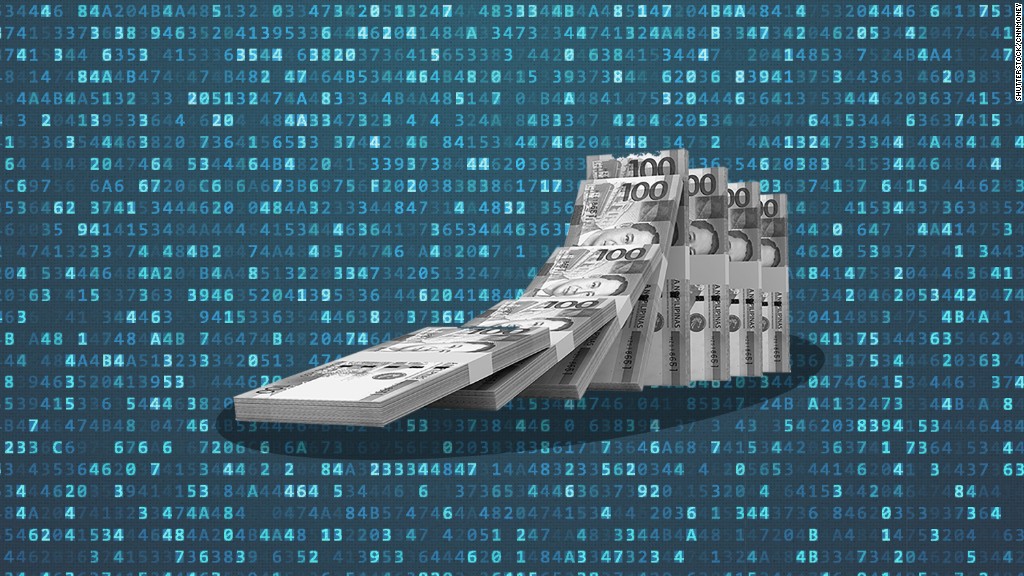 President Trump says he's prepared to tackle North Korea's growing nuclear threat with or without China.
But he'll need Beijing's help if he wants to choke off the streams of income that keep Kim Jong Un's regime afloat.
China is North Korea's economic bedrock, accounting for more than 80% of its smaller neighbor's foreign trade.
The U.S. and its allies have tried for years to squeeze the North Korean government's supply of money and cut it off from the global banking system. All that seems to have done is develop Pyongyang's ability to dodge sanctions.
"We've been over-prescribing sanctions on the North Korean regime to the point where it has become a superbug," said John Park, director of the Korea Working Group at the Harvard Kennedy School.
Related: Trump: US will act unilaterally on North Korea if necessary
He says the U.S. needs to persuade China to clean up its trade with North Korea. Others want Washington to come down hard on Chinese companies that are believed to help Pyongyang do business.
Dealing with the rogue state will be a central topic when Trump meets Chinese President Xi Jinping for the first time this week.
Here's where North Korea gets the cash it needs for its military: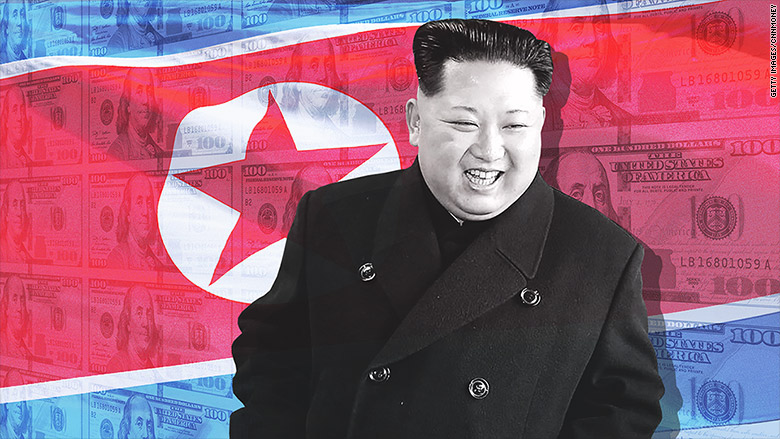 Coal
Its biggest source of foreign currency is believed to come from the millions of tons of coal it sells to China every year. They accounted for about a third of official exports in 2015.
That income was thrown into doubt in February when China said it would halt all coal imports from North Korea for the rest of the year.
But experts say Beijing's claims to clamp down on trade often sound tougher than they are. China doesn't want to crush the economy of its neighbor, which it views as a buffer between it and South Korea, a key U.S. ally.
"The objective of the coal ban is clearly not to bring down the North Korean regime," Stephan Haggard, a visiting fellow at the Peterson Institute for International Economics, wrote after it was announced.
Related: North Korean banks kicked out of global messaging network
Traders on both sides of the border have plenty of ways to get around restrictions on the coal business, including off-the-books deals and lax enforcement, analysts say.
North Korea also exports other commodities, and basic goods such as iron ore, seafood and clothing, to China.
Healthy reserves
Even assuming China gets tough on trade, North Korea is thought to have racked up hefty "rainy day" funds from booming coal sales to China, particularly during the spike in global commodity prices in the previous decade.
Harvard's Park says he believes Pyongyang has kept "very large sums" in China that the regime can use to buy what it wants for its weapons programs.
By keeping the money in China, North Korea can more easily dodge sanctions aimed at cutting it out of the global financial system.
Restricting Pyongyang's access to that cash "boils down to the political will of the Chinese authorities to use domestic law to track down these funds," Park said.
Related: China's ZTE fined $1.2 billion for breaking sanctions on Iran, North Korea
Investigations by the United Nations and the U.S. have also found evidence they say shows North Korea is using networks of front companies to gain access to global banks.
Anthony Ruggiero, a senior fellow at the Foundation for Defense of Democracies, suggests the U.S. government could shake things up by fining a Chinese bank for helping North Korea avoid sanctions.
"A large fine would send shock waves through the Chinese financial system, causing other Chinese banks to evaluate their compliance procedures," he wrote in an article this week.
Related: North Korea flouting sanctions with illegal arms trade, report finds
Cyber attacks
Since early last year, another potential revenue stream for North Korea has come into focus: hacking banks.
The country is now being linked to attacks on financial institutions in 18 countries, according to a new report from Russian cybersecurity firm Kaspersky.
"You're looking at a situation where the North Koreans are particularly sophisticated," said Park. "It's a big source of revenue going forward."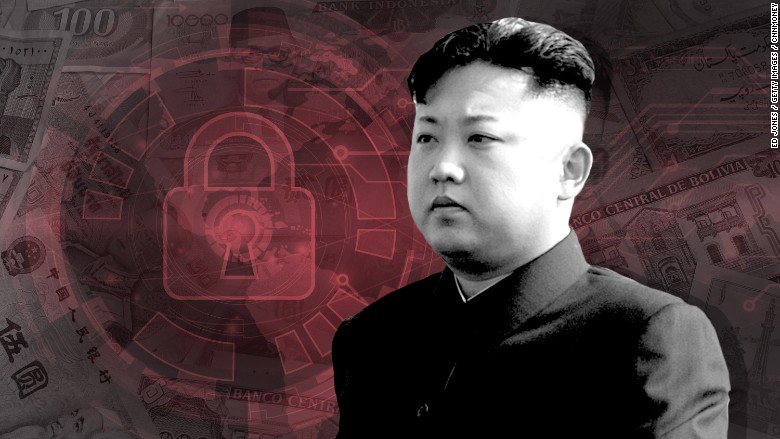 A cyber heist on Bangladesh's central bank made headlines in March 2016. And Kaspersky researchers say the same hacking operation, which they traced back to North Korea, has also been used in countries as far afield as Costa Rica, Poland and Nigeria.
It's just the latest in a long line of illicit ways North Korea is believed to have made money, including trading prohibited weapons and drugs.
Related: North Korea-linked hackers are attacking banks worldwide
Selling forced labor
North Korea has a wealthy elite in the capital, but most of its citizens are impoverished and it has in the past been blighted by famine. It's also one of the most closed economies in the world, but the regime still finds ways to squeeze money out of the people it rules.
One way is sending thousands of North Korean workers abroad to toil under forced labor conditions in places like China, Russia and the Middle East, according to a U.N. report from 2015. They are believed to work in industries like mining, logging, textiles and construction.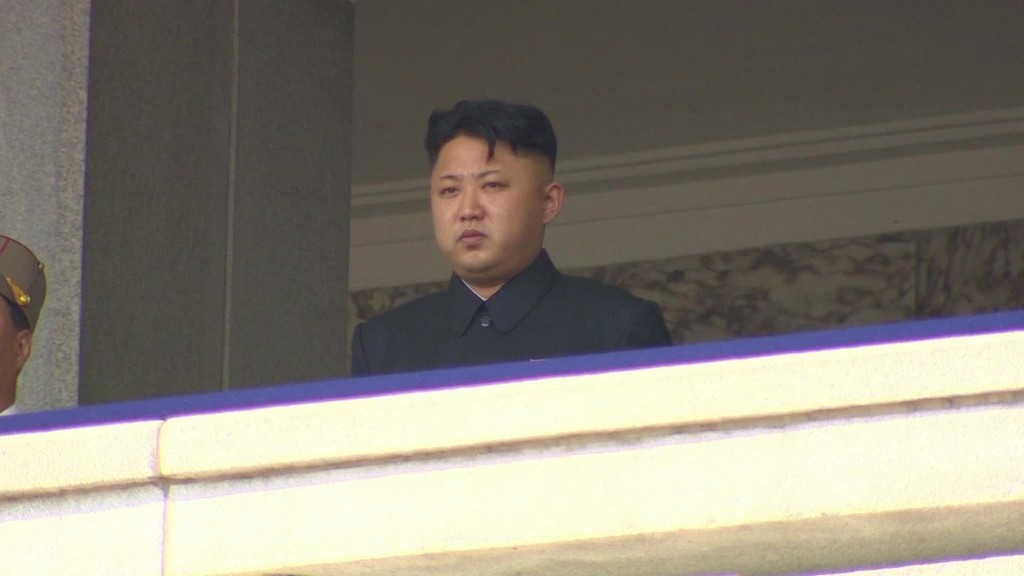 The regime has also siphoned money from its population inside the country by setting up department stores and selling cell phones, according to Curtis Melvin, a researcher at the U.S.-Korea Institute at Johns Hopkins University.
Some North Koreans manage to amass hard currency through black market trading within the country and across the border with China, experts say.