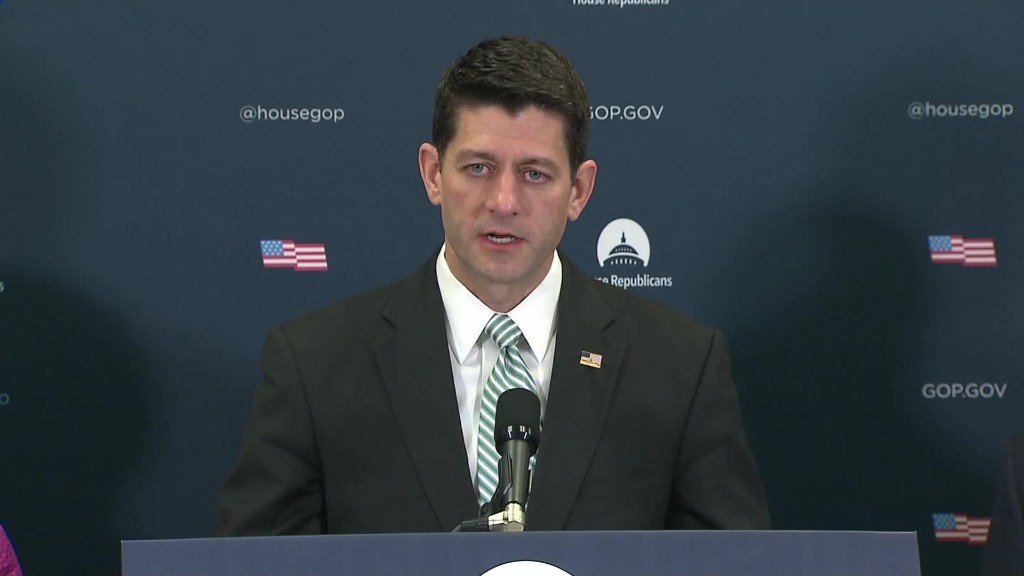 First,
Humana

(HUM) pulled out of Obamacare for 2018. Then, Wellmark announced it was leaving. Which health insurer could be next?

The failure of the GOP health care plan in Congress and the ongoing uncertainty surrounding the Trump administration's next moves have left insurers skittish about participating in the Obamacare exchanges next year. And this could leave hundreds of thousands of Americans without an option for subsidized coverage.

Certainly, Obamacare was troubled before President Trump took office. Several major insurers scaled back their involvement on the exchanges, while others hiked premiums to cover their sicker-than-expected policyholders. But many experts, including the Congressional Budget Office, felt Obamacare was stable overall.

The lack of clarity coming out of Washington D.C. is prompting some insurers to pull the plug.

Wellmark Blue Cross and Blue Shield announced Monday that it was pulling out of the Obamacare market in Iowa for 2018. The move, which affects 21,400 residents, comes a year after Wellmark decided to join the exchange in Iowa, citing its enrollees' interest in accessing federal subsidies that are only available on the Obamacare exchanges. (It has sold plans that meet Obamacare's requirements outside of the exchange for several years.)

"Wellmark made it clear ... it's a business decision based on concern over the lack of decision making in Washington D.C. and the uncertainty in the market," said Iowa Insurance Commissioner Doug Ommen.

Related: The first place Obamacare could die

The company said it has had double digit premium increases and suffered $90 million in losses in its Obamacare-compliant plans over the past three years.

"While there are many potential solutions, the timing and relative impact of those solutions is currently unclear," said Wellmark CEO John Forsyth. "This makes it difficult to establish plans for 2018."

The U.S. Health and Human Services Department is taking some steps to address insurers' concerns, including a proposal to tighten the rules for signing up for coverage outside the traditional enrollment period and to require consumers to pay any premiums owed before they enroll again. However, the agency's view is that carriers are fleeing the market because the law is "fundamentally flawed," said spokeswoman Alleigh Marré.

Wellmark's decision won't leave any Iowans without a choice of carriers since the state has at least two insurers in every market. But the ramifications could be far more hard hitting for those who get coverage on the Obamacare exchanges if one of the nation's larger insurers, opts to withdraw.

All eyes are on Anthem (ANTX), which has said it's reviewing its participation next year. If it pulls out, more than 256,000 residents in Georgia, Kentucky, Missouri, Ohio and Virginia would be left with no options -- unless another carrier steps in, according to data crunched by Katherine Hempstead, a senior adviser at the Robert Wood Johnson Foundation, which funds health care research and grants.

"An Anthem exit would affect the most people in the most counties," said Hempstead. "It's the most consequential exit that could occur."

Speculation rose recently that the insurer would significantly downsize its presence after Jefferies investment analysts said they expected Anthem to leave "a high percentage" of its markets next year.

The company, however, wouldn't confirm this projection, saying only it continues "to actively pursue policy changes that will help with market stabilization and achieve the common goal of making quality health care more affordable and accessible for all."

Related: Before Obamacare, some liked their health care plans better

What's most troubling for some health policy experts is that Anthem is one of the country's BlueCross BlueShield companies, which have long serviced the individual market. In its statement, Anthem notes it has been in the market for more than 70 years.

Last year, when Aetna's exit left an Arizona county without any insurers, state and federal regulators prevailed upon that state's BlueCross BlueShield to step in.

"The insurer states turn to is the Blues plan," said Cynthia Cox, associate director at Kaiser Family Foundation.

Other large insurers, including Aetna (AET) and Molina Healthcare (MOH), are weighing their future on the individual exchanges too. While their departure would leave only one Wisconsin county without other options, it would leave many Americans with only a single choice of insurer next year.