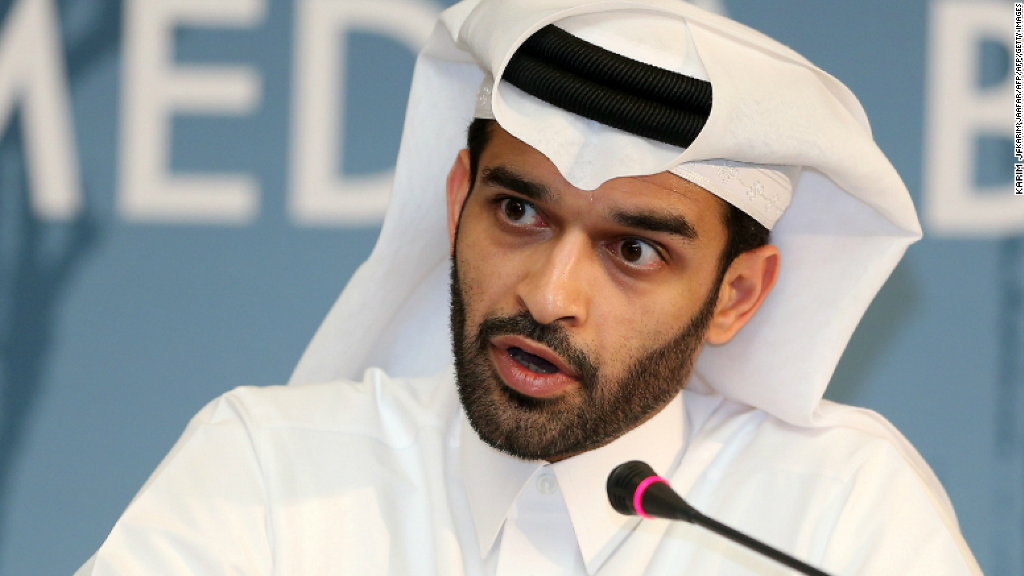 Qatar has slashed its budget for hosting the 2022 soccer World Cup.
Hassan Al Thawadi, the Qatari official charged with delivering the tournament, told CNNMoney the original budget had been reduced by between 40% and 50%.
"We wanted to ensure there is financial responsibility in relation to the infrastructure relating to the World Cup," said Al Thawadi, secretary general of the Qatar 2022 supreme committee for delivery and legacy.
"That's why we had set an initial budget early on and made a commitment towards reducing it as the market became clearer, as the project became clearer, as we define the scope."
Thawadi's committee now expects tournament infrastructure will cost between $8 billion and $10 billion, with most of the money earmarked for stadiums and training grounds.
Qatar, which had planned for 12 stadiums in its original bid, is now proposing eight -- the minimum required by FIFA. It is building seven new venues and upgrading an existing stadium.
"Fifa has not yet agreed on the final number and we are in discussions with them to finalize the final number of stadiums that will fit the operating model of Qatar 2022," said Al Thawadi.
"We are moving ahead with eight stadiums and in case discussions go on there might be an extra stadium to be developed," he added.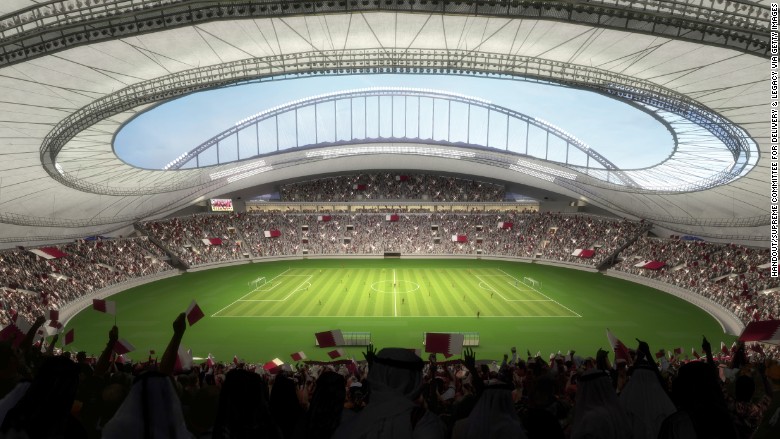 Qatar is feeling the pinch financially due to a slump in world oil and gas prices. It has been reining in government spending in other areas, and along with other countries in the Gulf, will introduce a 5% sales tax in 2018.
The gas-rich state is better protected than some of its neighbors thanks to its huge sovereign wealth fund. Al Thawadi said the reduction in the 2022 budget was not related to lower oil and gas revenues.
Related: Qatar will invest another $6 billion in Britain
"It's been a fiscal responsibility and not as a result of oil prices going down. It's a commitment we've made from day one," he said.
Russia, which is hosting the 2018 tournament, has increased spending on the World Cup by $326 million, state media reported last month, bringing the cost of hosting that event to more than $10 billion.
Still, that's $5 billion less than the cost of the 2014 World Cup in Brazil, and a fraction of the $50 billion Russia reportedly spent hosting the Sochi Winter Olympics.
If FIFA accepts Qatar's proposal, the World Cup will be played in the fewest stadiums since Argentina hosted the tournament in 1978. Six stadiums were used then.
Al Thawadi said construction work was well underway.
"Plans are moving ahead pretty well. In terms of overall infrastructure as well... plans are going ahead on schedule."