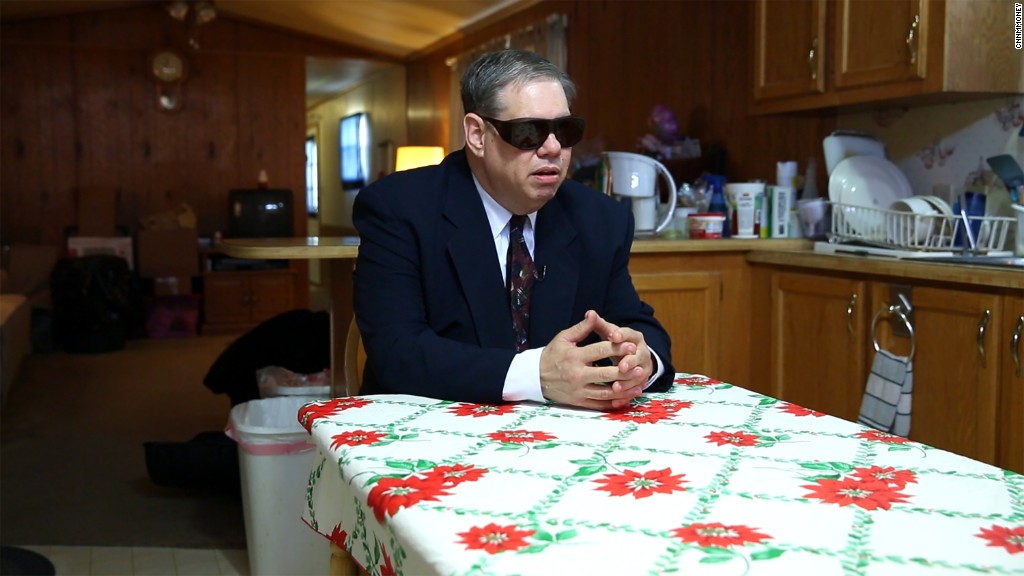 Thanks to the generosity of CNNMoney readers, a 61-year-old man didn't become homeless.
CNNMoney profiled "Homeless Joe" last April in a story and video titled: "How I went from middle class to homeless." Joe had worked factory jobs all his life, but he was laid off after the Great Recession and couldn't land another gig, despite sending out resumes daily.
After years without a job, he had depleted his life savings and could no longer pay the $463-a-month lot rent for his mobile home. Joe was literally preparing to move into his 2001 Chevrolet minivan last spring.
What a difference a year makes. Today Joe has a roof over his head and is working a full-time job.
"I feel like a human being again," says Joe, who is a machine operator at Hoffmann Tool & Die in Souderton, Pennsylvania, outside Philadelphia.
Related: How I went from middle class to homeless
GoFundMe campaign raised $3,735
Joe's life story resonated deeply with many CNNMoney readers and viewers, who emailed and called asking for ways to help. David Becker of Hershey, Pennsylvania, set up a GoFundMe campaign for Joe that raised $3,735 from over 100 different donors.
"Joe reminded me a lot of my father who lost a battle to depression," says Becker, a real estate agent, who wanted to help Joe get back on his feet.
Another five generous individuals sent in $4,850 directly to Joe's landlord to cover the rent.
"I got lucky, lottery ticket lucky," says Joe, who was flabbergasted that so many people around the country cared. "I want to thank everyone. It bought me some critical time."
The donations covered Joe's rent, car and medical expenses through January, the very month Joe was hired part-time at Hoffmann Tool & Die.
"He's doing really well. He seems to like the work," says William Doucet, who owns Hoffmann tool with his wife.
Related: Coal country to Trump: We want jobs of the future
What Joe is doing now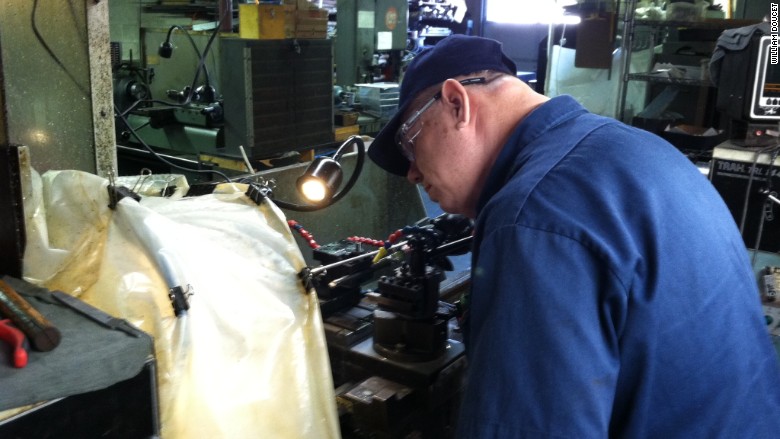 Joe is thrilled to be working again, especially in something he feels is challenging. Hoffmann is a small machine shop that makes specialty parts out of metal. Customers send the shop drawings and Hoffmann's workers make them come to life.
"It's interesting work. There are computers involved and programming and lots of math," says Joe, a sense of pride evident in his voice.
Doucet had no idea how much Joe was struggling. He hadn't seen the CNN article. All Doucet knew was that business was booming and he desperately needed skilled workers for his machine shop. A friend of Doucet's who knew Joe from church recommended that Doucet call Joe.
Doucet admits he was a little concerned that Joe hadn't worked for a few years, but he called Joe's references from past jobs and all had glowing things to say. He offered him a part-time job at $15 an hour in January and then moved him to full-time on March 1. He's now making $16 an hour with benefits.
"I definitely think the economy is getting better. We've been really swamped since the week before the election," Doucet says. He's currently trying to hire more workers.
Related: How much credit should Trump get for jobs?
7.5 million Americans still looking for work
Joe's story resonated with readers because many feel it's far too easy to be "one bad turn" from financial disaster in America.
Joe had built a good "lower middle class" life for himself in Minnesota in the 1990s working in factories there, but he moved to Pennsylvania when his mother got sick. She went into a nursing home around the time he lost his job after the crisis. He was deeply torn about whether to stay nearby to care for her or try to look for work elsewhere.
His mother passed away over the weekend. One of the last conversations they had before her health really deteriorated was about Joe getting back to full-time work.
"She almost cried. She was so happy for me, even though she knew it meant she wouldn't see me as much," he says. They celebrated her 88th birthday together in March.
Joe's message to the 7.5 million Americans still looking for work is to stay hopeful. For six years, Joe attended a weekly meeting at his church for unemployed people. He had almost given up when he got the call from Doucet.
"I still know a lot of people unemployed or underemployed," says Joe. "I've been there. There is no magic answer."
-- CNNMoney's Logan Whiteside contributed to this article.