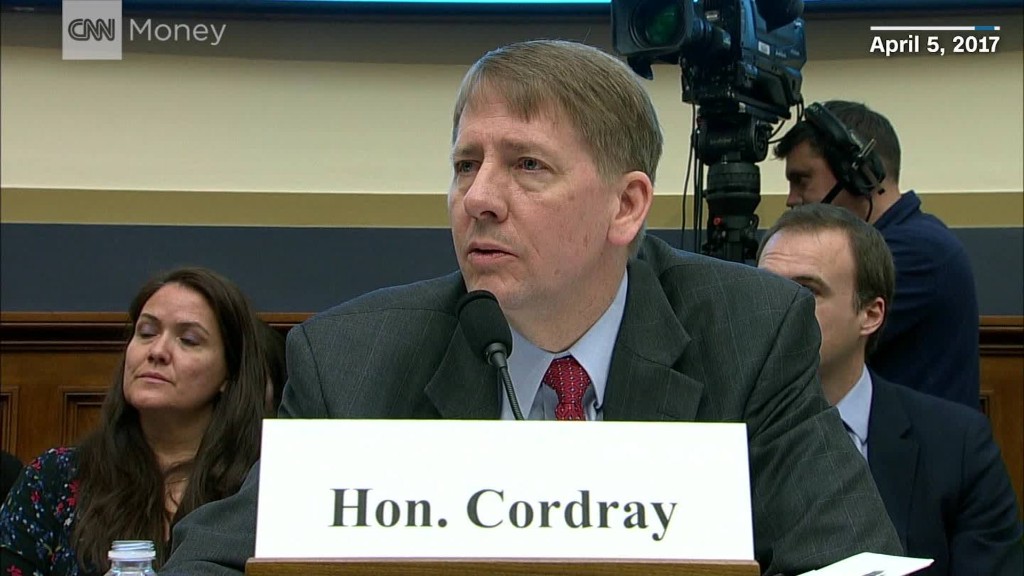 Elizabeth Warren is renewing her crusade to break up Wall Street banks and is allying herself with President Trump.
The progressive Massachusetts senator reintroduced a bill this week with three other senators, including Republican John McCain, to shrink big U.S. banks.
She wants to restore a Depression-era law, known as the Glass-Steagall Act, that would wall off commercial and investment banking. She argues that would make banking safer by keeping firms' consumer businesses separate from the units that make riskier investments.
Warren, a member of the Senate Banking Committee, seized on comments by Gary Cohn, Trump's chief economic adviser and former president of Goldman Sachs, who expressed support for bringing an updated Glass-Steagall back, during a meeting with lawmakers this week. The meeting was first reported on by Bloomberg News.
A White House spokeswoman said Cohn "was simply discussing the president's previously stated position."
Cohn more explicitly expressed his support Friday in an interview with Bloomberg Television, saying a modernized version of the law could help spur lending to American businesses.
"If we come up with a 21st Century, modern Glass-Steagall, we may be able to tailor regulation for different aspects of the financial markets and different aspects of the financial institutions and that would allow banks to get lending more aggressively to small- and medium-sized companies," Cohn said.
The Trump administration first endorsed the idea in July at the Republican National Convention. But the White House has not yet laid out specifically what their policy recommendation would be. Cohn didn't elaborate on what an updated Glass-Steagall might look like in his Friday interview.
Related: What Wall Street wants to hear from Trump
Treasury Secretary Steven Mnuchin earlier signaled the administration's willingness to fulfill Trump's campaign promise for a modern version of the law, which was repealed in 1999 during the Clinton administration.
Even so, Mnuchin has cautioned that doing so could have some consequences including hampering banks ability to lend.
Tony Fratto, managing partner at consulting firm Hamilton Place Strategies and a former Bush administration official, said reinstating the Depression-era law "runs counter to the twin goals of financial stability and job growth."
"It ignores both the lessons of the crisis and Dodd-Frank's sweeping overhaul of our financial system," he said.
Even former Federal Reserve Governor Daniel Tarullo, who had been the central bank's regulatory point man, expressed doubt that a reinstatement of Glass-Steagall would be the right solution.
"I don't think there's any question that it would make supervision of those banks a less complicated affair," Tarullo said this week. "But, as with other straightforward solutions, it probably underachieves in some respects and may have some costs in other respects."
Some analysts, however, warned not to underestimate the political threat.
"At some point the market is going to have to accept that the Trump administration is serious about restoring the Glass-Steagall separation between commercial and investment banking," wrote Jaret Seiberg, a policy analyst with Cowen & Co., in a note to clients.
Related: Mnuchin argues for fixing, not killing, the Volcker Rule
Liberals have been pressing for a reinstatement of Glass-Steagall for nearly two decades, arguing it would prevent banks from putting taxpayers on the hook for their risky bets. It would also shrink Wall Street's influence.
Congress tried to tackle the issue in the 2010 Dodd-Frank law with the so-called Volcker rule, which forced many banks to close their trading desks.
The Trump administration and policymakers have both signaled there is appetite to revise the Volcker rule given its complexity.
Still, striking a deal that appeals to both Republicans and Democrats might be tougher than it seems, according to Keefe, Bruyette & Wood's policy analyst Brian Gardner, who pinned the odds against reinstatement of the law.
"We continue to believe that a return of some form of Glass-Steagall remains more of a headline risk rather than a real policy risk," Gardner wrote in a note to clients.