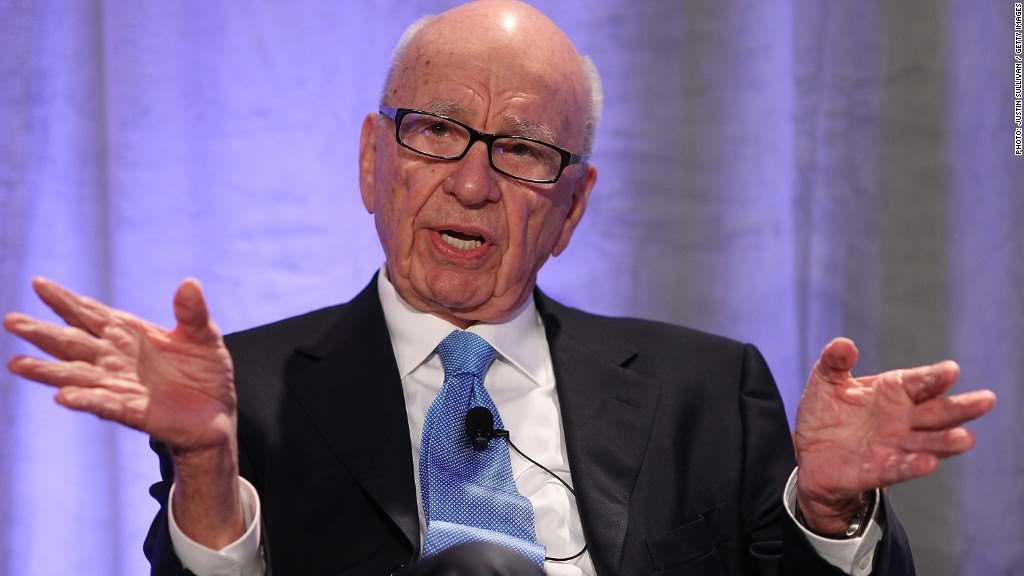 Five years have passed since a scandal forced Rupert Murdoch to abandon his purchase of a media industry crown jewel: the British pay TV provider Sky.
The problem then was outrage over phone hacking at Murdoch newspapers. Now, with a second takeover bid underway, accusations of sexual harassment and verbal abuse by Fox News star Bill O'Reilly are threatening to deny Murdoch his prize once again.
European anti-trust regulators have given their blessing to a £18.5 billion ($22.9 billion) deal struck in December that would give 21st Century Fox full control over Sky.
But a more comprehensive review by U.K. media regulator Ofcom is pending, with a decision due by May 16.
The U.K. regulator could block the deal if it determines that Fox's ownership of Sky would reduce the mix of viewpoints available in British media. Murdoch already owns three of Britain's biggest newspapers: The Sun, The Times and The Sunday Times.
Ofcom could also kill the deal if it decides that Murdoch and 21st Century Fox do not meet the standard of "fit and proper" owners. The criteria for the designation are broad: Ofcom says it considers "any relevant misconduct" when administering its "fit and proper" test.
The New York Times reported earlier this month that five women have been paid a total of $13 million by either O'Reilly, Fox News or parent company 21st Century Fox. In exchange, the women agreed not to pursue litigation or go public with their accusations, according to the newspaper.
21st Century Fox (FOX) said Sunday that it is investigating the claims.
Alice Enders, head of research at Enders Analysis, said accusations of sexual harassment at Fox are unlikely to sink the Sky deal. But Ofcom will examine whether Fox executives erred in not telling investors about the claims.
"The test is there to make sure that a person who is a criminal doesn't get to run a broadcaster in the U.K.," she said. "In this case, the focus would be on the failure to disclose the sexual harassment settlements to shareholders, rather than the sexual harassment itself."
21st Century Fox said it takes its regulatory and compliance obligations "very seriously."
"We are confident that our proposed transaction to acquire the outstanding shares of Sky that we don't already own will be approved following a thorough review by regulators," it said in a statement emailed to CNNMoney.
Sky did not respond to requests for comment.
Related: Few ads run on 'O'Reilly Factor' as boycott takes effect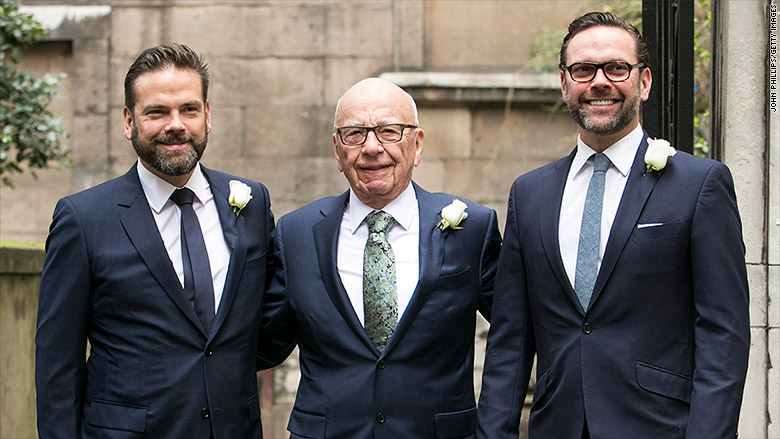 The Murdoch family's attempt to purchase the 60% of Sky that it doesn't already own has become a major political football in Britain, where Rupert Murdoch and his son James remain divisive figures.
James Murdoch served as chairman of Sky from 2007 to 2012, but he was forced to step down after being implicated in the phone hacking scandal. He returned to the job last year, and his fitness as a corporate leader is likely to be assessed as part of the Ofcom review.
Ofcom gave its blessing to Murdoch's aborted purchase of Sky in 2012, but not without finding fault with James Murdoch's handling of the hacking fallout.
The regulator's review concluded that he "repeatedly fell short of the conduct to be expected of him as a chief executive officer and chairman."
Analysts say there are steps the family could now take to raise the chances of the deal being approved.
Polo Tang and Michael Hill, analysts at UBS, said that James Murdoch stepping down from Sky's board could ease the pressure.
They also said that concerns over media diversity could be addressed by spinning off Sky's news division.
Related: Dozens of advertisers have left Bill O'Reilly
With Britain in the middle of a messy divorce from the European Union, hard economic reality could ultimately tip the balance in Murdoch's favor.
The government may not want to veto a deal that's seen as a "major sign of confidence" in Britain, said Ian Whittaker, head of European media research at Liberum Capital.
"The UK Government is keen to promote investment in the U.K. post the Brexit vote," he said.
Sky has 22 million customers in five European markets: Italy, Germany, Austria, the U.K. and Ireland. It is the largest pay TV provider in Britain.