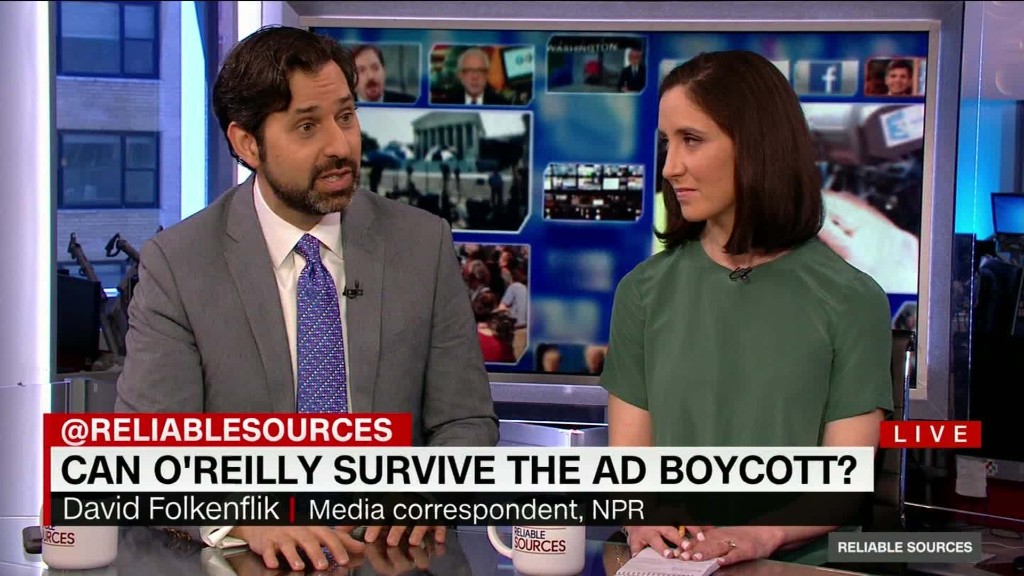 Amid a sexual harassment scandal and advertiser boycott, Fox News host Bill O'Reilly announced Tuesday that he will take a nearly two-week vacation.
The vacation is a family trip that was planned in October, including airline and hotel reservations, O'Reilly spokesperson Mark Fabiani told CNNMoney. O'Reilly usually takes time off around Easter, though his corresponding vacations in 2016 and 2015 did not last as long as this one will.
Both Fox News and Fabiani said that O'Reilly will return to the program on April 24, and will be replaced by rotating substitute hosts during his absence. There is already rampant speculation both inside Fox News and in the media -- led by a report by New York magazine's Gabriel Sherman -- that he may not return, though a Fox News spokesperson denied that was the case.
Related: Few ads run on 'O'Reilly Factor' as boycott takes effect
Fabiani also disputed that speculation: "Other than the vacation guest hosts, The Factor broadcast will remain unchanged until Mr. O'Reilly's return post-vacation," he said.
O'Reilly's ultimate fate will be determined by Rupert Murdoch and his sons, who run Fox News parent company 21st Century Fox. One source close to the matter said their understanding is that Rupert, the Executive Chairman, would like to keep O'Reilly on air, while his son James, the Chief Executive Officer, is opposed to that idea. 21st Century Fox declined to comment.
Meanwhile, Fox has asked the law firm Paul, Weiss to conduct an internal investigation into O'Reilly's treatment of Wendy Walsh, a former guest on "The O'Reilly Factor" who alleges that the host sexually harassed her.
Related: Fox will investigate Bill O'Reilly harassment claims, lawyer says
The New York Times reported earlier this month that O'Reilly and Fox paid about $13 million in settlements to five women who accused O'Reilly of sexual harassment or verbal abuse over more than a decade. (Walsh was not one of them.) O'Reilly has disputed the merits of the accusations.
The scandal is particularly sensitive for the Murdochs because they re-signed O'Reilly to a multi-million-dollar contract earlier this year knowing about the $13 million in settlements to O'Reilly's accusers, according to two sources with knowledge of the matter.
A Fox News spokesperson would not comment on where O'Reilly and his family would be vacationing. Fabiani said only that the arrangements were made last October and that "the vacation involves a group of people, and the timing coincides with the period Mr. O'Reilly often takes off in and around his children's spring break."