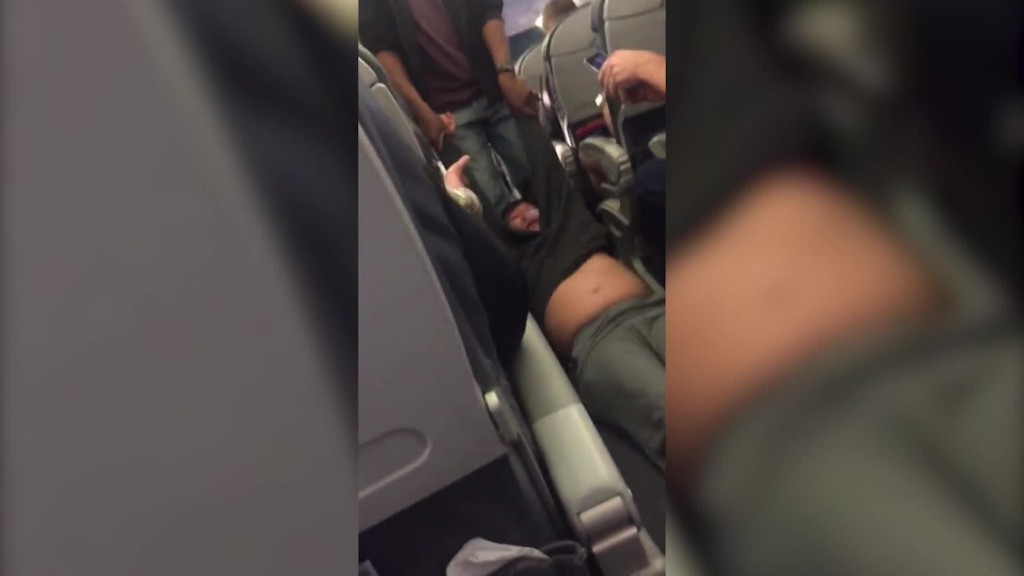 It's been an ugly few days for United Airlines.
A passenger was dragged, bloodied and screaming, up the aisle and off a plane by authorities at Chicago O'Hare International Airport on Sunday when he refused to give up his seat on a United (UAL) flight to Louisville, Kentucky. The airline needed to free up seats to transport commuting crew members.
The story didn't end there.
On Monday, passenger videos of the incident started to go viral. United CEO Oscar Munoz made matters worse by issuing a widely-ridiculed apology for "having to re-accommodate ... customers." He later doubled down in a letter to employees, defending the airline's actions and describing the passenger as "disruptive and belligerent."
Related: Outrage after United passenger gets yanked off flight
The company response dominated headlines on Tuesday. United's stock dropped about 4% in the morning. Munoz finally issued a full-throated apology around 3 p.m., calling the event "truly horrific."
The dust hasn't settled yet. But here's what we know now.
1. The incident is under investigation
Munoz, in the statement he put out on Tuesday, has pledged a full review by April 30 "to fix what's broken so this never happens again."
"I want you to know that we take full responsibility and we will work to make it right," he said in a statement. "I promise you we will do better."
The company is now looking into how it moves crews and deals with oversold flights, as well as how it works with airport authorities and local law enforcement, he said.
Related: United CEO apologizes for 'truly horrific' passenger incident
The US Department of Transportation has also said it's reviewing the episode.
Lawyers for the passenger, since identified as Dr. David Dao, said he was still being treated in a Chicago hospital Tuesday afternoon.
Related: Backlash after newspaper reports on United passenger's background
2. It's been a total PR disaster
Public relations experts were shocked by how United dealt with the fallout. They say Munoz should have quickly offered an unreserved apology. It took him three tries to get there.
Rupert Younger, a PR expert and director of the Oxford University Centre for Corporate Reputation, said that Munoz's initial response was a major disappointment.
"The apology by the CEO was, at best, lukewarm or, at worst, trying to dismiss the incident," Younger said.
Related: United shows how to make a PR crisis a total disaster
On Tuesday, #NewUnitedAirlinesMottos was a top trend on Twitter, with users suggesting slogans such as "not enough seating, prepare for a beating." It was also the top trending topic on Chinese social networking platform Weibo, attracting more than 100 million views.
Even the White House weighed in by Tuesday afternoon.
"It was an unfortunate incident," Press Secretary Sean Spicer told reporters. "Clearly, when you watch the video, it is troubling to see how that was handled."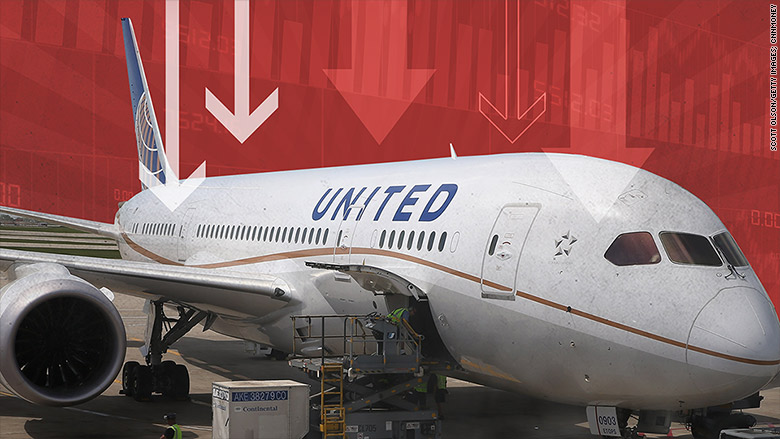 3. The company has lost $250 million in market value
Early Tuesday, United shares dropped 4%, wiping out $1 billion of market value.
The company's stock recovered before the close, slipping just over 1% by the end of the day. But the drop still cost the company $250 million of its market value.
Related: United's stock comes under pressure
It's hard to judge if the imbroglio will hit United's brand in the long run. But it's certainly not a good thing.
The company has been trying to revamp its image after ranking near the bottom of airline customer satisfaction indexes for several years. It's in the process of updating its fleet, and last year added free snacks, premium coffee and better Wi-Fi -- as well as upgraded airport lounges.
4. Rival airlines are trying to cash in
United's competitors are watching all this unfold with glee. They have trolled the airline, hoping to capitalize on its blunders.
Royal Jordanian ribbed United with a tweet. "We are here to keep you #united," it said. "Dragging is strictly prohibited." The words were accompanied by an image of a no smoking symbol.
Emirates also got in on the action. In a video, it referenced United CEO Oscar Munoz's putdown of its Middle Eastern competitors last month. He told the airline trade publication ATW: "Those airlines aren't airlines. They're international branding vehicles for their countries."
Related: United trolled by rival airlines over forced removal of passenger
Emirates responded Tuesday with a video.
"Well Mr. Munoz, according to TripAdvisor, the world's largest travel site, not only are we a real airline ... we are the best airline," the company said. It ended with a message taking a jab at United's own slogan: "Fly the friendly skies ... this time for real."
For more coverage, check out:

-- CNNMoney's Ivana Kottasova, Jon Ostrower and Ahiza Garcia contributed to this report.