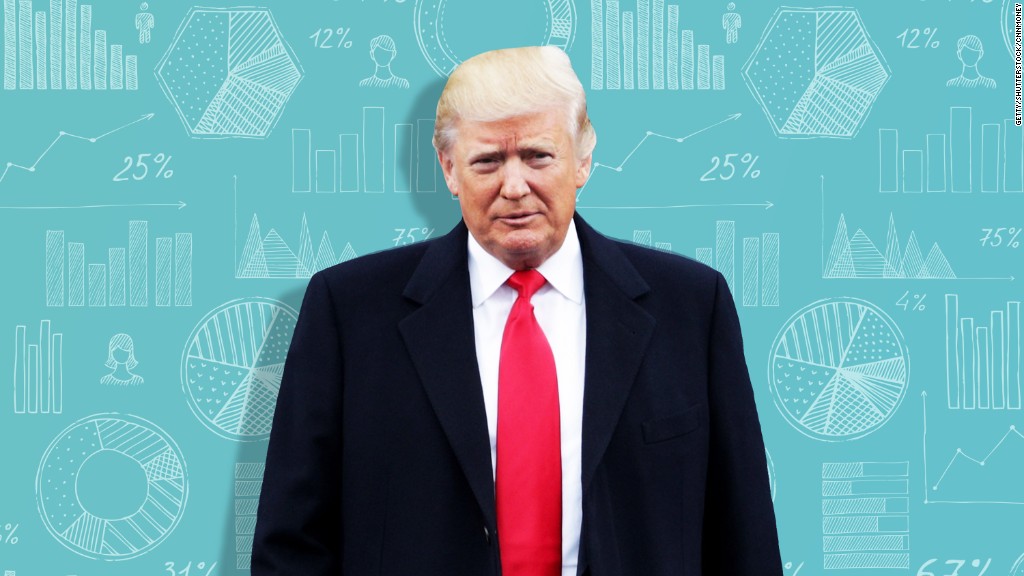 President Trump says he has created 600,000 jobs so far. It's a false statement.
"We've created over 600,000 jobs already over a very short period of time and it's going to really start catching on now," Trump said Tuesday at the White House, flanked by his top advisers and the CEOs who are members of his Business Advisory Council.
He repeated the statement later at a press conference: "Already we've created more than almost [sic] 600,000 jobs."
Official government data does not back up that claim.
According to CNNMoney's Trump Jobs Tracker, 317,000 jobs have been created since Trump took office. The president is trying to take credit for nearly double that number of jobs.
The ultimate authority on how many jobs are created (or lost) each month is the US Labor Department. CNNMoney's 317,000 figure includes how many jobs the Labor Department reported were created in February (219,000) and March (98,000).
A White House spokesman said Trump is including all the job added in January as well (216,000). Trump was only in office for 11.5 days that month.
But even if you give him all of the gains for January, that still only brings the tally to 533,000 jobs created so far in 2017.
The math doesn't quite add up to 600,000.
Related: Check the data yourself with The CNNMoney Trump Jobs Tracker
Trump likes to count job promises
There's ongoing debate over whether a president should take credit for creating jobs at all. Most of the hiring is done by the private sector. But there's a case to be made that government policies on taxes, regulations, trade, etc. do influence whether businesses want to hire or not.
"The president's comments touting the administration's economic record accurately reflect the growing optimism about his policies and the future outlook for the country," a White House spokesman told CNNMoney.
Trump has frequently said he's influenced companies like Ford, Charter Communications, General Motors and ExxonMobil to hire more workers, even though some of the businesses themselves refuse to give Trump credit for their hiring decisions.
Then there's the fact that some of the jobs these companies are touting as new hires are part of projects that were in the works long before Trump was elected. (CNNMoney has a running fact check of these announcements here).
Related: U.S. unemployment drops to 4.5%, lowest in decade
Trump vs. Obama
The bottom line is: Yes, business and consumer optimism has picked up since Trump won the election. That is likely a factor in some hiring decisions by businesses. But the reality is the economy has added an average of 178,000 jobs a month so far this year. That's very close to, and even slightly lower than, the average last year (187,000 a month) when President Obama was in office.