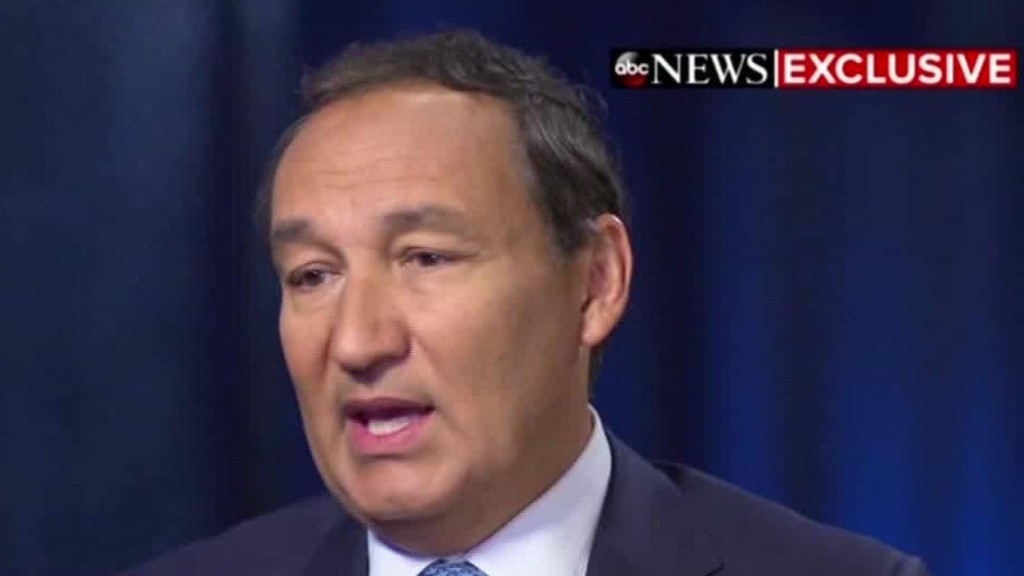 So what should United Airlines have done?
The airline has admitted it was a mistake for police to forcibly remove a passenger who refused to give up his seat on a crowded plane. Video of the passenger being dragged up the aisle of the plane has been played nonstop for three days.
United's CEO has apologized and said it won't happen again. But how could it have been prevented in the first place?
The easy answer is that United should have offered a lot more money until it found a volunteer to give up his or her seat.
"It's just a financial solution," David Neeleman, the founder of JetBlue (JBLU), said Wednesday on CNN's "New Day."
Other passengers say the airline offered $800 before choosing people to give up their seats involuntarily, and then sending in law enforcement when one man wouldn't move. United says it increased the offer to $1,000 and didn't get volunteers.
"If they had gone to $1,000, $2,000, whatever it would have taken, people would have raised their hands," said Neeleman, now CEO of the Brazilian airline Azul (AZUL). "There would have been a stampede to get off the airplane at the right price."
United (UAL) hasn't provided details of how it makes offers to passengers, but CEO Oscar Munoz said Wednesday that United policy denied the crew the flexibility they needed to find fliers who would voluntarily give up seats.
Federal law says airlines don't have to pay more than $1,350 to passengers who are bumped involuntarily. But that doesn't stop the airline from offering more to persuade volunteers.
Munoz told ABC's "Good Morning America" that the airline would review its rules to make sure crews were given the power to use their "common sense."
Other airline veterans agree the situation should never have gotten to the point of removing a passenger against his will.
"It seemed such a crazy escalation for what was essentially a relatively simple issue," Ben Baldanza, the former CEO of Spirit Airlines (SAVE), told CNN.
Munoz said the airline would never again use police to remove a paying passenger who is being bumped.
"To remove a booked, paid, seated passenger -- we can't do that," he told ABC. The airline has pledged a full review of its procedures by April 30. Munoz said airline employees would be given more flexibility to deal with similar situations.
"They all have an incredible amount of common sense, and this issue could have been solved by that," he said.
Related: United CEO - We won't let police drag people off planes anymore
When airlines have to bump a passenger off a flight involuntarily, it usually happens at the gate, not on the plane. That's what happened to almost all the 40,629 passengers who were involuntarily bumped from U.S. airlines in 2016.
"I think the key is managing it before you get to the boarding process," Delta (DAL) CEO Ed Bastian told reporters during a conference call Wednesday to discuss the company's earnings.
Neeleman agreed that the difficulty in this case was trying to bump passengers after the plane had boarded.
"It's always difficult for people working at an airport if you have to go on and get people off an airplane," he said. Neeleman said that on a flight he once took, the airline asked for volunteers, and when no one agreed to leave, the airline simply canceled the flight and ordered everyone off.
"They didn't choose to forcibly remove somebody, they just said, 'Everybody has to get off because we're not operating this airplane,'" he said.
Related: Know your rights - What to do if your flight is overbooked
An airline could use that approach if it needs to bump passengers who are already seated and are refusing to leave, said Brett Snyder, a former airline executive who runs the blog CrankyFlier.com. It could order everyone off the flight, then reboard all but the bumped passengers.
Snyder said airline executives he knows have suggested that option since the United fiasco, even though it would cause delays.
"Most of the time if you order someone to get off, they'll get off. That's what happened with three of the passengers in this case," Snyder said.
For his part, President Trump said Wednesday that airlines should eliminate their own limits on vouchers to passengers will be more willing to give up seats.
"You know, there's a point at which I'm getting off the plane -- seriously," Trump told The Wall Street Journal. "They should have gone up higher. But to just randomly say, 'You're getting off the plane,' that was terrible."
--CNNMoney's Jill Disis contributed to this report.