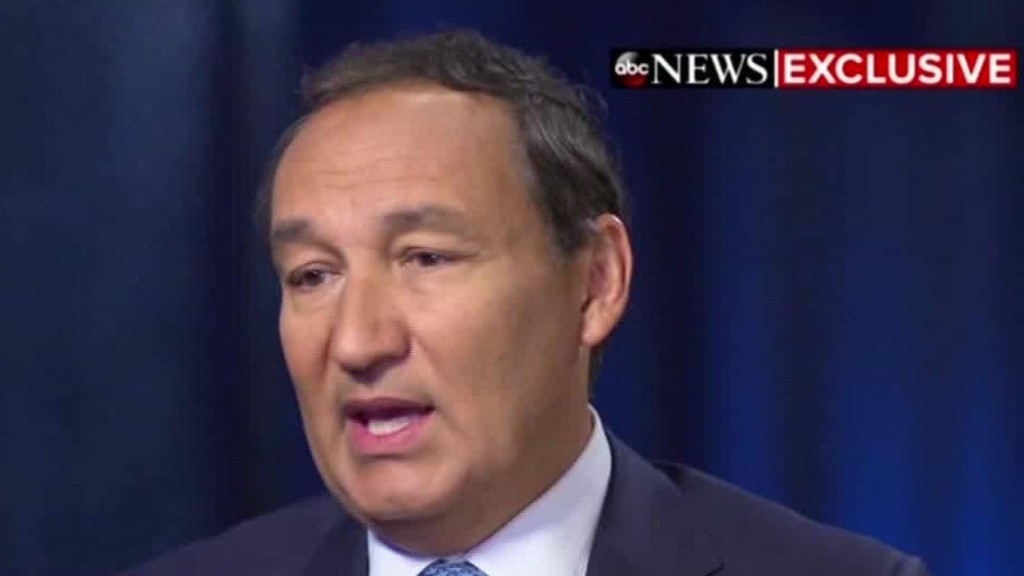 United CEO Oscar Munoz says the airline won't allow law enforcement officers to haul seated paying passengers off its flights again.
"We are not going to put a law enforcement official to take them off," Munoz told ABC's "Good Morning America" on Wednesday. "To remove a booked, paid, seated passenger -- we can't do that."
Munoz spoke three days after a passenger was dragged off a plane, bloodied and screaming, by authorities at Chicago O'Hare International Airport.
The man refused to give up his seat on a United (UAL) flight to Louisville, Kentucky, after the airline said it needed to make room for crew members commuting to the city.
Related: The United fiasco: What we know now
Munoz apologized on Tuesday, calling the episode "truly horrific," and pledged a full review by April 30.
On Wednesday, he said United did not give its managers "the proper tools, policies, procedures" they needed to use "common sense."
The airline offered passengers up to $800 to give up their seats before it began choosing people to leave, according to other passengers. Munoz said in a letter to employees that the airline offered $1,000.
Speaking of his employees, Munoz said: "They all have an incredible amount of common sense, and this issue could have been solved by that."
"That's on me. I have to fix that," he added.
Munoz was widely criticized for two earlier statements, including one in which he described the passenger as "disruptive and belligerent."
On Wednesday, Munoz said he did not blame the passenger, and added that his initial comments "fell short" of what he felt. He also said he had no plans to resign.
"It's not so much what I thought, it's what I felt," he told ABC. "Probably the word 'ashamed' comes to mind."
Munoz became CEO in 2015 after his predecessor resigned amid a federal corruption probe.
Even though he only started work in September, Munoz made $5.8 million as CEO that year. Most of that was a $5.2 million signing bonus, according to regulatory filings. The rest was salary, stock awards and other compensation.
United has not given full details of Munoz's pay last year, his first full year on the job. But the company said his base salary was $1.25 million. Munoz also received $6.8 million in stock that will vest over three years, and he can get an additional bonus worth at least $10.5 million.