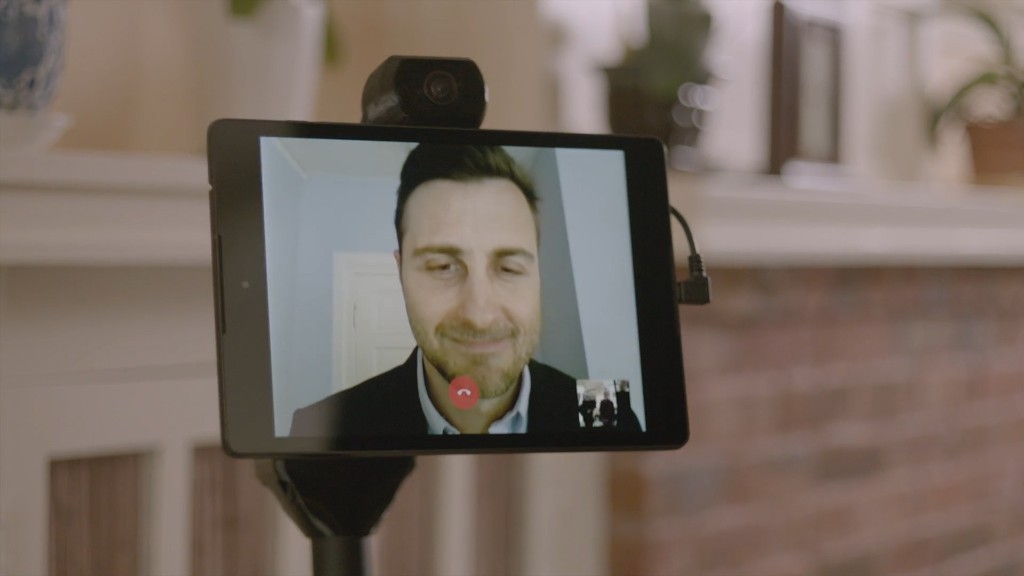 Move over, FaceTime and Skype?
OhmniLabs wants to make video chatting with family and friends easier -- by bringing in a robot.
The Silicon Valley robotics startup is launching Ohmni, a home robot designed to make video chatting with family less of a hassle.
"Families today are often spread out across countries and continents, making it a challenge to stay in touch," said Thuc Vu, OhmniLabs' co-founder and CEO.
That's where Ohmni comes in. The telepresence robot is about five feet tall and weighs 20 pounds. It has wheels, a camera and a tablet, which allow for hands-free video chatting. Ohmni can move around the home and is remotely controlled by the caller. (The call recipient can't control the robot, but can put it on "do not disturb" mode to block calls.)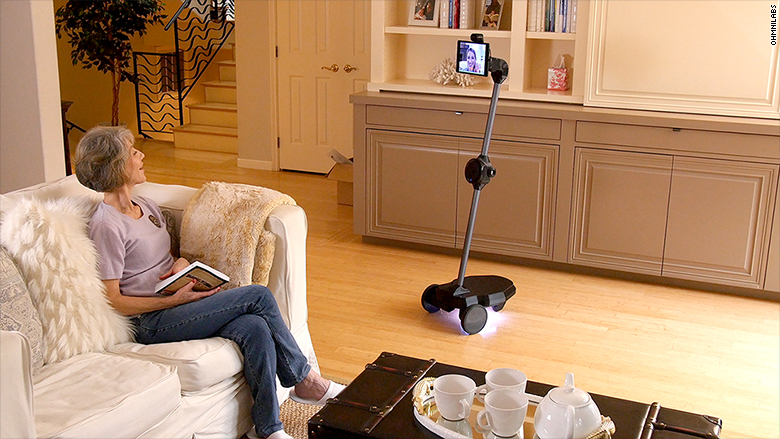 The company launched an Indiegogo campaign on Wednesday, making the robot available to pre-order for $1,395. Once the campaign ends May 11, the price will increase by $500. They'll begin shipping to early backers in the fall.
Vu, who is from Vietnam, wants to spend quality time with his family there and says services like Skype and FaceTime are "not satisfying enough."
"With our product, I can lock remotely into my robot in Vietnam and look around," Vu told CNNTech. "[I can] watch TV with my dad or see my mom playing the piano thousands of miles away, with the click of a button."
Related: Roomba will now tell you what part of your home is dirtiest
The robot connects to Wi-Fi, and callers control its movements through a web browser. When someone calls, Ohmni announces the name and connects the call (unless "do not disturb" mode is on). Currently the robot can't make outgoing calls, but the company said it will add voice-activated calling later this year. Ohmni can be folded in half for transportation and its battery lasts five to six hours.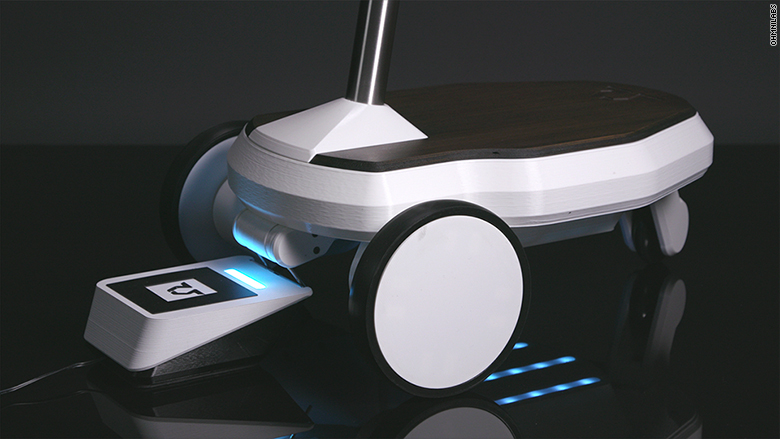 The California startup, founded in 2015, has been working on the robot for nearly two years. It's gone through nine generations of prototypes and more than a year of beta-testing.
Testers used the robot for more than 30 minutes per session on average and 80% said it became their main communication channel, according to OhmniLabs.
Related: These robots will haunt your nightmares
"A lot of people buy grandparents an iPad, but they don't really use it " said co-founder and chief technology officer Jared Go. The robot allows families to check in on seniors if they don't answer the phone, he added.
Test users said interacting with family using the robot felt more natural than standard video chatting. "The ease for my grandmother, who is 94, is amazing," said tester Ping Yeh. He prefers it to traditional video chat because his grandmother "doesn't have to do anything."
"We don't have to set up the computer for her. She doesn't have to hold anything. She doesn't have to move," added Yeh, who lives in Minnesota. Before Ohmni, if the family wanted to video chat, Yeh's sister or mother -- who live near his grandmother in California -- would have to go to her house to set up the call.
Related: U.S. workers face higher risk of being replaced by robots. Here's why
OhmniLabs also conducted a pilot program at some California retirement communities, including the Heritage Downtown.
"[The robot] is much more accommodating and flexible," said Jenny Shively, Heritage's resident relations director. "[With] iPads and Skype, the screen can't move. It's cumbersome," she said. Whereas with the robot, "it feels like they're really part of the interaction."
OhmniLabs is already working to expand the robot's capabilities. This year the company plans to add arms to the robot, so it can pick up objects and perform simple tasks like flipping a light switch or opening a door.