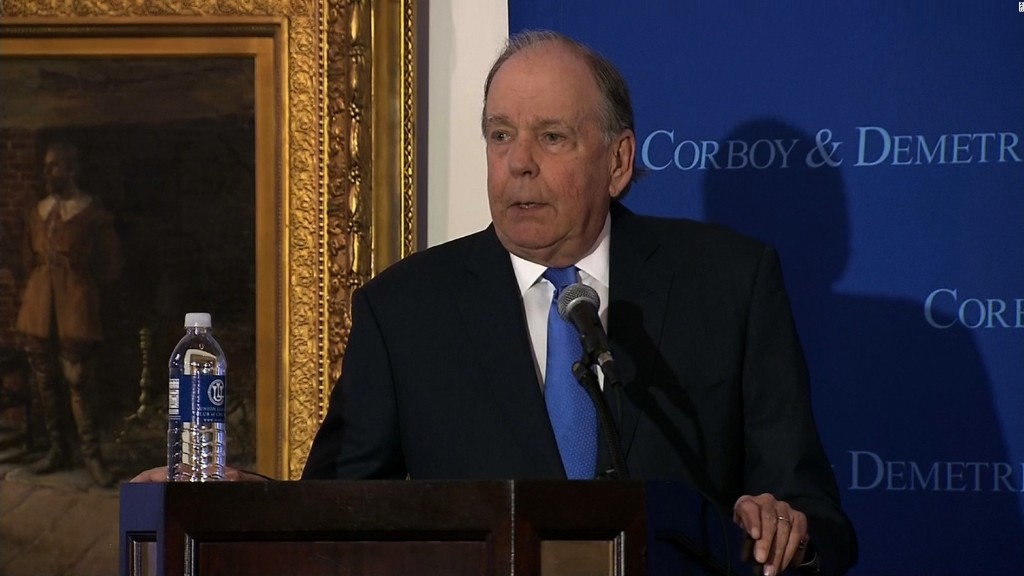 The airline industry is one we love to hate.
Lines got longer. Perks became fees. Seats got slimmer. And planes got packed.
Then came Dr. David Dao, who was dragged, bloodied and screaming, off his United Airlines flight Sunday night after refusing to give up his seat for a commuting crew member. He was mistreated. Hurt. Grossly disrespected. And, for fed-up fliers, his treatment was the final straw.
That's the case, at least, that was laid out by Dao's lawyer at a press conference on Thursday.
"For a long time, airlines -- United in particular -- have bullied us," Thomas Demetrio said. "They have treated us less than, maybe, we deserve."
Dao's experience became a moment of national catharsis. He could have been any of us. He was a paying customer, and he just wanted to get home.
United reiterated its apology in a statement Thursday and said, "This horrible situation has provided a harsh learning experience from which we will take immediate, concrete action. We have committed to our customers and our employees that we are going to fix what's broken so this never happens again."
Related: Buckle your seat belt. You're stuck with your airline.
There's reason for customers to be fed up with flying. Years of cost cutting, bankruptcies and consolidation have left just four remaining airlines with more than 80% market share, so consumer choice has all but disappeared.
Meanwhile, airline profits are higher than ever.
"This industry has transformed itself into one of mass transportation," John Plueger, the chief executive of Air Lease Corp., said in a March interview. "And in all mass transportation industries, cost is everything."
Airline customer service has been eroding for years, and airlines are one of the lowest-scoring sectors on the American Customer Satisfaction Index. Almost everyone has a story of air travel misery.
Ramped-up airport security since 9/11 has also complicated travel, and long TSA lines irk fliers from the start of their trips.
And while Americans are flying more than ever, loyalty also isn't what it used to be. Most U.S. airlines switched their frequent flyer programs from a distance-based system to one based on how much passengers spend on a ticket. For the cost-conscious business frequent flier, the move made it harder to earn and redeem miles -- and put the family vacation further from reach.
"You would think that now that U.S. airlines are making healthy profits they could afford to treat passengers better," said George Hobica, founder of Airfarewatchdog.com.
Related: It's a golden age for affordable flying. No, really
But it's not all bad.
For one thing, air travel is the safest form of transportation.
And that obsessive focus on cost has made it more affordable than ever, thanks in part to competition from low-cost airlines. In the first half of 2016, the average round trip ticket on U.S. airlines cost $369, including $23 in fees. That's the cheapest price tag since the nadir of the financial crisis in 2009 and 2010, according to industry group Airlines for America.
Older jets are being retired and we can stay connected in the air.
Perks are coming back on some flights, too. American Airlines will launch in-flight meals for all fliers on trips between Los Angeles and New York, and San Francisco and New York starting May 1. The announcement came days after Delta began serving free meals to passengers on some of its coast-to-coast flights.
And though the industry still battles low customer satisfaction, its stats are on the rise.
Airline satisfaction jumped 4.3% in 2016, according to the American Customer Satisfaction Index. The number of domestic flights canceled in 2016 was at the lowest level in 22 years, according to the Department of Transportation's Air Travel Consumer Report. And passenger complaints to the DOT dropped 11.3% last year compared to 2015.
So will Dao live on as a symbol of the beleaguered flier, tapping into the zeitgeist of a travel-weary nation? His lawyer seems to think so.
"I hope he becomes a poster child for all of us," Demetrio said. "Someone's got to."