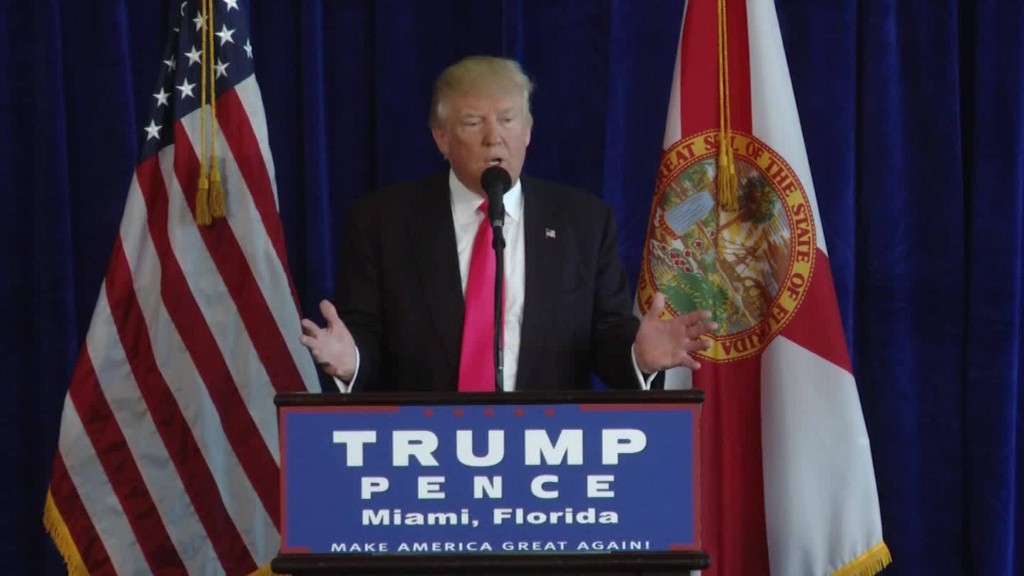 In the span of one week, President Trump undercut Steve Bannon in favor of more moderate advisers, embraced an interventionist foreign policy and reversed his stance on issues ranging from NATO to Chinese currency manipulation to the Export-Import Bank.
These changes have put some of Trump's supporters in right-wing media in an awkward position and sparked a fierce debate over the president's commitment to the values and policies he espoused as a candidate.
Prominent conservative pundits like Ann Coulter and Pat Buchanan have spoken out against the president's strike on Syria; populist sites like Breitbart have challenged Trump's policy reversals; and right-wing bloggers and radio hosts have rallied behind a #KeepBannon social media campaign in support of Trump's embattled adviser.
Other high-profile pundits like Rush Limbaugh, Sean Hannity and Alex Jones have rushed to the president's defense, arguing -- often with their own listeners -- that Trump's actions are either consistent with campaign promises or at least strategically advantageous.
Related: Pro-Trump media breaks with Trump on health care bill
"Is Trump selling us out?" Jones asked on his show Thursday. "The answer is no. In fact, Trump is attempting to co-opt the establishment."
The debate among pro-Trump conservatives -- which comes weeks after Trump lashed out at the far-right House Freedom Caucus over the failed healthcare legislation -- has thus pitted the unwaveringly populist wing of the party against those who may be more willing to adapt their principles as needed in order to defend Trump.
Now, some observers are wondering whether Trump risks jettisoning support among the conservative base that helped deliver him to the White House, and may be necessary to keep him there in 2020.
Laura Ingraham, the talk radio host and Fox News personality who has been a staunch Trump backer, believes he knows the importance of satisfying his core supporters.
"Trump is not and never will be a conventional politician," Ingraham told CNNMoney. "I don't care how many moderates he surrounds himself with, his political instincts are keen. He knows that he cannot win reelection without the populists."
Others say Trump runs the risk of losing his base if he continues in this direction.
"I doubt they'll turn on him [now] because he's had his first good week, politically, in his presidency and above all they want to win. But if this keeps up they'll go back to being the fringe they've always been," said Bret Stephens, the conservative columnist and anti-Trump stalwart who is moving from the Wall Street Journal, where columnists have been shifting towards Trump, to the New York Times.
For now, the debate over Trump's commitment to the base is playing out daily across talk radio, conservative news sites and social media.
Related: What young conservatives think of the media in the age of Trump
On Thursday, Sean Bianca, author of the GOP Girl Blog, called into Limbaugh's radio show to express disappointment with Trump's policy reversals and his apparent decision to abandon Bannon's advice for that of his more moderate daughter and son-in-law, Ivanka Trump and Jared Kushner, whom Bianca described as "two Democrats."
"Has [the president] done some good things? Yes, he has. Am I still behind him? Yes, I am. But I have some valid concerns. I voted for a non-establishment, a non-globalist, a non-Democrat. I voted for a Republican," Bianca said. "I'm upset!"
Limbaugh responded by asking to play "devil's advocate" and offering Bianca "another way of looking at" things. In the course of their conversation, he defended Trump's new positions on NATO, Chinese currency manipulation and Syria, as well as his willingness to seek the advice of his more moderate family members.
Trump's decision to say NATO was "no longer obsolete" was acceptable "because he made everybody play straight and contribute their fair share and essentially saved it," Limbaugh said. His reversal on Chinese currency manipulation was OK because, Limbaugh claimed, he got China to confront North Korea. His decision to attack Syria was good because it sent "a message to the [North Koreans] and to the Chinese."
Limbaugh's arguments on Syria are unlikely to satisfy critics like Coulter and Buchanan. In a column for Breitbart this week, Coulter wrote that "Trump's Syrian misadventure is immoral, violates every promise he ran on, and could sink his presidency."
We want the "president of America" back — not "the president of the world," she wrote.
Many pro-Trump conservatives are also unlikely to forgive Trump for distancing himself from Bannon, a cult hero among conservative populists. #KeepBannon and #FireKushner have both become popular hashtags among conservatives on Twitter this week.
Still, many conservatives take solace in Trump's accomplishments on other fronts, including Judge Neil Gorsuch's appointment to the Supreme Court, Attorney General Jeff Sessions' tough talk on immigration, and the law Trump signed giving states the option to deny funding for Planned Parenthood.
How loyal these conservatives are to Trump -- this year and in 2020 -- will depend on Trump's actions going forward. But many political observers would argue that those looking for consistency in his worldview would be advised to abandon that effort.
"Intellectuals, whether they are for or against Trump, want to construct an 'ism' into which they can fit his politics," Bloomberg View columnist Ramesh Ponnuru wrote Thursday. "But Trumpism doesn't exist. The president has tendencies and impulses, some of which conflict with one another, rather than a political philosophy."