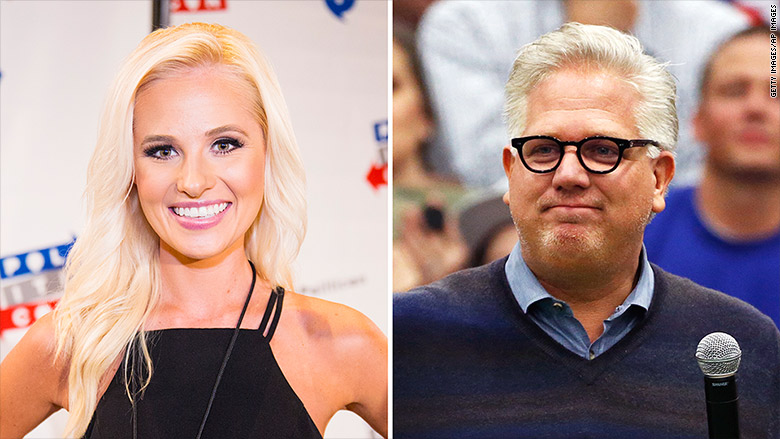 A little more than a week after getting sued by perhaps his biggest star, Tomi Lahren, Glenn Beck has filed a counterclaim.
In a document filed Monday in a Texas court, Beck and The Blaze, the multimedia enterprise he founded in 2010, accuses Lahren of mistreating staff and violating the terms of her contract.
Lahren, a smooth-talking conservative pundit who had hosted a nightly talk show on The Blaze since 2015, sued the network and Beck earlier this month alleging wrongful termination, claiming that she was sacked shortly after expressing her pro-choice views during an appearance on "The View."
Following those comments last month, Lahren was pulled off the air and has not appeared on her program since. She claimed in her suit that Beck and The Blaze had orchestrated a "public smear campaign" against her, and that the company had blocked access to her Facebook page.
Related: Tomi Lahren sues Glenn Beck and The Blaze for wrongful termination
In their counterclaim, Beck and the company assert that Lahren has not been fired, saying her "employment agreement with TheBlaze remains in full force and effect" and that "she continues to be employed (and paid) by TheBlaze, and she has access to her social media accounts, as well as a Facebook page TheBlaze created and maintains."
"When TheBlaze informed Lahren that her show was suspended for one week, it also advised her that it would continue to honor her contract (as it has and continues) and would invoke its rights to 'pay or play' (i.e., to pay Lahren but not broadcast her show)," lawyers for Beck and The Blaze argued. ("Pay or play" provisions are not unusual in TV contracts.)
The counterclaim goes on to say that "TheBlaze has had employment issues with Lahren for well over a year," and that as a result of those issues the company had not intended to extend her contract after it expires in September.
Those "issues," according to the claim, included mistreatment of the crew on her show, on-air language that bordered "on profanity," a propensity for conflict with other media personalities at The Blaze and purported ignorance in her analysis.
Related: Tomi Lahren's show pulled for a week after abortion comments
Lahren's comments on "The View" were "simply the latest in a series of events that led TheBlaze management to conclude TheBlaze did not intend to extend her contract beyond the end of its term in September 2017," according to the claim.
When reached for comment on Monday, Lahren said she was en route to a speaking engagement and was not in a position to respond. A spokesperson for The Blaze did not immediately respond to a request for comment.
After the counterclaim was filed on Monday, Lahren said on Twitter that she was taking the news in stride.
The 24-year-old Lahren enjoyed a meteoric rise over the last year with incendiary commentaries that often went viral. She has close to five million followers on Twitter and Facebook combined, and has cultivated a loyal audience with her combative style.
In a monologue last summer, Lahren likened the Black Lives Matter movement to the Ku Klux Klan.
But Lahren's comments on abortion upset many of her fellow conservatives, including Beck, who suggested that her position on the issue might not be sincere.
The counterclaim makes the same point, saying that "the opinions Lahren expressed reflected a drastic departure from views she had previously expressed."
In December, for example, the filing notes that Lahren referred to those who are pro-choice as "straight-up baby killers."