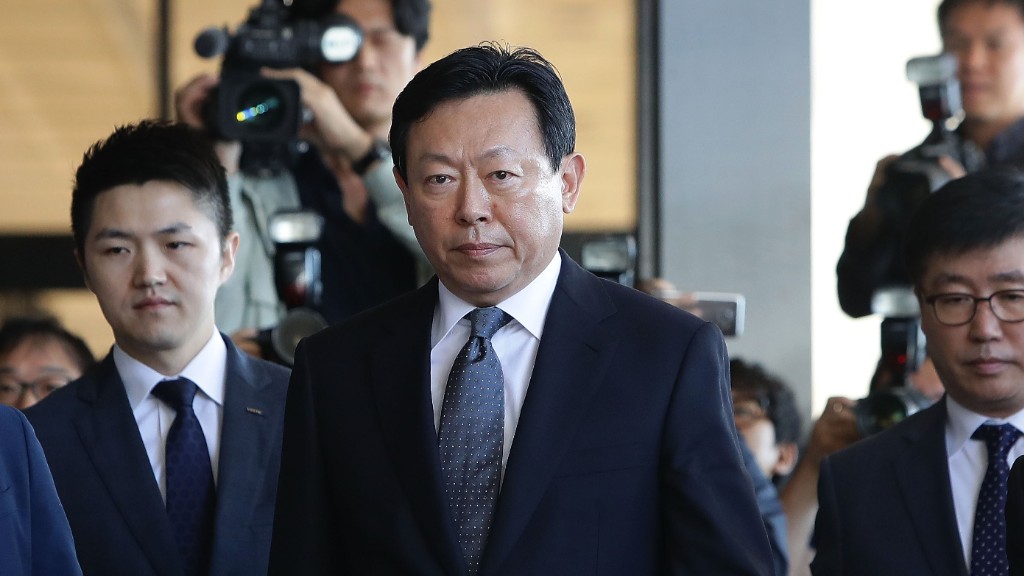 A second top South Korean business leader has been swept up in a far-reaching political corruption scandal that has gripped the country.
Prosecutors said Monday that they have indicted Lotte Group Chairman Shin Dong-bin on bribery charges. He joins Lee Jae-yong, the heir to the Samsung business empire, who was indicted at the end of February.
The move highlights the deepening reach of an investigation that began last fall and has already led to the ouster of former South Korean President Park Geun-hye. Park was also indicted Monday.
Park is accused by prosecutors of helping Choi Soon-sil, a longtime friend, extort donations from South Korea's biggest conglomerates in exchange for political favors.
Related: Lotte to China: Don't blame us for THAAD missiles
Prosecutors allege Park colluded with Choi to make Lotte's Shin give 7 billion won ($6.2 million) in bribes to a foundation Choi had set up.
Shin offered the bribe in exchange for a key government license for Lotte's duty free business, according to prosecutors.
Shin and Lotte have denied wrongdoing. In an interview with CNN earlier this month, he said he wasn't worried about ending up behind bars because he's innocent.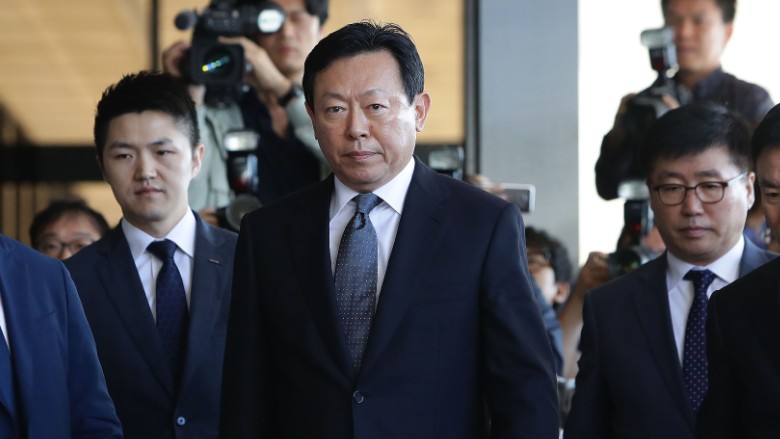 Lotte doesn't dispute that it gave the money to the foundation in response to a request "to cooperate in matters of national interest," a spokeswoman for the company said. But it denies providing the money in return for any political favors.
Lotte's array of businesses range from retail stores and hotels to chemicals.
The corruption scandal has dominated South Korean politics for months. Three people died and dozens were injured in violent protests that broke out in Seoul last month after South Korea's Constitutional Court upheld a parliamentary vote to impeach Park over allegations of corruption and cronyism. She is the country's first democratically elected leader to be forcibly removed.
Related: Former South Korean president indicted for bribery and abuse of power
Park was indicted Monday on multiple charges, including abuse of power, coercion, attempted coercion, receiving bribes from a third party, demanding bribes from a third party and the leaking of confidential official information, prosecutors said.
Lee, the de facto chief of Samsung, is already on trial along with four other executives from the company. Park's friend Choi is also on trial for a series of charges, which her lawyers have denied.
Related: What next for Samsung as chief's 'trial of the century' begins?
Unlike Lee, Shin won't be held in custody ahead of his trial.
Shin and other members of the family behind Lotte are already on trial in a separate corruption case involving the company.