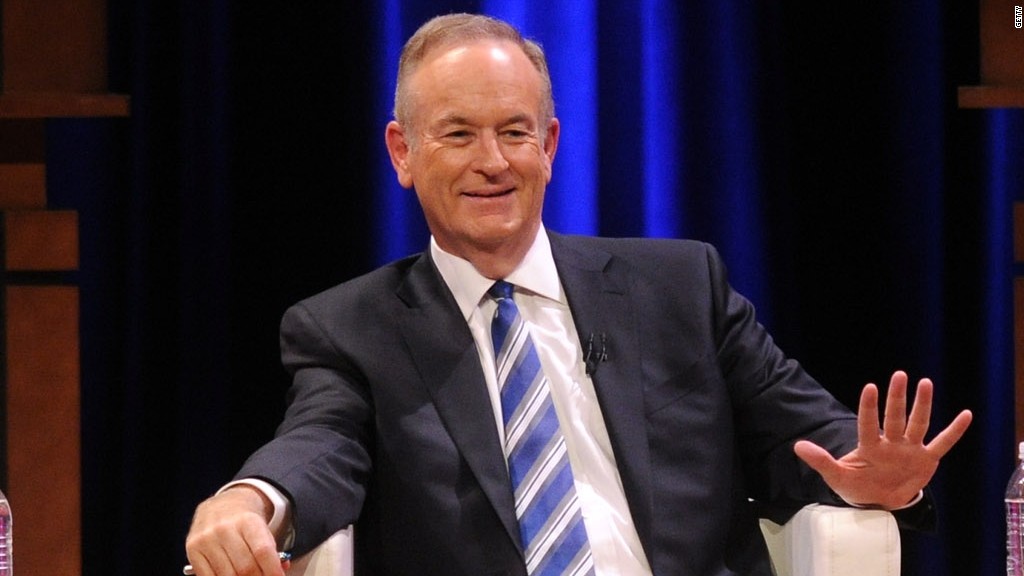 Fox News will no longer even respond to questions about whether Bill O'Reilly will return to his show.
A well-placed source said Tuesday afternoon that representatives for Fox and O'Reilly have begun talking about an exit. But this prompted a denial from sources in O'Reilly's camp.
Even one person close to O'Reilly, however, said he will probably not be back on "The O'Reilly Factor."
The original well-placed source said an announcement about O'Reilly's fate was likely by the end of the week.
The fact that none of these sources were willing to go on the record speaks to the delicate maneuvering underway.
The network's parent company, 21st Century Fox (FOX), will hold a board meeting on Thursday, a spokeswoman told CNNMoney. One of the sources said O'Reilly will be a primary topic.
The Murdochs, the men who control 21st Century Fox, are pointedly not commenting on any of this.
But conversations inside Fox have already turned to possible O'Reilly successors.
New York magazine's Gabriel Sherman, the author of a biography about ex-Fox News boss Roger Ailes, reported Tuesday that "the Murdochs are leaning toward announcing that O'Reilly will not return to the air."
Sherman cited "three sources with knowledge of the discussions" and said "no final decision has been made."
As CNNMoney has previously reported, there had been a split between Rupert Murdoch, the company's patriarch, and his sons James and Lachlan, with James advocating for O'Reilly's ouster. Lachlan was previously said to be in the middle. Sherman said Tuesday that Lachlan has "leaned more in his brother James's direction" in recent days.
All of this is a reaction to a New York Times story about the settlement payments that O'Reilly, Fox and 21st Century Fox paid to women who accused O'Reilly of sexual harassment and verbal abuse.
Last week 21st Century Fox confirmed that an outside law firm was investigating allegations against O'Reilly.
The same firm -- Paul, Weiss -- played an instrumental role in the eventual resignation of Ailes last summer.
O'Reilly's allies feel that he has been unfairly demonized by his accusers and a biased news media.
His opponents, including some influential voices inside 21st Century Fox, feel that O'Reilly has behaved badly over the years, that his behavior has been exposed, and that it's inappropriate for Fox News to continue his show.
"The O'Reilly Factor" is by far the highest-rated program on cable news. But most of O'Reilly's advertisers abandoned the show in the wake of the Times' story.
O'Reilly began a pre-planned vacation to Italy last week. When he announced the vacation on air, Fox News and O'Reilly's own outside spokesman said he'd be back on the "Factor" on April 24. Guest hosts are filling in this week.
O'Reilly remains in Italy while his team of agents and lawyers in New York work on his behalf.
Some sources on O'Reilly's side said that, as of Tuesday afternoon, they still expect he'll be back on "The O'Reilly Factor" on Monday.
But they acknowledged that none of them know for sure.
Fox recently renewed O'Reilly's contract with the knowledge that the Times' story was in the works.
The Times reported that the new deal was structured to give Fox "more leverage over him regarding his behavior."
That could be a factor in negotiations now.
If O'Reilly does resign, or if Fox takes him off the air, he'd be the third major player to leave the network in the span of nine months. Ailes' resignation last July was the result of sexual harassment charges by women at the network, including Megyn Kelly, who herself left Fox in January. O'Reilly defended Ailes when the women first came forward.
Kelly decided to leave Fox News in January. She is launching two new shows on NBC later this year.
Fox's audience has remained extraordinarily loyal to the network amid all of the off-air controversies.
And many of O'Reilly's fans are waiting for him to get back from vacation.
But on Tuesday, Fox would no longer confirm his April 24 return date.
When asked, "Will O'Reilly be returning to the Factor on April 24?," the Murdochs' top spokesperson did not respond.
-- CNN's Dylan Byers contributed reporting.