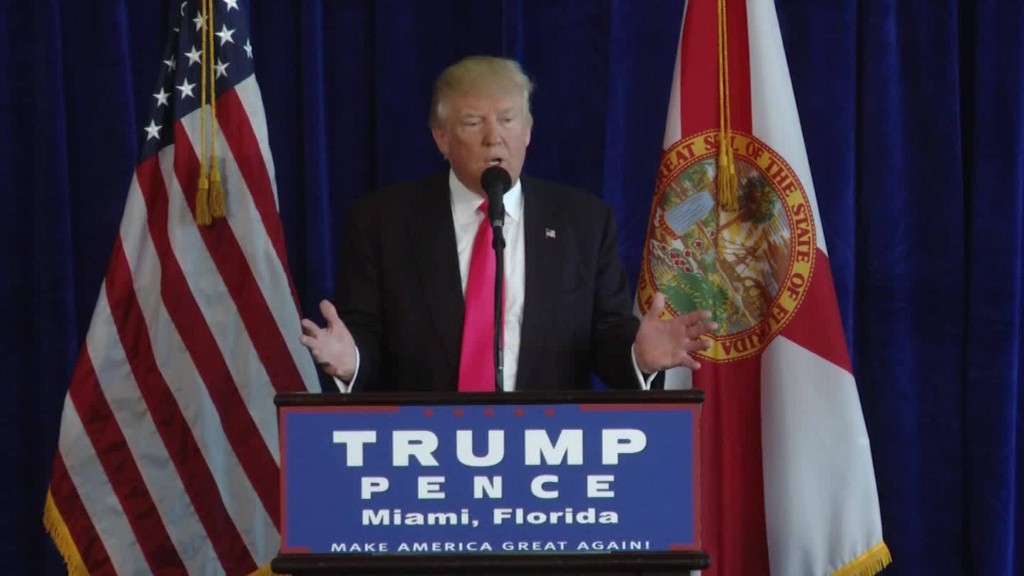 President Trump keeps pushing "Buy American." He's planning to tout it again at a stop in Wisconsin on Tuesday.
But the alarming reality is Americans aren't spending much money on anything right now, regardless of where it's made.
Retail sales declined in February and March from the prior month, according the Commerce Department. Shoppers haven't been this stingy since early 2015, and it's likely to hurt the economy.
The U.S. is on track for very sluggish 0.5% growth in the first three months this year, according to the latest estimates from Macroeconomic Advisers and the Atlanta Federal Reserve. That falls massively short of the 4% growth that Trump has promised.
Trump loves to plug how Americans' confidence in the economy has skyrocketed since he won the election. He's right. Consumers, businesses (big and small) and investors are all feeling a lot more optimistic, according to various surveys.
But all that enthusiasm isn't translating into more shopping, which drives the U.S. economy. About 70% of the American economy comes from people buying stuff.
Kate Warne, a long-time investment strategist at Edward Jones, calls this the era of "skeptical optimism."
"People are more optimistic, but they're skeptically optimistic," Warne told CNNMoney. "I don't think they are confident yet that things will change as much as they would like them too."
Related: What we'd learn if Trump released his tax returns
Americans are in 'wait and see' mode
In some ways, this is playing out a lot like Election 2016 where the polls said one thing and people ended up doing something else on Election Day.
In this case, the "soft data," based on phone calls with people and business leaders, shows a lot of optimism. But the "hard data" on actual consumer and business spending is showing a lot of hesitation.
Even the stock market, which surged 2,700 points after Trump's election and inauguration, has fallen 2% (about 500 points) in the past month. Investors have run back to "safe haven" assets like U.S. government bonds and gold.
The common explanation is that everyone from Wall Street to Main Street is in "wait and see" mode. A big wake up call was the failure of the health care bill in March. The Trump agenda is going to take a while to implement, and some of it might have to tweaked a lot.
"We decided to wait until policy initiatives became clearer before altering our trend economic forecast," wrote Sam Bullard, senior economist at Wells Fargo in a recent note to clients. There have been a lot of cautious notes like Bullard's coming out lately from Wall Street experts.
Related: Trump is dialing back his economic promises. Bigly
Republicans are a lot more optimistic than Democrats
Another twist is that Republicans are a lot more optimistic than Democrats. The University of Michigan does one of the most widely watched surveys of consumer confidence. Researchers there have discovered an "unprecedented" partisan divide in confidence since Trump was elected.
Overall, the University of Michigan index of consumer confidence has jumped from 87 in October to 98 today. But that headline figure masks a wild division. Democrats believe "a deep recession" is coming under Trump (their confidence index is a mere 55), while Republicans expected a "new era of robust economic growth" (their index level is a sky-high 122). Independents are in between, as you might expect.
If half the country thinks recession is near, that might explain why retail sales are slowing, or even showing some signs of decline.
Related: Americans have become lazy and it's hurting the economy
Trump's best hope: A spring bounce
Perhaps the best hope for Trump is that spring sunshine drives people to shop again. It's happened before. In fact, it's happened frequently in recent years where Americans stay home during the winter and then the economy really picks up in the spring and summer.
Macroeconomic Advisers, for instance, is predicting 3.6% growth for the second quarter (April through June).
But that won't be enough for Trump to show he's delivering a better economy than Obama did.
"We expect growth to be slightly stronger in 2017 versus 2016. It's a modest increase, nothing dramatic," Warne of Edward Jones says.
Trump and Congress will have to deliver on taxes while avoiding any missteps on trade or foreign policy. Even then, the optimism may not materialize into as big of a boost as some want.
As Glenn Hubbard, dean of Columbia Business School and the former top economist for President George W. Bush, put it last month: "Animal spirits will only take you so far. Then you're like Wile E. Coyote in the cartoon. You realize there's nothing beneath your feet, and it's a long way down."