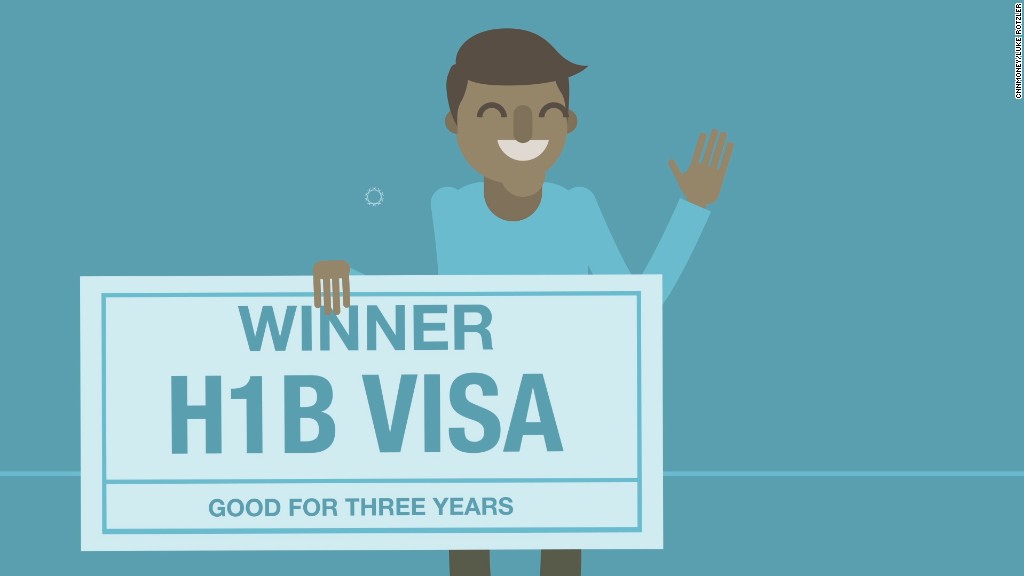 President Trump has set the wheels in motion for H-1B visa reform.
On Tuesday, Trump signed an executive order that directed federal agencies to implement a "Buy American, Hire American" strategy. The order included a section geared at immigration reform.
The order tasked four department heads (including the Secretary of Labor, who has yet to be confirmed) to suggest reforms to ensure H-1B visas are given to the "most-skilled or highest paid" petitioners. Additionally, it asked them to propose new rules and guidance for preventing fraud and abuse of work visas.
Trump made it clear that he doesn't agree with the fact that H-1Bs are currently doled out under a lottery system.
"Right now, H-1B visas are awarded in a totally random lottery -- and that's wrong," he said on Tuesday in Wisconsin, where he signed the order.
There's an annual quota of 85,000 new H-1B visas (with 20,000 reserved for master's degree holders). Applications opened on April 3 and closed five days later. It was the fifth consecutive year that the cap was met within five days. This year, 199,000 applications were received.
It's unclear what exactly the four department heads (State, Justice, Labor and Homeland Security) will be able to accomplish administratively and what will need to be done through congressional legislation.
Related: H-1B visa applications decline for first time in 5 years
"Although released with ceremonial flair, the order will have no immediate impact on H-1Bs," Betsy Lawrence, the director of government relations for the American Immigration Lawyers Association, told CNNTech. "Many of the changes to the H-1B program contemplated by the administration would require legislative action or rulemaking and would take time to go through the necessary processes."
There have been several bills introduced in recent months to reform the H-1B visa system, including a bipartisan bill from Senators Chuck Grassley and Dick Durbin who have been pushing to revamp the program for years. Their bill proposed eliminating the lottery in favor of a "preference system" so that foreign students educated in the U.S. would get priority. It would give a "leg up" to advanced degree holders, those being paid a high wage and those with valuable skills.
This proposal aligns with Trump's H-1B rhetoric.
"I'm grateful that President Trump has taken my suggestions to heart by taking steps today to protect American workers and preserve limited H-1B visas for truly qualified, high-skilled foreign workers," said Grassley in a statement.
Related: Australia first: Country overhauls visa program for skilled workers
H-1B visas are used to fill the U.S. skills gap, but critics, including the Trump administration have voiced concern about abuse of the program. In some cases, outsourcing firms flood the system with applicants, obtaining visas for foreign workers and then contracting them out to tech companies. American jobs are sometimes replaced in the process.
Attorney Sara Blackwell, who advocates for American workers replaced by foreigner visa holders, said she's "hopeful."
"I'm glad President Trump is acknowledging the serious problem."
Unlike the draft executive order leaked in January, the order signed Tuesday did not set out deadlines, although it did ask for proposals "as soon as practicable."
"I'm not worried immediately about my clients -- but I am worried about what's to come," Tahmina Watson, of Watson Immigration Law, said.