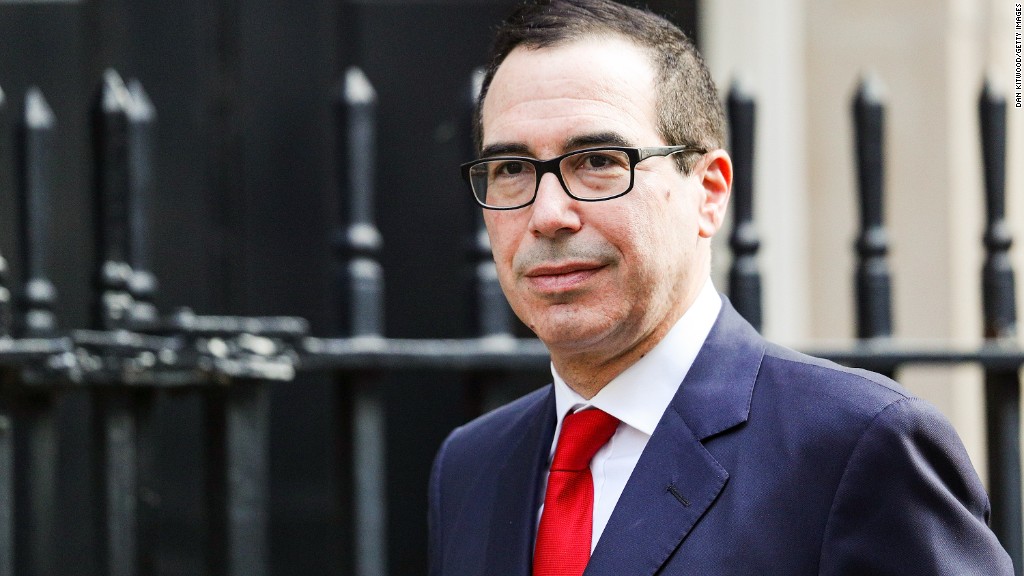 Treasury Secretary Steven Mnuchin said Thursday the Trump administration plans to release a "major tax reform" plan "very soon," regardless of the outcome of a healthcare overhaul bill.
"Whether health care gets done or health care doesn't get done, we're going to get tax reform done," Mnuchin said, speaking at policy conference hosted by the Institute of International Finance.
While the secretary has more recently backed away from meeting his own August deadline, Mnuchin's comments on Thursday reinforced his own commitment to finalize an overhaul of U.S. tax policy in 2017.
Related: Top Reagan economist tells Trump: Cut taxes ASAP
"We hope that this won't take until the end of the year," said Mnuchin.
Trump's top economic adviser Gary Cohn spoke later at the event and said both men have been spending a lot of time working together on a tax proposal.
"We're going to come up with a unified, united tax proposal from the White House that will include individual as well as corporate," said Cohn, the director of the National Economic Council.
Neither senior official offered specific details of what the administration's plan might look like. Cohn said the administration's plan would be in line with campaign promises made by the president to lower rates, to simplify and to increase U.S. competitiveness.
"We've got a lot of things on the table," Cohn said. "We're working with all of the different levers."
Cohn said the administration didn't know if proposed changes would be revenue neutral yet, meaning they wouldn't add to deficits, only that the White House was seeking permanent changes to the corporate tax code. Earlier, Mnuchin suggested that a tax proposal would "pay for itself."
The administration could try to pass a bill through reconciliation, which requires 50 votes to pass in the Senate. But then any changes to the tax code would expire. "They need some permanence in the tax code," said Cohn.
Related: Trump is dialing back his economic promises. Bigly.
Mnuchin said he hoped that there would be bipartisan support for a plan. But if the administration fails to reach consensus with Democrats, they would consider working through the reconciliation process to finalize tax reform.
The treasury secretary said he has been working since "day one" with policymakers on Capitol Hill, including Senate Finance Chairman Kevin Brady and other members of the panel. He said Senate lawmakers, so far, share the same objectives, including simplifying individual taxes and making U.S. business taxes more competitive.
Also topping the administration's economic agenda: infrastructure.
The president's budget director Mick Mulvaney said Thursday the administration plans to include $200 billion for new infrastructure spending in its fiscal year 2018 budget.
"We're certainly going to spend some money," said the Office of Management Budget Director on Thursday who was also speaking at the IIF event. "The president wants a trillion dollars' worth of work on the ground and we're going to give it to him."
On the campaign trail, the president promised to spend more on improving U.S. roads, but hasn't provided any details on how he would pay for it. Mulvaney said any plan wouldn't be ready until the fall.