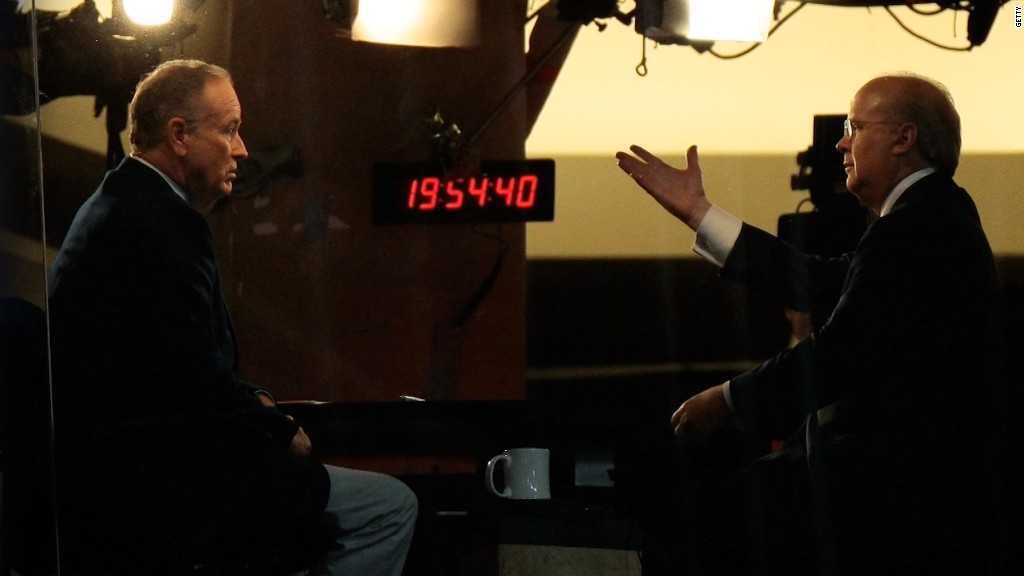 Bill O'Reilly is walking away with tens of millions of dollars as he leaves Fox News.
21st Century Fox (FOXA) and O'Reilly's representatives won't acknowledge the existence of a payout. But two well-placed sources confirmed to CNNMoney that O'Reilly is leaving with a hefty severance package. He signed a new contract worth about $25 million per year shortly before he was ousted, though sources say he won't receive the full amount he was owed.
Of course, staggering payouts for ousted executives are nothing new. Here are a few other notable figures who also checked out and cashed in.
Roger Ailes: $40 million (2017)
Before O'Reilly, there was Ailes. The founding CEO of Fox News was pushed out last summer amid allegations of sexual harassment by employees. The company paid settlements to several women, including a reported $20 million to former anchorwoman Gretchen Carlson.
The U.S. Justice Department is now investigating whether Fox New broke the law when it failed to inform shareholders about some of the Ailes settlements.
The fiasco may have hit Ailes' reputation, but his lifestyle isn't suffering. He recently bought a $36 million oceanfront home in Palm Beach, Florida, records show.
Carly Fiorina: $21.4 million (2005)
Fiorina was forced out as CEO of Hewlett-Packard (HPQ) back in 2005 when the once-mighty computer maker was foundering.
At the end of her six-year tenure, she collected an exit package worth at least $21.4 million.
Angelo Mozilo: $40 million (2008)
It's 2008. The U.S. economy is tanking and foreclosures are on the rise, thanks in part to a mortgage crisis that spiraled out of control.
The kicker: Mozilo, whose company Countrywide was at the center of the bursting mortgage bubble, was set to receive $115 million to step down as CEO.
Facing heavy criticism from lawmakers, he voluntarily gave up $37.5 million in payments. But he still took home more than $40 million in compensation and benefits when Countryside was bailed out by Bank of America (BAC).
Stanley O'Neal: $161.5 million (2007)
O'Neal was out as chairman and CEO of Merrill Lynch less than a week after the bank posted an $8 billion loss on subprime mortgage investments in 2007.
The ignoble end to his 21-year career was sweetened by a severance package worth about $161 million. And that was on top of the $46 million he made in salary and annual bonuses in 2006.
O'Neal was forced to defend his pay package in front of a Congressional committee in 2008.
Michael Ovitz: $140 million (1996)
Former Disney (DIS) CEO Michael Eisner brought the Hollywood talent powerhouse on as president in 1995. Ovitz was pushed out just 14 months later, and took a staggering $140 million in cash and stock with him.
Shareholders later took Disney directors to court over the issue, claiming the board was "derelict in its responsibilities" when it agreed to hire Ovitz and then let him keep his full payout when he was fired. They ultimately lost the case.