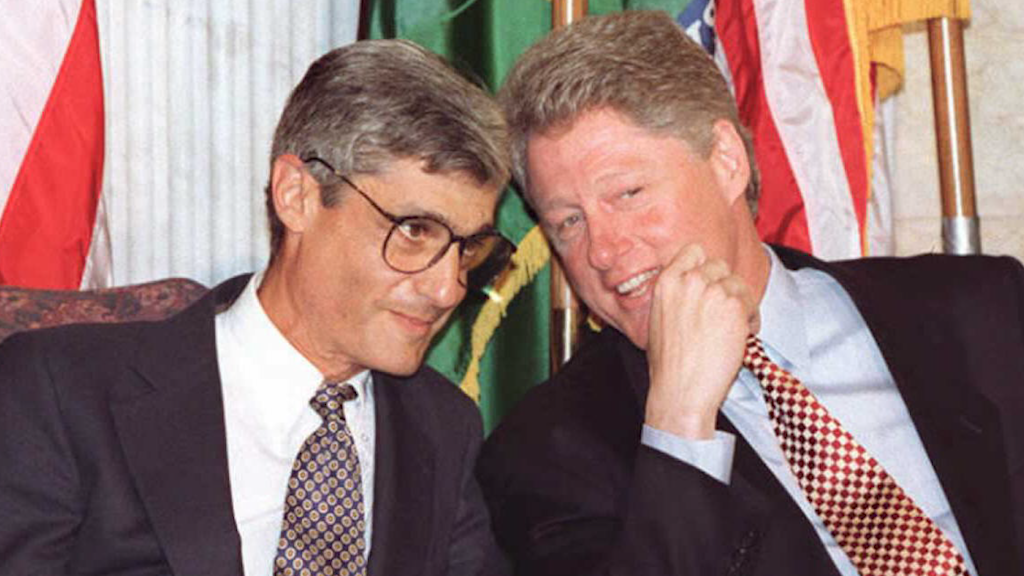 President Trump is taking steps to keep his word to "do a big number" on the 2010 Dodd-Frank financial reform law.
"These regulations enshrine too big to fail and encourage risky behavior," Trump said, speaking at the Treasury Department Friday before he signed three orders.
The president directed Treasury Secretary Steven Mnuchin to review regulators' authority to unwind a bank on the brink of failure and to label nonbank firms -- insurance companies, private equity firms and hedge-funds -- as risky institutions.
Earlier in the day, Mnuchin told reporters the president's actions would immediately put an end to regulators' ability to use emergency authority without the president's permission or to name any firms as risky until a thorough review has been completed.
Trump also signed an executive order asking Mnuchin to review any significant tax regulations issued last year, especially ones that burden American taxpayers or are too complex. The president also said the White House would have a "big announcement" on a tax reform plan on Wednesday.
"It's such a big thing," said Trump. "People can't do their returns. They have no idea what they're doing. They're too complicated."
Mnuchin and his Treasury staff are already fulfilling a prior request by the president to review regulations and find ways to reduce the burdens on businesses. That review is due in June. His staff has also been working on finalizing a tax policy plan that Mnuchin said would be completed "very soon."
A top priority for the Trump administration has been to drive economic growth through tax reform and loosening regulations.
Regulators' emergency authority in the 2010 law has been a ripe target for the administration, because its repeal could have an impact on the federal budget. The Congressional Budget Office has said eliminating the regulation would create $15.2 billion in budget savings.
Related: House GOP vows to offer Dodd-Frank overhaul bill by end of April
Sherrod Brown, the top Democrat on the Senate Banking Committee, warned against potential rollbacks.
"Any actions to undermine these protections encourage Wall Street's risky behavior and leave taxpayers and our economy exposed to another catastrophe," Brown said.
Former Federal Reserve Chairman Paul Volcker earlier this week expressed disbelief over the GOP's attacks on the Federal Deposit Insurance Corp.'s power to unwind a failing firm.
"I don't understand why?" Volcker, who is now chairman of the Volcker Alliance, said Wednesday at the Bretton Woods Committee meeting. "Is it because you don't trust the FDIC? That you're willing to take the risk. I don't understand why this is important."
A spokeswoman for the FDIC declined to comment.
House Financial Services Chairman Jeb Hensarling praised the president's actions to "end bailouts" and "make Wall Street accountable" in a statement.
On Friday, Mnuchin endorsed Hensarling's latest plan to replace and repeal the 2010 reform law.
"We are supportive of him bringing forth this legislation and looking forward to working with him," said the former Goldman Sachs banker. A committee hearing on Hensarling's proposal is scheduled for next Wednesday.
Mnuchin said the scope of Treasury's regulatory review goes beyond rules tied to Dodd-Frank, which the president has called "horrendous." Mnuchin's staff has already met with more than a dozen focus groups to find areas for improvement, he said.
The Treasury secretary said the goal of the review was not to throw out all the rules to safeguard the financial system, but to ensure "proper regulation." He said he wanted banks to be able to lend without putting taxpayers at risk.
Related: House GOP bill would give Trump greater power over Wall Street regulation
Former Federal Reserve Chairman Ben Bernanke has defended the Dodd-Frank provision, saying elimination would be a "major mistake."
While "not perfect... is an essential tool for ensuring that financial stress does not escalate into a catastrophic crisis," said Bernanke, who is now a fellow at the Brookings Institution.
The latest directive by the president calls on Mnuchin to complete a report within 180 days on whether an improved bankruptcy authority is a better alternative for failing financial companies. It also asks the secretary to look at whether giving regulators such powers would create costs for taxpayers or lead banks to take excessive risks. Mnuchin said the administration would listen to all sides of the debate as part of its review.
On Thursday, Mnuchin said he had "big concerns" with that specific authority, because the administration doesn't want to support a too-big-to-fail policy. Republicans who want to repeal the backstop measures argue it codifies too-big-to-fail.
Still, the secretary said the bankruptcy code would need to be revised, because in its current form it would not be an efficient tool to safely wind down a bank overnight.
The second review asks Mnuchin to assess how regulators label firms as risky and what risks might be created by designating a firm.