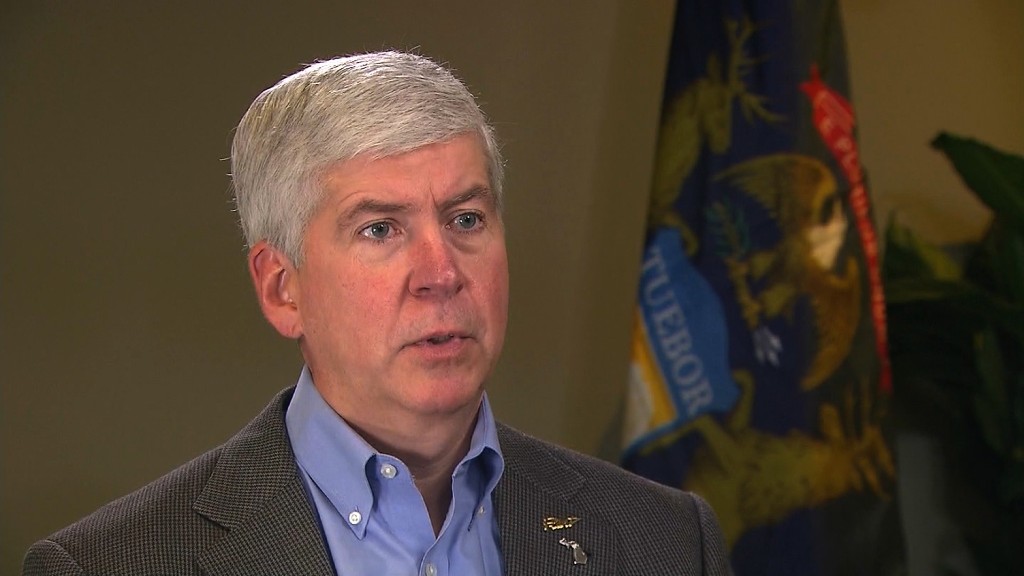 Brad Keywell, the CEO of Uptake Technologies, is confident that the water crisis in Flint, Michigan, could have been prevented if his company had been keeping watch.
"Flint should not have happened," said Keywell, the co-founder of more than a dozen companies, including Groupon, in the latest Boss Files podcast with CNN's Poppy Harlow. "If Uptake's tools would have been monitoring the water supply quality, then you would have known about the earliest indication and you would've solved it."
Uptake's analytics software helps predict and prevent failures and increase efficiencies across a range of industries -- from infrastructure to locomotives to health care. The company's goal is to use its data to provide its large, multinational clients increased productivity, reliability and safety.
Listen to the Boss Files podcast with Poppy Harlow and Uptake CEO Brad Keywell
"Now, human beings have to solve a problem, but we would've known about it the minute something turns on," he told Harlow. "It takes anecdote out of the equation, and it puts science and predictive insight into the equation."
Launched in 2014, Uptake has since reached a reported $2 billion valuation and now employs more than 700 people. In 2015, it was named hottest start up of the year by Forbes. It has also won some big clients, such as Caterpillar and Berkshire Hathaway Energy.
In this race to command a top spot as a provider of the Internet of Things, Keywell has some stiff competition -- including behemoth GE.
But it's a race the 47-year-old serial entrepreneur believes he can win.
Related: United Way CEO on Trump: Focus on policy, not personality
"Our core advantages are speed and agility and quality of execution, because we are eliminating, or all but eliminating drama, nonsensical politics and bureaucracy," Keywell said.
Keywell has a track record of making big ideas happen. Not only is he the co-founder of Groupon and several other startups, he also helped start Lightbank, a venture capital fund that has invested in more than 100 companies.
In 2011, he launched the now annual Chicago Ideas Week, one of the largest innovation and ideas gatherings in the world with more than 30,000 attendees and over 250 speakers.
"The primary goal was to sort of satiate my appetite for intellectual recreation, or curiosity, and just an acknowledgement that we didn't have what I thought we needed, in the Midwest, in Chicago."
Related: Wells Fargo CEO: I'd be ok with my kids calling our ethics line
And he's committed to seeing Chicago rise as a tech hub. "I would argue that Chicago is one of the centers of innovation between the coasts, if not the center of innovation," he said.
But it also means working on some tough issues, like Chicago's growing youth unemployment and violent crime.
When asked if the private sector could be part of the solution, Keywell doesn't hesitate to say "we can be part of it... when I hear about a good idea, I say 'Let's get involved.'"
Beyond Chicago, Keywell is also willing to tackle another problem facing the tech community: the lack of funding for women-led startups
The father of two daughters, Keywell said he is "strong believer" in creating opportunities for people across a range of backgrounds. "Creating opportunities is a good thing, and... I think it's mentorship that really makes a difference," he said.
"I'm in the game, and my two cents of the conversation is: What can we do?" he told Harlow. "I say to people that are part of my team 'Let's do everything we can do, to be part of the solution.'"