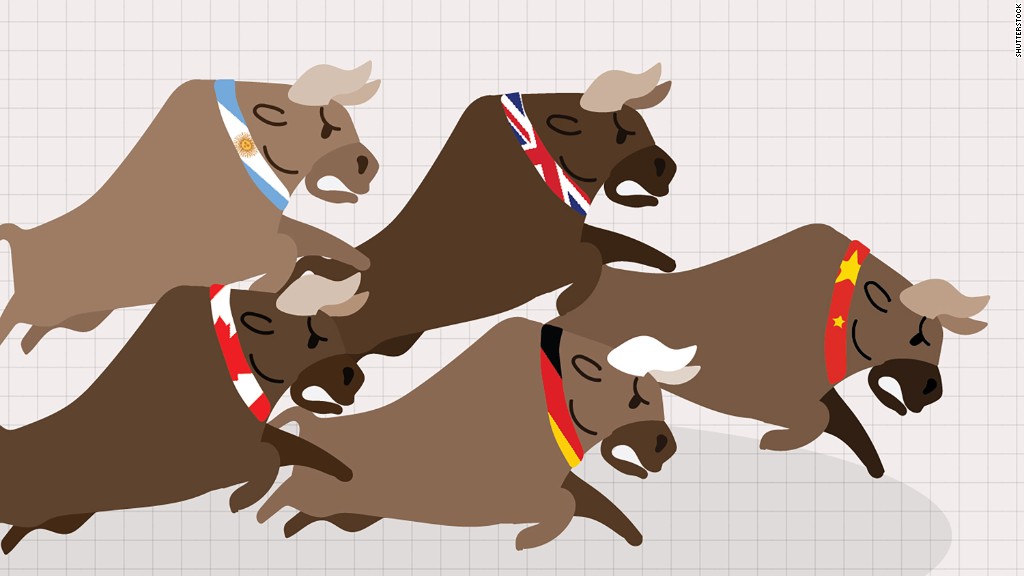 The Nasdaq, home to many of the biggest tech companies in America, hit the 6,000 mark for the first time ever on Tuesday.
The milestone comes more than 17 years after the Nasdaq first topped 5,000 -- way back in March 2000. Tech stocks plunged after the dot-com bubble burst then, and once again during the Great Recession of 2008.
It took until 2015 for the Nasdaq to reach 5,000 again.
Sure, not much has changed now that the Nasdaq is at 6,000 as opposed to, say, 5,970. But, it's a milestone, nevertheless. Hence, the big hoopla earlier this year when the Dow topped 20,000 -- and 21,000 -- for the first time.
Related: Earnings growth may be the best since late 2011
Strong sales and profits from the likes of Apple (AAPL), Google owner Alphabet (GOOGL), Microsoft (MSFT) and Facebook (FB) -- which are all listed on the Nasdaq -- are a big reason behind the index's surge during the past few years.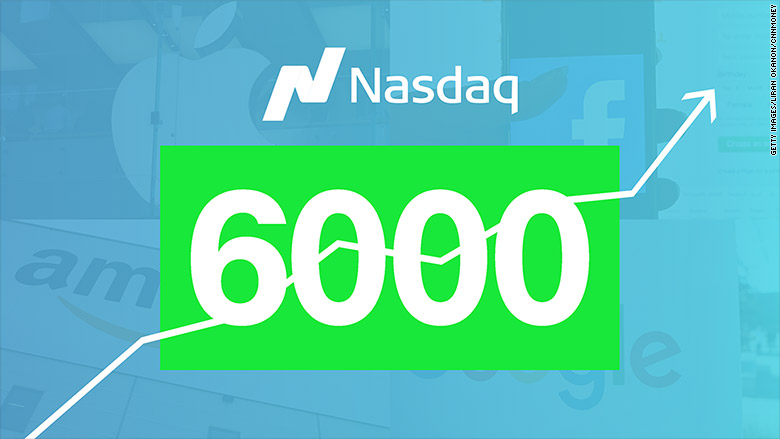 Smartphones, online advertising, e-commerce, cloud computing and social networking are big tech trends that have helped fuel the Nasdaq's rise -- and it has continued in 2017. The Nasdaq is up more than 10% already this year.
Ironically enough, President Trump deserves a chunk of credit for the most recent surge in tech stocks as well.
Trump and tech giants may not see eye to eye on immigration, global trade and a lot of other things.
Related: The Trump rally is alive and kicking
But Apple, Microsoft, Alphabet, Oracle (ORCL) and Cisco (CSCO) are among the many tech giants that could benefit from Trump's call to let companies bring back, or repatriate, cash sitting overseas at a one-time lower tax rate.
Apple alone has $246 billion in cash -- and more than $230 billion is held outside the U.S. Microsoft, Google, Cisco and Oracle collectively hold another $340 billion cash. Much of that is abroad as well.
And the Nasdaq's surge is part of a broader market rally. The Dow soared more than 225 points and rose back above 21,000 Tuesday and is not far from a new record of its own.
Big multinational tech companies outside of technology, such as Caterpillar (CAT), DuPont (DD), McDonald's (MCD) and 3M (MMM), all reported strong earnings on Tuesday.