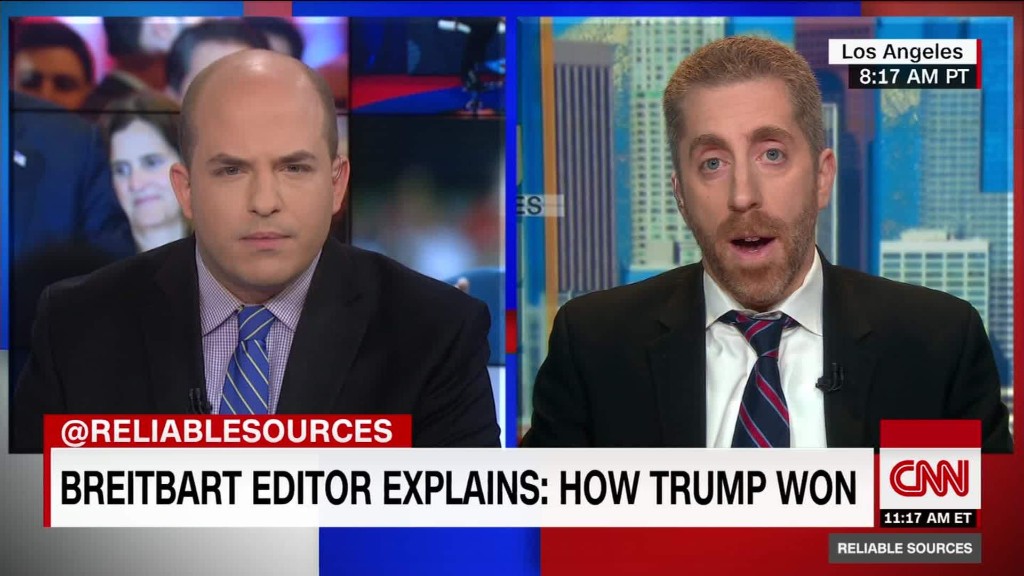 Breitbart News was stymied once again on Tuesday in its efforts to secure press credentials on Capitol Hill.
The standing committee of correspondents of the U.S. Senate Daily Press Gallery, a panel of journalists that determines which news organizations should receive congressional press passes, voted to table Breitbart's bid for permanent passes and to discontinue the right-wing outlet's temporary credentials without an extension.
Breitbart's temporary credentials expire on May 31.
In a statement, Breitbart spokesman Chad Wilkinson said the outlet is "unequivocally entitled to permanent Senate Press Gallery credentials and is determined to secure them."
Laura Lytle, the director of the Senate Press Gallery, said that Breitbart's application was tabled until the outlet "can sufficiently demonstrate that they meet the requirements of Rule 4 of the Congressional rules governing the Gallery."
One part of that rule says, "Applicants' publications must be editorially independent of any institution, foundation or interest group that lobbies the federal government, or that is not principally a general news organization."
"If Breitbart wishes to take steps to meet those requirements, the Committee will reopen its review," Lytle said.
The committee's primary concern, rather than its generally pro-Trump stance, appears to be Breitbart's ties to Rebekah Mercer, whose family partly owns the outlet, as well as the Government Accountability Institute, a conservative nonprofit that was co-founded by former Breitbart chairman and current White House strategist Steve Bannon.
Mercer, whose father Robert is a wealthy hedge fund manager and prominent Republican donor, is the chairwoman of GAI's board of directors.
The group's other founder, Peter Schweizer, is a senior editor-at-large at Breitbart News.
In a letter submitted last week to the committee, Breitbart president and CEO Larry Solov asserted that Mercer "has no editorial control at Breitbart News Network" and that Breitbart and the Government Accountability Institute "are separate and independent companies, with separate and different boards and management."
"We have fully and faily cooperated with your inquiries in good faith, and believe that we have met and responded to the concerns you have raised," Solov said in the letter, which was reported by the Daily Beast. "[Breitbart] is an editorially independent news organization and is entitled to and deserves issuance of its permanent Senate Press Gallery credentials."
Solov also used the letter to "correct one thing," informing the committee that Wynton Hall stepped down as managing editor of Breitbart in February. Hall has been on GAI's payroll as a "communications strategist," according to filings with the IRS.
The committee's decision on Tuesday marks another setback in Breitbart's quest for permanent credentials. It was denied in its bid last month as well.