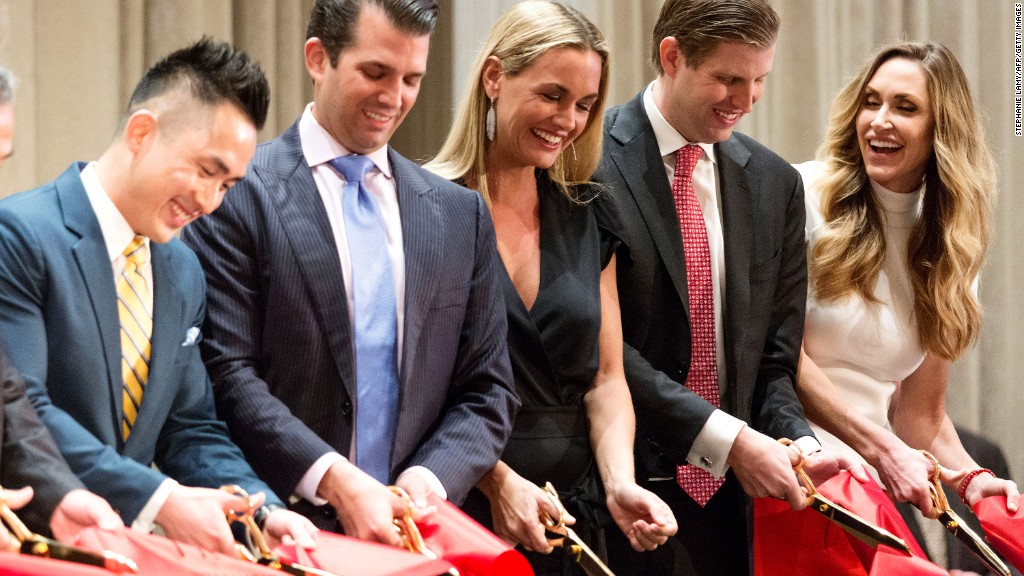 An ethics watchdog group wants Congress to investigate a government agency's handling of President Trump's luxury Washington hotel.
Citizens for Responsibility and Ethics in Washington says the General Services Administration was wrong to sign off on Trump's lease for the hotel. The federal government owns the building, known as the Old Post Office.
A clause in the lease says no elected official can be a party to it -- suggesting that Trump was in breach the moment he was sworn in.
But the GSA said last month that it was comfortable with the lease because Trump's financial trusts, and a separate account set up to collect the hotel's profits, are structured to ensure he will not get any money from the hotel while he is in office.
The ethics watchdog group says the money benefits Trump, even if it's in a separate account while he serves as president.
"We see a continuing pattern of abuses related to the Trump International Hotel, and it's important to keep a spotlight on the potential for abuse and corruption there," said CREW executive director Noah Bookbinder.
CREW wants the Senate Committee on Environment and Public Works to investigate GSA's handling of the lease.
The office of Senator John Barrasso of Wyoming, the Republican chairman, didn't immediately respond to an email seeking comment.
The top Democrat, Senator Tom Carper of Delaware, said he supports an investigation. He said the GSA was "entirely unable to justify its determination to me and my staff on multiple occasions."
Related: Government says Trump hotel lease is OK, despite ethics concerns
CREW also points out that Trump isn't doing anything to hide his ownership of the hotel -- "particularly with his name emblazoned in gold letters above the hotel entrances." It cites reports that Trump and members of his cabinet have stayed or dined there, adding to the hotel's prestige.
Lawmakers are facing daily revelations about the administration's potential conflicts of interests and lack of transparency, and the Washington hotel has been a focal point.
House Democrats have been vocal about trying to hold the administration accountable, but they need Republican support to launch investigations.
Bookbinder told CNNMoney that Republicans, who control both houses of Congress, have been largely silent. But he said they haven't supported the White House's approach to resolving conflicts, either.
Last week, for example, the top Republican and Democrat on the House Oversight Committee sent a letter to Trump's lawyer asking for information on how the Trump Organization plans to donate hotel profits from foreign governments to the U.S. Treasury.
"We've heard from concerned lawmakers, and given the constant revelations of serious ethics problems, we think it's getting harder for any member of Congress with oversight responsibilities to ignore major issues like this one," Bookbinder said.