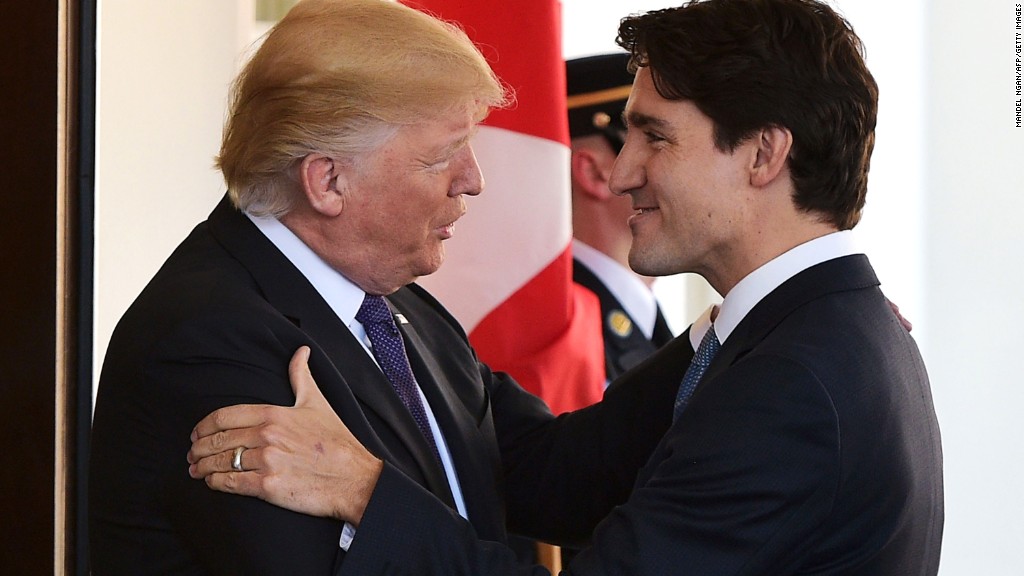 President Trump is picking his first trade fight with...Canada.
That's not a typo. Trump spent his 2016 campaign lambasting China and Mexico for cheating on trade.
But Commerce Secretary Wilbur Ross announced a surprising 20% tariff on Canadian softwood lumber Monday night, along with individual tariffs on five specific Canadian lumber firms that ranged from 3% to 24%.
"This is really a slap in the face of Canada," says Gary Clyde Hufbauer, a trade expert at the Peterson Institute for International Economics. "This is quite punishing to Canadian producers."
Related: Trump hits Canada with 20% tariff on lumber
Considering Trump's blistering rhetoric against Mexico during and after the 2016 campaign, it's a surprise he decided to go after Canada first.
When Canadian Prime Minister Justin Trudeau visited Trump in February, Trump said he only expected to be "tweaking" the US-Canada trade relationship, one of the biggest in the world.
"What this says to Canadians is 'it's going to be more than a tweak,'" Hufbauer adds.
Ross said the tariffs on Canadian lumber came after talks fell through on easing Canadian tariffs against U.S. dairy products. Those tariffs are high -- 299% on butter, 245% on cheeses such as parmesan, 216% on powdered buttermilk and 295% on cream.
Related: America's NAFTA nemesis: Canada, not Mexico
At face value, the lumber tariffs may look like a head scratcher. But despite a relatively rosy relationship, the US and Canada have had a bitter dispute over lumber for decades.
What's different now, is the timing.
Trump's decision to rehash these battles comes just months before he plans to renegotiate NAFTA, the free trade agreement with Canada and Mexico, later this year.
Trade experts say all three sides were already challenged to renegotiate a new deal before the end of the year. Trump's tariffs on Canada add a twist to the time line for NAFTA talks.
"It's not clear this is a good move tactically if your goal is a quick renegotiation of NAFTA," says Edward Alden a senior fellow at the Council on Foreign Relations. "This will tend to drive Canada more in alliance with Mexico."
NAFTA implications aside, Trump isn't the first US president to hit Canada with tariffs.
Related: Mexico: Let's get NAFTA done now
"This is a long running dispute," adds Alden. "It's quite possible this would have happened in any other administration."
The lumber dispute goes back to the 1980s and both President George W. Bush and President Obama have hit Canada with temporary tariffs.
The two neighbors have had other big trade wars -- in the 1930s, the US Congress imposed tariffs against all countries to protect jobs. It didn't go so well and many other countries retaliated with their own tariffs.
The biggest retaliation came from Canada. Gobsmacked that the U.S. raised tariffs on eggs, Canada raised tariffs on U.S. eggs to 10 cents from 3 cents. U.S. egg exports to Canada fell to about 7,900 dozen in 1932 from 919,000 dozen in 1929.
Related: IMF warns world leaders: Don't erect trade barriers
On lumber, US companies claim that their Canadian competitors have an unfair advantage: government subsidies.
They allege that their Canadian counterparts receive subsidies from the Canadian government, which allows the Canadian firms to sell lumber in the US at prices lower than what American companies can sell at.
Canadian officials deny they provide firms with subsidies. The World Trade Organization sided with Canada in a dispute in 2004. The US and Canada had an agreement in place that expired in October, making the lumber dispute ripe for trade action.
Last year, Canada exported $5.6 billion of softwood lumber to the U.S. Some of that lumber goes towards building homes across America.
Lumber is a big deal for Canada. It alone accounts for 8% of Canada's exports, according to Panjiva, a firm that tracks global trade data. The industry employs tens of thousands of workers.
On the dairy side, Canada has long imposed sky high tariffs on US dairy products to protect Canadian farmers. So US farmers can't sell into the Canadian market, but Canadian farmers can sell into the US market.