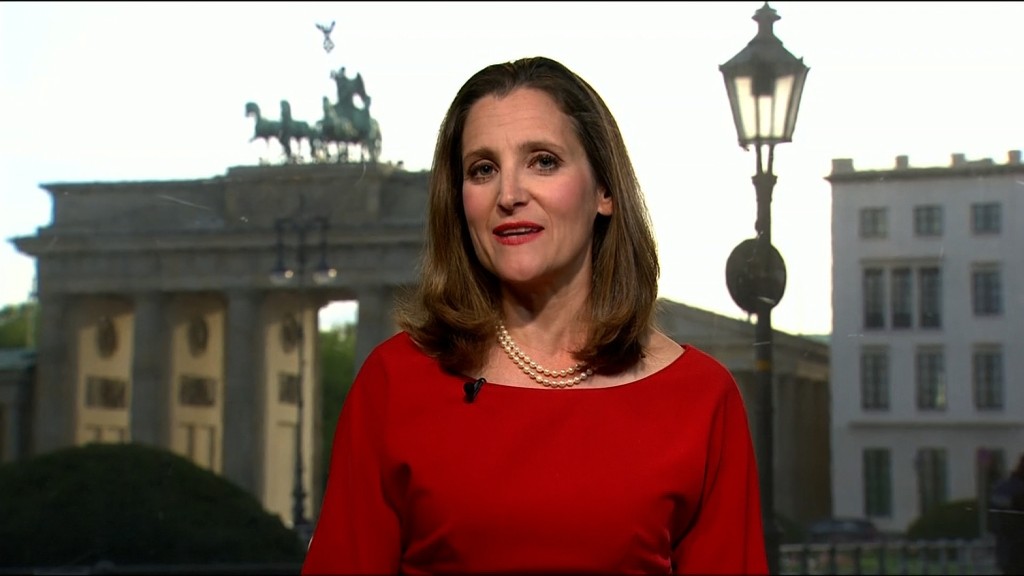 Canada is ready to play hard ball with President Trump.
Canadian leaders are pushing back after the Trump administration slapped 20% tariffs Monday night on Canadian lumber, along with individual tariffs on five specific firms that ranged from 3% to 24%.
"When it comes to defending Canada's economic interests, we're going to play hard," Canada's Foreign Minister Chrystia Freeland told CNN Tuesday.
Freeland's sharp reminder: We like to be nice, but don't mess with us.
"We're nice guys: Politeness is something we believe is a national virtue, but it's not an accident that hockey is our national sport," Freeland noted.
President Trump separately told reporters he's not afraid of a trade war with Canada: "We have massive trade deficits. So when we're the country with the deficits, we have no fear."
U.S. Commerce Secretary Wilbur Ross also said Tuesday at the White House that Canada wasn't being a "good neighbor," alleging it was selling lumber at unfair prices.
"Things like this I don't regard as being a good neighbor, dumping lumber," Ross said, referring to the practice of selling a product at prices competitors can't sell at. Ross emphasized Canada is overall an important ally to the US.
Related: Trump slaps 20% tariff on Canadian lumber
Ross alleged that Canada was subsidizing its lumber companies to allow them to sell the product into the US market at low prices.
Freeland firmly denied that. She also argued that since much of the Canadian lumber goes towards building homes in the US, the tariffs would cause home prices to go up $3,000 to $4,000.
"The big losers in the softwood lumber dispute are American consumers," Freeland argued. "This is going to cost middle-class Americans who want to buy a house a lot of money."
Ross dismissed the idea that US home prices would go up solely as a result of lumber tariffs, saying that the total cost of a home depends much more on the land than the product used to build the home.
Freeland stopped short of saying Canada would retaliate with new tariffs against US exports to Canada. Instead, she pointed out that Canada has won every court case on lumber against the US, suggesting the tariffs would be challenged in court.
The Trump administration's surprise decision to slap tariffs on Canadian lumber reopens a decades-long trade dispute between the two countries. US lumber companies have accused their Canadian counterparts of receiving government subsidies and dumping lumber into the US market -- much of which goes towards building homes.
Related: Who knew Trump would go after Canada
US tariffs on Canadian lumber aren't new. President George W. Bush and President Obama both put temporary tariffs on Canadian lumber.
However, the World Trade Organization sided with Canada in 2004, ruling that it wasn't trading unfairly.
Trump's team chose to hit Canada with tariffs after talks failed to make it easier for US dairy farmers to sell into Canada. US dairy exports face Canadian tariffs of around 300%.
A Canadian government spokesperson stressed that it hadn't changed its policies regarding imports of US dairy. Those tariffs have been in place for decades and are not new.
The trade tensions this week are over a tiny portion of the US-Canada trade relationship. Canadian lumber exports to the US make up only 2% of the country's total shipments to the US. And American dairy exports make up less than 1% of total US exports to Canada, according to Freeland.
Trump's lumber tariffs come just months before the US, Canada and Mexico are expected to come to the table to renegotiate NAFTA, the free trade agreement.