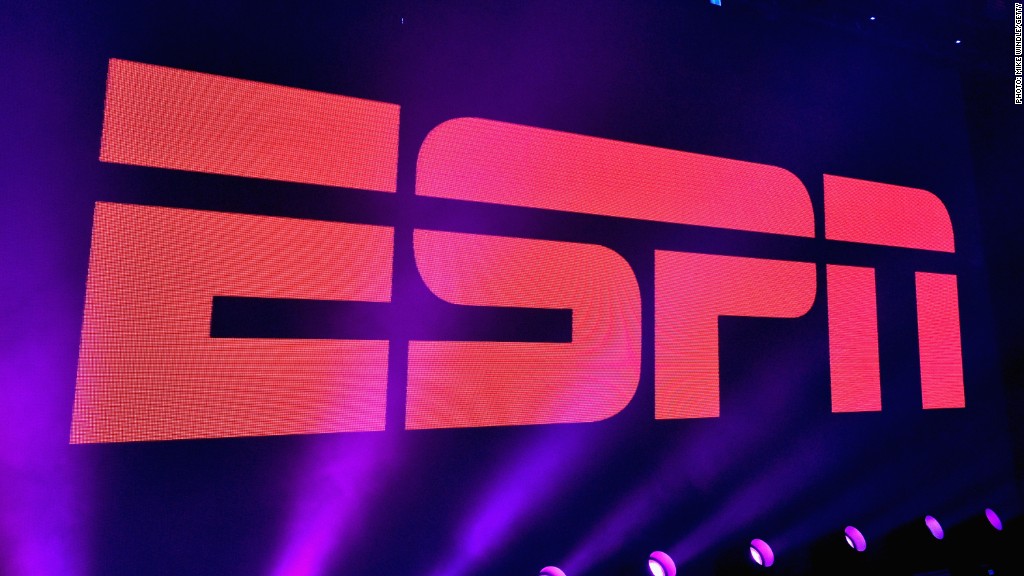 ESPN is cutting a number of its most familiar faces as part of a larger layoff of 100 on-air personalities and writers.
ESPN didn't release a full list of those let go. But among the cuts are former NFL quarterback and analyst Trent Dilfer, prominent NFL reporter Ed Werder, senior baseball writer Jayson Stark and host Jay Crawford, all of whom shared the news about themselves on Twitter.
Most people affected by the job cuts, including television, radio and online personalities, were informed of the decision Wednesday, and many of the layoffs took effect immediately. A source told CNNMoney that ESPN also plans to cut a limited number of additional off-air employees.
ESPN is shifting its focus toward digital as it faces cable subscriber losses and increased pressure on costs. The network has spent billions of dollars in recent years on rights deals with major sports leagues and college conferences.
Bob Ley, who joined ESPN on its third day in 1979, paused during "Outside the Lines" to make note of the layoffs. He encouraged viewers to "have a good thought for each one of them and for their respective families."
"That's what I'm going to be doing and I think they would appreciate if you did the same," he said. "Think of them."
Related: Cuts at Guardian US after row over move to Kushner-owned building
In a note to employees, ESPN president John Skipper mentioned the changing habits of viewers.
"These decisions impact talented people who have done great work for our company," he wrote. "I would like to thank all of them for their efforts and their many contributions to ESPN."
Many of the people who were laid off were coming to the end of their contracts and did not want to accept large pay cuts, the source said. For others, ESPN offered to buy them out of their contracts.
Some of the names trickled out on social media. Reporters who cover hockey, college football and college basketball were among those who said they had been laid off.
ESPN employs about 8,000 people around the world.
Related: Boeing plans layoffs for May
Jim Miller, the co-author of "Those Guys Have All The Fun: Inside The World of ESPN," told CNNMoney that ESPN believed the moves were necessary "to not only stay competitive, but to help transition their content strategy for the future."
"SportsCenter," ESPN's flagship show, will become more of a digital presence and move away from "a show with many, many, highly paid anchors," Miller said.
"ESPN is arguably one of the greatest success stories in the history of modern media," Miller added. "But now even it can't escape some of the harsh realities of an ever changing technological landscape."