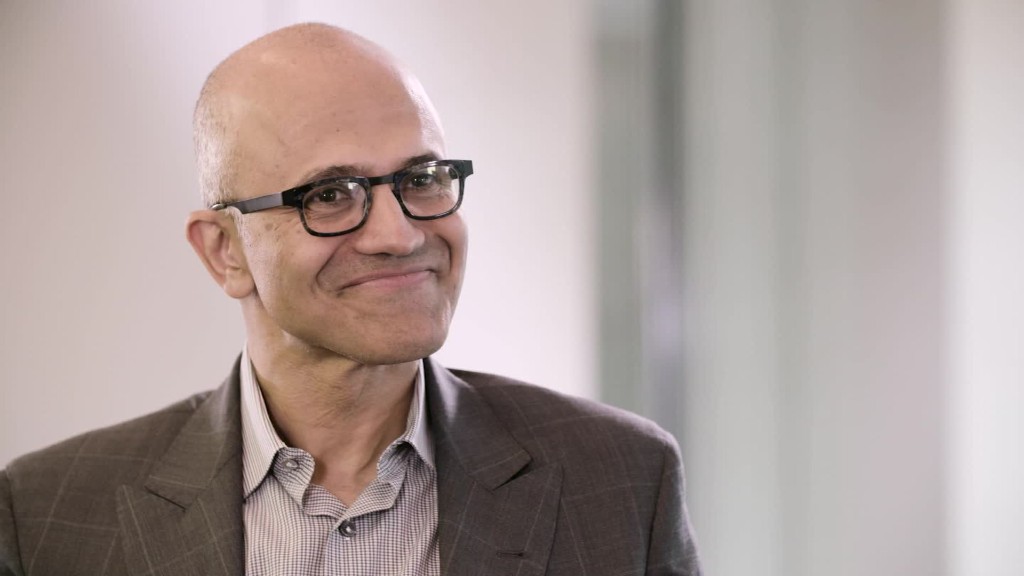 LinkedIn contributed nearly $1 billion in revenue to Microsoft's most recent quarter.
Microsoft announced that LinkedIn sales hit $975 million in the first full quarter since the acquisition. The software giant bought LinkedIn for $26 billion last year.
But Microsoft (MSFT) shares slipped in after-hours trading after total revenue came in below expectations.
Microsoft's cloud businesses continue to perform well -- revenue from Azure, its key cloud-computing platform, soared 93%.
Microsoft has heavily invested in cloud services to reposition itself as an industry leader, rivaling businesses like Amazon (AMZN). Last October, Microsoft's stock hit a new record for the first time since 1999 after Azure revenue jumped 116%.
Related: Microsoft brings back developer behind Worazured and Excel
"Our results this quarter reflect the trust customers are placing in the Microsoft Cloud," CEO Satya Nadella said in a statement. "From large multinationals to small and medium businesses to nonprofits all over the world, organizations are using Microsoft's cloud platforms to power their digital transformation."
Microsoft has shifted its core focus in recent years away from software that comes in a box. It now offers Office 365, a cloud version of its well-known productivity software.
Office 365, which works across devices and charges a subscription fee, was also a strong point for Microsoft in the most recent quarter. Business revenue grew 45%, while consumer subscriptions rose to 26.2 million from 22.2 million a year ago.
Related: Microsoft co-founder pledges $30 million to house Seattle's homeless
However, revenue in the company's "more personal computing" business fell 7% to $8.8 billion during the most recent quarter, due to lower phone sales. Revenue from the Surface line of tablets and computers continued to disappoint, falling 26%.
Microsoft has also scaled back its phone business, slashing thousands of jobs in the past few years.
Under Nadella, Microsoft has boosted its investments in tools for consumers and businesses. It bought popular email and calendar applications and built a competitor to Slack, a popular workplace chat app.
LinkedIn now has more than 500 million members, and its job platform hit a record 10 million jobs posted. Engagement is also strong, with sessions up more than 20%, Nadella said on an earnings call.