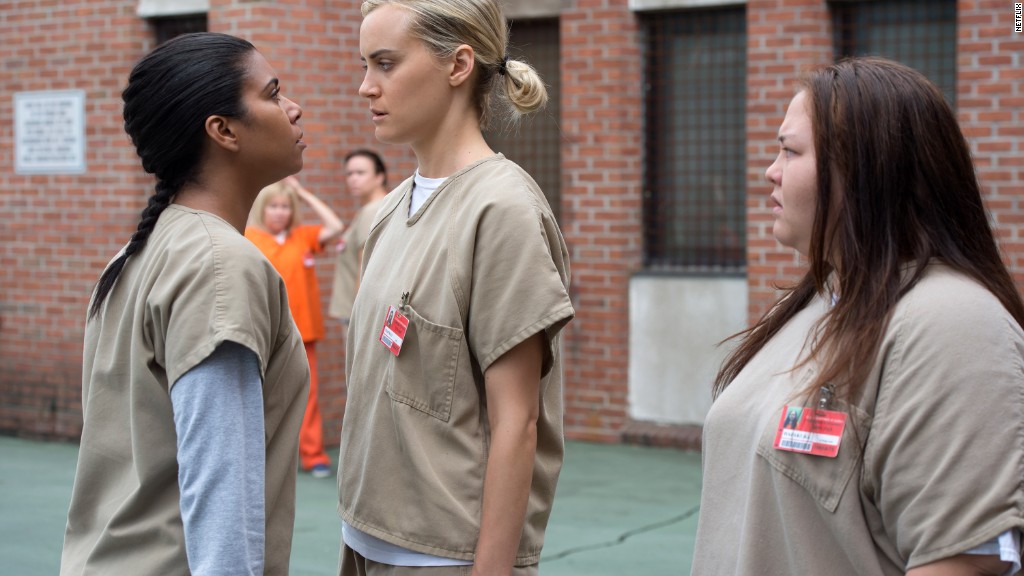 An anonymous hacker claims to have stolen the fifth season of Netflix's hit series "Orange is the New Black" and posted most of it online after the company says it ignored a request for ransom money.
Netflix responded Saturday in a statement to CNNMoney, saying it's "aware of the situation" and "the appropriate law enforcement authorities are involved."
The hacker said in a note posted on Twitter Saturday that it released the first episode on Friday. The hacker's threats were reported earlier by the Associated Press and Variety.
Related: Netflix finally finds a way into China
The hacker claimed to have requested a "modest" sum of money from Netflix (NFLX) to prevent the leak but that the company did not respond.
In turn, the hacker alleges to have retaliated by releasing nine more episodes of the season on a file sharing site often used to distribute pirated material.
The hacker said there are three more episodes in the season not obtained in the hack.
In a statement, Netflix said the breach occurred at a production vendor "used by several major TV studios."
"Orange is the New Black" is one of Netflix's goldmines, helping draw subscribers. During a recent call with investors, CEO Reed Hastings called it one of Netflix's "most popular and most acclaimed" shows. Season five is scheduled to be released on Netflix on June 9.
Related: Netflix says it's found the next 'Homeland'
The hacker said it has stolen more yet-to-be-released material from several other media companies and is demanding money from them as well.
"And to the others: there's still time to save yourselves. Our offer(s) are still on the table - for now," the hacker said in an online post.